Redwolf Airsoft: Pantac Uncovered
OptimusPrime
15 Mar 2008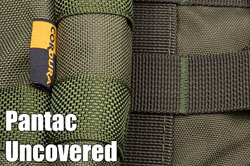 Would you buy a car that looks like a Supercar, but only has a 1 litre engine under the bonnet? Most doubtful. You would be happy to have it parked somewhere while people give it admiring glances, but should they wish to check out what is hidden beneath the bonnet of the car, well, it would be like asking a girl to take off her wonderbra in public - you wouldn't wish that kind of embarassment on anyone. It has to be said that there is a lot more than just the mere aesthetics, form and function should be at ones with each other. So why do we put up with "inferior" products? Well, top-quality is not often associated with low prices, so if it is not economically feasible to go for the best, then most people will make do with "the rest".
However, with the industrial boom in China, we have been seeing a lot of companies that try to mimmick the quality of bigger brands at a much lower price, but how good is the quality? In all honestly, there are a lot of bad ones, which you wouldn't touch with a rather large stick, but there are some real gems out there - Pantac are one of them. In this review, we put the Pantac to the test, comparing it with another Chinese brand competitor and unocover what makes the Pantac so good.
Overview
Pantac know how to dish up a high quality product and that shows in their fantastic line of combat gear, which are a culmination of materials and parts that are second-to-none in terms of quality. Cordura and YKK are somewhat household names already, and even though UTX aren't as well-known, they should be. These make up the base ingredients of a Pantac product: Invista Cordura material, YKK zippers and UTX clips. The end result is a product which is reliable and robust, yet keeping a light weight. The other Chinese brand we are looking at is made up of Nylon with no brand zips and clips.
When you compare the Pantac made with Cordura and the other Chinese-made equivalent there is no competition. Cordura has been proven in tests to be 3 times stronger than Nylon and it really sets these two products apart. What's more, whereas the other Chinese-made bag has stitching made from cotton, the Pantac uses Nylon and is done to military specification. Testing the MOLLE webbing on each product with a simple "yank-it to see if it breaks test" showed one clear winner, the other Chinese brand started to divest a bit at the seams when the MOLLE webbing was pulled on, while the Pantac's MOLLE webbing remained unharmed.
Another benefit of the Cordura material used on the Pantac is that it is resistant to water, superior to the Nylon seen on the other Chinese brand bag we tested it against. Pouring 300ml of water on the front pocket of each bag showed us just that. Almost immediately after pouring the water, the other Chinese brand bag had already absorbed a bit of water, whilst the Cordura of the Pantac was keeping it all on the surface. After 10 minutes, none of the water had seeped into the Pantac, while the other bag didn't fare so well, with the inside of the bag already mildly wet. It seems that the seams of the other Chinese brand were the real weak spot, as it looks like the majority of the water came in through the seams. Check out the video below for our water test!
The Pantac is on the right and the other Chinese brand on the left.
Small parts, big difference. That's the tagline of YKK, who are perhaps the World's largest manufacturer of zippers, and the quality of their product rightly justifies this. Pantac uses YKK zippers on their products, while the Chinese bag we tested came with no-brand zippers. We did a simple torsion test (i.e. trying to bend the zipper tabs by hand) and it showed that the no-brand zipper was not robust enough, bending under pressure quite easily, the YKK zip had no such problem. Also, YKK put their zippers through stringent tests to ensure that the finished product will not fail on you, doing chain crosswise strength, slider tab pull of strength and slider tab twisting strength tests.
UTX, otherwise known as Unitex, are a manufacturer of clips for a variety of applications that include: military, backpacks, garments, baby trolleys, helmets, golf bags and water sports. There's a reason why they are used for Military purposes, and it's because they are rock solid! The UTX clips on this Pantac bag are acceptably chunky with little to no unwanted flex in the main body of the clip. The other Chinese brand has basic clips, which do the job, although don't feel quite so robust.
Final Thought
On paper the Pantac bag steals the show, with a superb construction, made from the best quality materials. There is no denying that Pantac make great products and we are quite content in sticking our necks out by saying that Pantac are currently one of the best Chinese manufacturers of combat gear. Their relatively low price makes their range of products exceptionally good value for money and a thoroughly good alternative to the big brand manufacturers of combat gear.

Click the pic below to look at more Pantac products!