PTS Syndicate Unveils The ZEV OZ9 Elite (Ultra Version) Black Gas Blowback Pistol
Logan
07 Sep 2023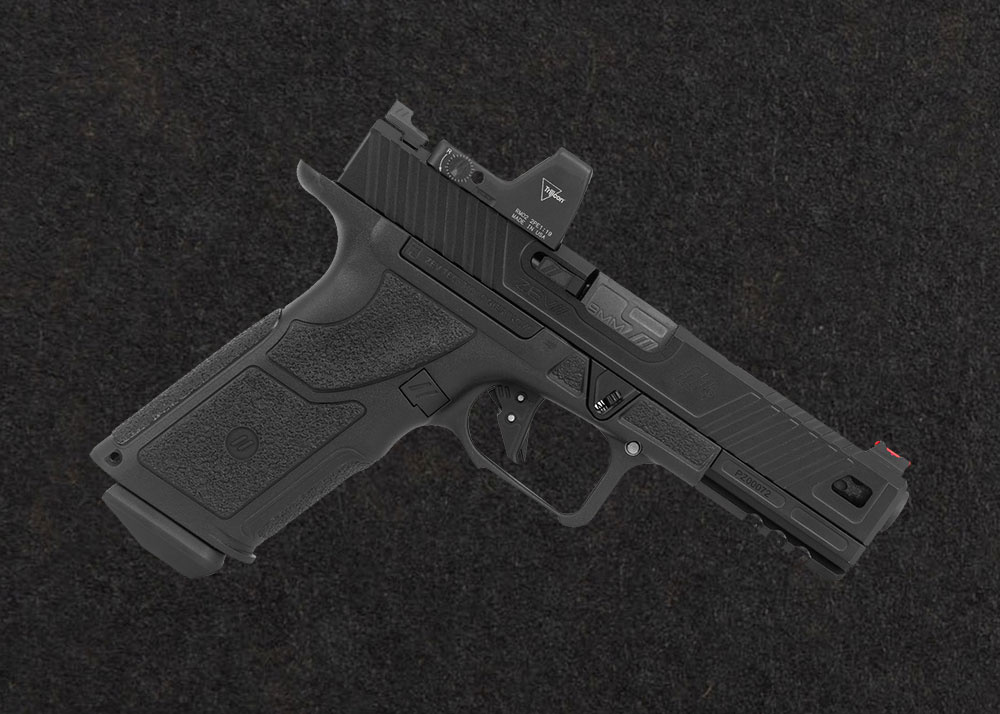 The PTS Syndicate ZEV Technologies OZ9 Elite GBB pistol is a gas blowback airsoft pistol that the company says accurately replicates the appearance and many of the innovative features of the actual Zev Technologies OZ9 pistol. The ULTRA Version of the PTS ZEV OZ9 Elite Pistol is PTS's first release and the highest quality replication of the OZ9 Pistol. With only an extremely limited quantity released for the worldwide market, the PTS OZ9 Elite (Ultra Version) features a full CNC'ed 6000 series aluminum slide and a precision CNC'ed 6000 series aluminum modular chassis.
---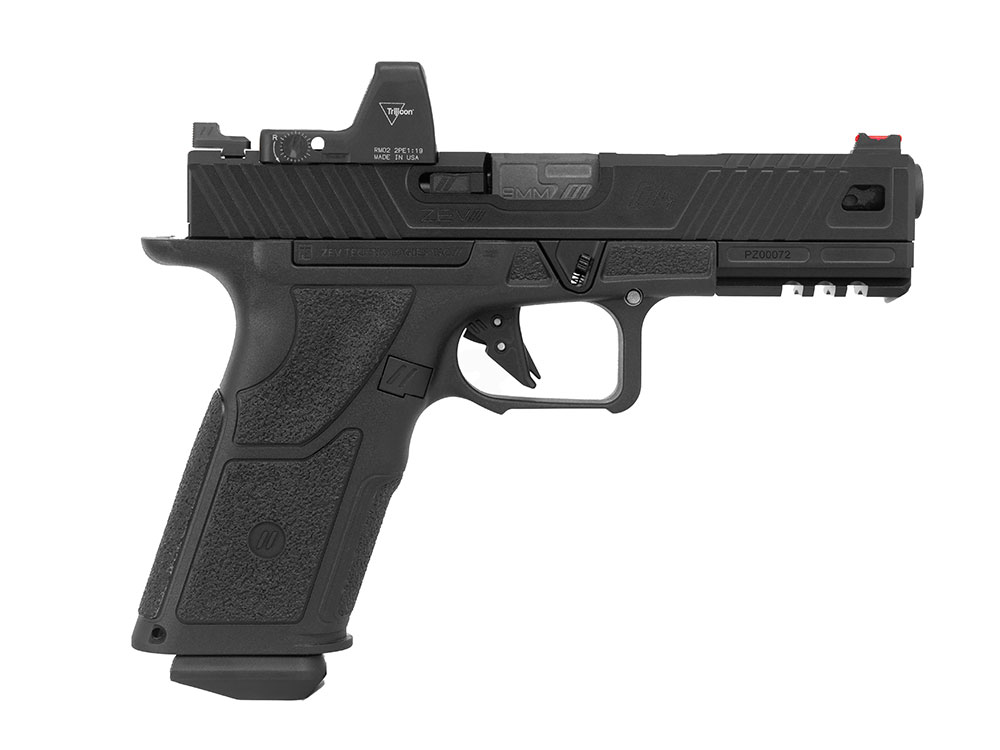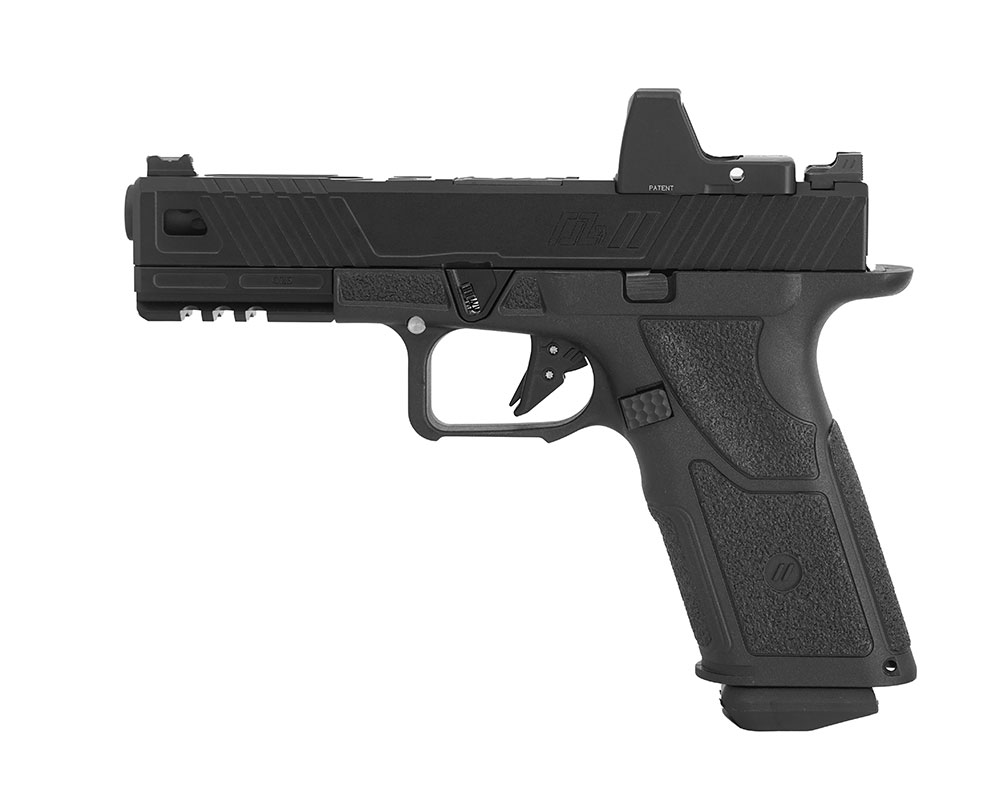 ---
Within the chassis, the hammer housing and many hammer components are also CNC'ed, providing a more precise trigger feel. The CNC'ed steel alloy dimpled outer barrel has an extremely durable carburizing finishing. Like the real OZ9, the PTS OZ9 features a modular chassis system that houses the ZEV Flat Face Trigger, sear, and receiver rails. The metal receiver extends along the entire length of the gun to allow for a more rigid gun, smoother slide travel along the frame, and allows for the mounting of various lights and lasers.
---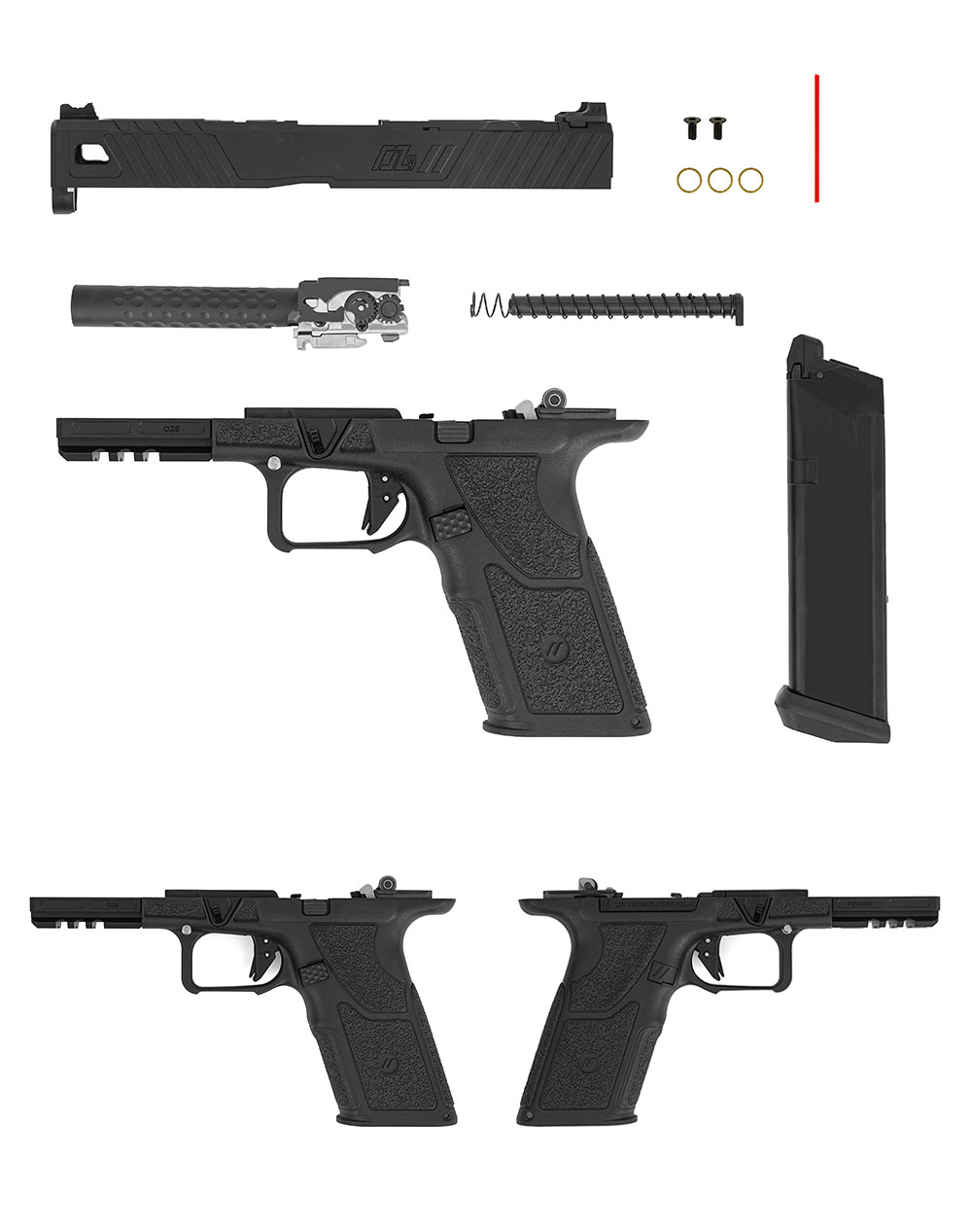 ---
The modular chassis is held in the polymer grip by a single takedown pin, allowing for easy removal for servicing or swapping. The polymer grip includes an integrated magwell and features a steeper grip angle for more natural pointability of the gun. The trigger guard undercut allows for a more comfortable and higher gun grip. The PTS OZ9 slide features ZEV Combat Sights, consisting of a black steel serrated U notch rear sight and a high visibility fiber optic front sight.
The slide also includes a removable optic plate for mounting an optional RMR optic (not included). Lightening cuts and front and rear slide serrations improve the slide's grippability and give it a distinctive appearance. The magazine release button can be switched for left or right-handed shooters.
---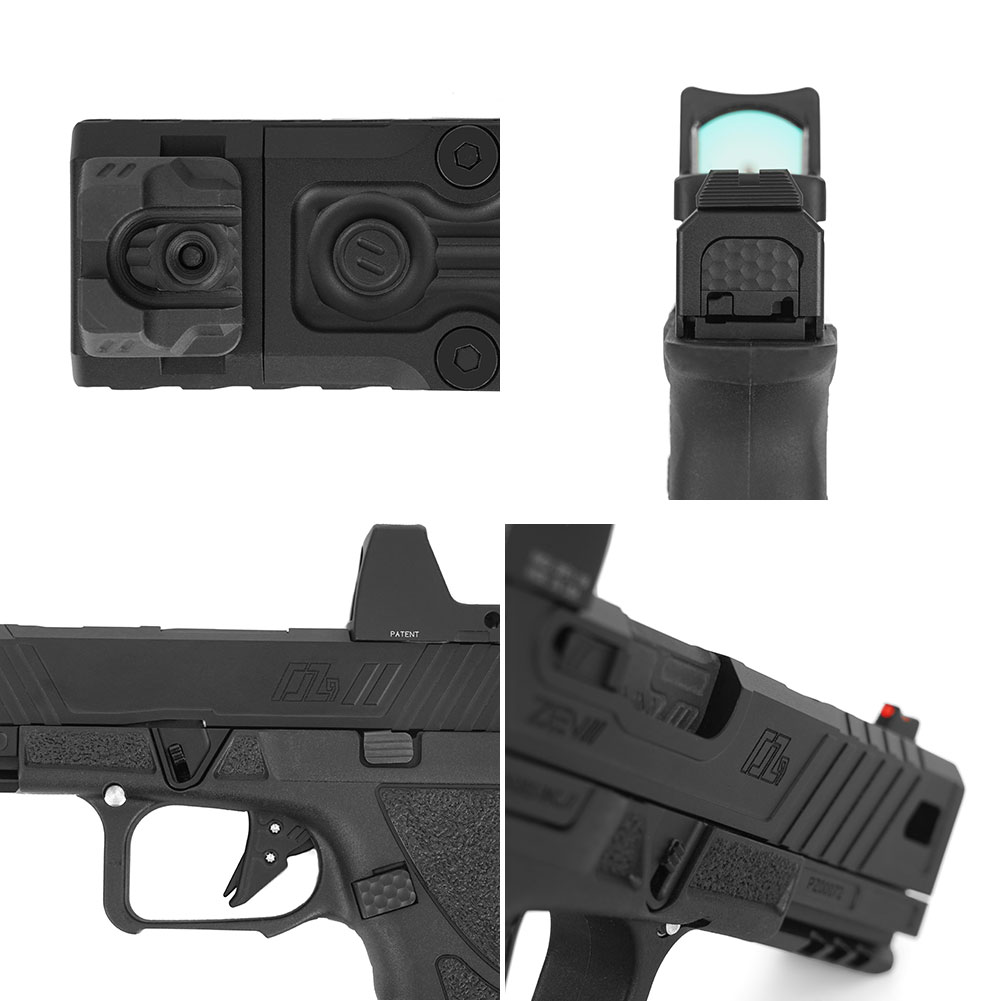 ---
Finally, the included magazine includes the PTS G shockplate basepad. The magazine is compatible with Tokyo Marui G17 (Gen3/4) magazines.
---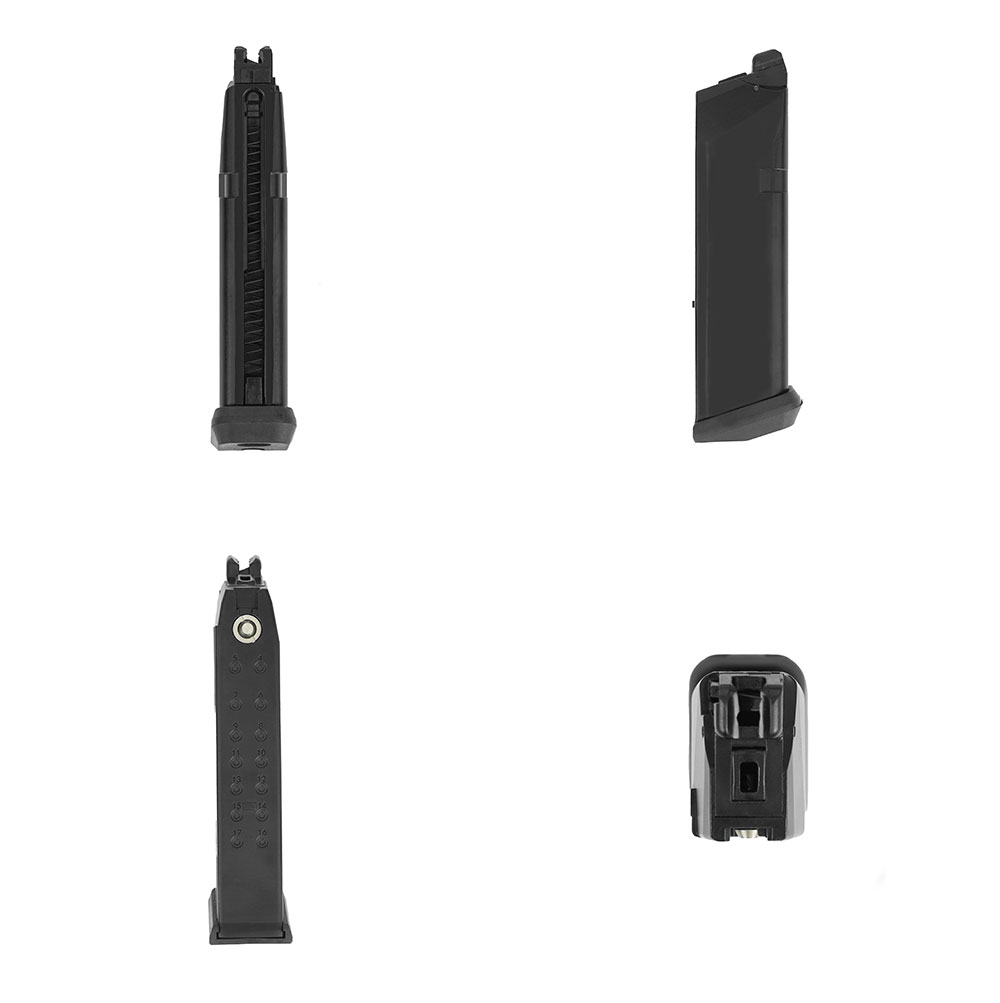 ---
In a nutshell, the PTS Syndicate regards the ZEV Technologies OZ9 Elite GBB pistol as an accurate replica of the original Zev Technologies OZ9 pistol. It boasts many innovative features, including a modular chassis system, ZEV Combat Sights, and compatibility with Tokyo Marui G17 magazines. The ULTRA version of this pistol is constructed with high-quality materials such as CNC-machined 6000 series aluminum and steel alloy, ensuring durability and precision in its design.
Features:
Fully ZEV licensed trademarks.
ULTRA VERSION EXCLUSIVE FEATURE: CNC 6000 series aluminum OZ9 Signature Slide with lightening cuts and front and rear serrations.
ULTRA VERSION EXCLUSIVE FEATURE: CNC 6000 series aluminum modular chassis with integrated accessory rail for lights and lasers
ULTRA VERSION EXCLUSIVE FEATURE: CNC Hammer housing and certain hammer components
ULTRA VERSION EXCLUSIVE FEATURE: Machined steel alloy outer barrel with carburizing finish
Polymer grip features an integrated magwell and a steep grip angle that is optimized for natural pointability
Reversible mag release button design for left or right-hand shooters.
Ergonomic trigger pad for better engagement.
Modular chassis consists of the entire firing mechanism and is easily removable from polymer frame for ease of maintenance or modification via a single takedown pin
Chassis extended frame rails help provide more surface contact between the frame and the slide for more reliable cycling.
ZEV Combat Sights consisting of a steel black wide U notch rear sight and a bright fiber optic front sight.
Removable RMR mount plate on slide for optional red dot sight installation.
6.03mm 97mm inner barrel combined with a purple 70-degree hop-up rubber for exceptional accuracy and range.
The included magazine comes preinstalled with the new design PTS Enhanced Pistol Shockplate G.
Specifications:
Color: Black
Material: 6000 series Aluminum, Steel Alloy, Reinforced Polymer, Hard PC
Finishing: Black Anodized
Outer Barrel Length: 110mm (approx.)
Inner Barrel Length: 97mm (approx.)
Weight: 750g approx. (w/o packaging); 1kg approx. (with packaging)
Dimension: 320x185x55mm (packaging)
Muzzle Velocity: Below 1 Joule (134a) @ 0.2g BB (25℃)
Mag Compatibility: Tokyo Marui G17 (Gen 3 & 4)
Mag Capacity: 23 BB Rounds
Hop-Up:    Adjustable
Gas Route Seal: Purple – Rubber 70 Degree
Blowback: Yes
Shooting Mode: Semi/Safety
Power Source: 134a/Green Gas/Top Gas
---