Preparations Have Started For The 11th Airsoft Players' Choice Awards
OptimusPrime
10 Oct 2020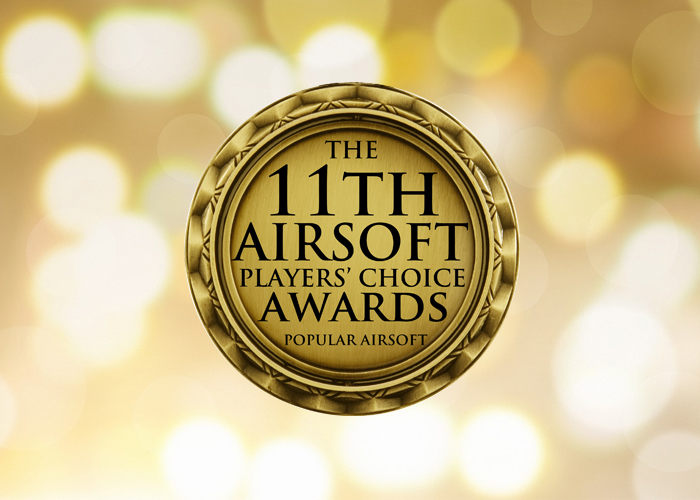 The biggest online event in the airsoft world, the Airsoft Players' Choice Awards, is about to start its engines. We got many enquiries if the Awards process will proceed this year given the pandemic and since it is online event, we are proceeding as planned and with an additional category for the 11th edition.
The Airsoft Players' Choice Awards is the event in which the airsoft players give due recognition to the efforts of the industry members, event organisers, content creators, and fellow airsoft players in the promotion of airsoft. Now, on its 11th year, recognition has been given out in various categories and we are adding the "Best Airsoft Retailer for Central & South America" as based on feedback from players coming from the region.
Thus, there are now 26 categories for airsoft players to nominate and vote in:
Best Airsoft Retailer for North America
Best Airsoft Retailer for Central & South America (New)
Best Airsoft Retailer for Europe
Best Airsoft Retailer for Asia
Best Gear Retailer for North America
Best Gear Retailer for Europe
Best Gear Retailer for Asia
Best Airsoft Magazine (Print or Digital)
Best English Language Airsoft News Website
Best Non-English Language Airsoft News Website
Best Airsoft Blog (Regardless of Language)
Best Airsoft Community/Forum
Best Airsoft Video Posted Online in 2020
Best Airsoft Event (Over 500 Players)
Best Airsoft Podcast or Video Channel
Best Airsoft Upgrade/Parts Maker
Best Airsoft KABOOM (Grenade/Mine/Mortar/Rocket/Pyro) Maker
Best HPA Airsoft Engine
Best Airsoft Pistol
Best Airsoft Gas Blowback Rifle
Best Airsoft Shotgun
Best Airsoft Sniper Rifle
Best Airsoft Automatic Electric Gun (AEG)
Best Airsoft Manufacturer
Special Airsoft Player Award (Male)
Special Airsoft Player Award (Female)
Awarding ceremonies for the 9th Airsoft Players' Choice Awards during the Airsoft Meetup at the IWA Outdoor Classics in Germany in 2019. There was no awarding ceremonies for the 10th Airsoft Players' Choice in 2020 as the IWA Outdoor Classics was cancelled due to the Covid-19 pandemic.
---
THE AWARDS PROCESS
Nomination Period (23 November to 28 December 2020)
Airsoft players worldwide get to nominate their favourites for the various categories for a period of almost one (1) month. They can either nominate in all categories or in categories they are familiar in.
The top five nominees (or less, depending on the number of nominees), based on the number of nominations garnered, will then proceed to the Voting Period (Finals). The finalists per category will be announced one week after the Nomination Period closes.
Nominees can be nominated in one or more categories, provided that they meet the criteria.
Voting Period (04 January to 01 February 2021)
The Voting Period allows the finalists to campaign that they get voted. They can post at their news section and forums; create vlog/blog, or a podcast; post Vote Badges at their websites; announce at social media sites to mobilise players to vote for them.
Finalists who have garnered the most number of votes in the categories win an award in the categories where they are selected as finalists. Airsoft players who cast their votes are included in a raffle draw where they get to win various prizes.
The winners will be announced one (1) week after the closing of the Voting Period. They will then be notified via email that they won. Airsoft players who won a raffle prize will also be informed via email.
For both the Nomination and Voting Periods, nominations and votes all of these are cast at the Popular Airsoft's Airsoft Players' Choice Awards Page (playerschoice.popularairsoft.com).
---
Players, companies, influenzers and content creators wanting to get nominated and have a shot at being a winner in one or more categories of the most coveted awards event in airsoft, better start preparing as well. See you on 23 November when the Awards process finally gets rolling!