Ontario Knife Company Announces A New Retractable Bayonet
Gungho Cowboy
12 Jul 2021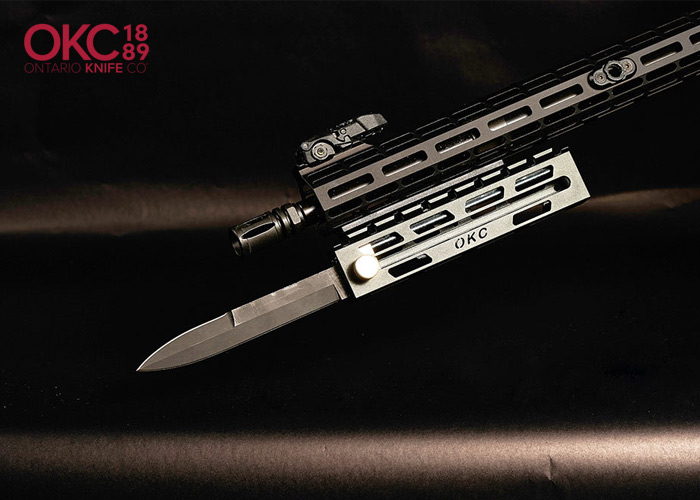 If ever someone wants to make a new dummy bayonet for use in airsoft, this new bayonet that will be released by the Ontario Knife Company (OKC), might be an inspiration as it is a retractable design. So when one runs out of BB, being able to do a "knife kill" with a quick deploying bayonet can be handy.
The OKC Retractable Bayonet can be mounted on any rifle that has a Picatinny rail. Ideally mounted on the 6 o'clock rail, the user can mount it anywhere at the front end of the rail-equipped rail. It can be quickly deployed with a knob and retracted back into a safe position with the same know. The blade is made S35VN steel whilst the housing is 6061-T6 aluminum.
It would be nice to see how a dummy knife maker will be able to do this either using rubber or plastic. If not feasible, then perhaps a folding rail mounted bayonet instead of a retractable one can be designed. I always have a dummy bayonet with me for a game and sometimes it is satisfying to take a player out of by stealthily approaching and tag him/her with the dummy bayonet.
I still have to see a mass bayonet charge in an airsoft event, it would be a sight to behold if it does happen.  More information about the OKC Retractable Bayonet as posted on their Facebook page right below the image below:
---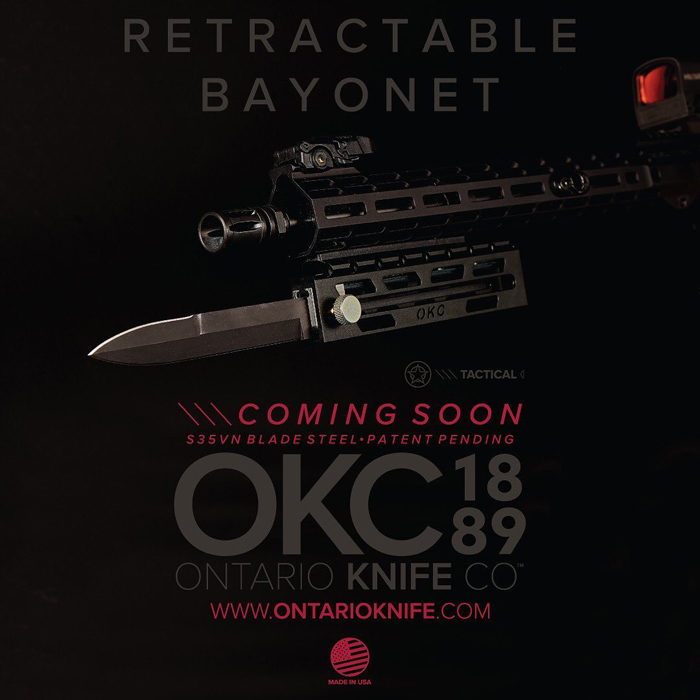 ---
Designed for increased means of self-defense to work with or as a backup to your firearm for when hand-to-hand combat becomes necessary, the OKC Retractable Bayonet could be just the weapon you need when in a life-threatening situation. The new OKC Retractable Bayonet easily attaches to your AR, or any firearm outfitted with a Picatinny Rail System. Featuring a 6-inch retractable blade crafted with high quality .1875"-thick S35VN steel (with blade hardened to 59 Rockwell C), the bayonet measures 13-inches in open position, and 7-inches when closed. With simple one-handed operation, the bayonet deploys with a quick pull of its spring-loaded, stainless steel knob. This same knob can be used to easily retract the blade back into its carriage when not in use. With multiple mounting options, the blade can be positioned forward or further back on the firearm to custom fit the barrel, and the user's preference to how much blade is exposed beyond the barrel. The multi-functional blade can also be taken off the firearm and used as a regular knife.

The OKC Retractable Bayonet has a 6-inch long by 1.5-inch-wide housing constructed from 6061-T6 aluminum with a black anodized finish. This means the bayonet is not only durable and sleek looking, but also incredibly lightweight, weighing in at less than a pound.