Umarex Glock 17 Gen4 CO2 Blowback Review
OptimusPrime
02 Aug 2020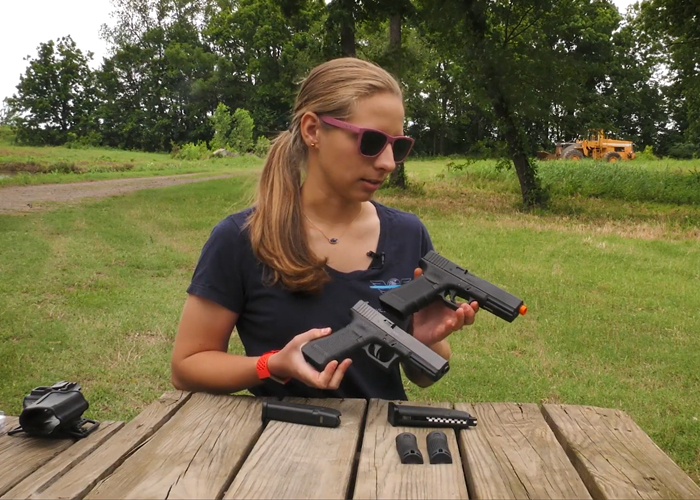 Umarex got to have a competitive shooter, Breanna Garvey, to have a go at the Glock 17 Gen4 CO2 Blowback Pistol if it is something that she can use for training... "Let's talk about the GLOCK 17 Gen4 by Umarex. This airsoft gun by Umarex looks just like the 9-millimeter 17 Gen 4. The grips are the same. The slides have the same serrations. They have the same sites. The serial numbers are in the same spot. They have the same trigger.
On the flip side, you can see that the slide release is exactly the same. The mag release is exactly the same. Even on the bottom, you can see the similarities and where the serial number is. It is a fantastic replica. It is beautiful. So, a few things that I like about this is you can even make the grips different sizes just like on the GLOCK firearm. So, if say you have a 17 and you have the large grip on it and it does not fit your hand, you can put the other backstrap on it. You just clip it on and it comes with a rod to hold it in place.
To practice with airsoft guns is a lot cheaper. It does not replace your firearms training, but rather it supplements it. You do not have to worry about the availability of ammo or how much is it going to cost. Instead of dry firing, you can shoot the airsoft gun and engage a target. You can do that in your backyard (where legal) if you cannot get to the range. It is going to save you money and it is just a lot of fun. And you can actually shoot at a target instead of standing in your living room dry firing at paper plates.
If you're an experienced shooter and know anyone that you think would like to learn more about guns and the sport of shooting or maybe just want to become more comfortable with the idea of shooting, starting them out with an airsoft gun is a great idea because that way they can get used to the feel, the look, and the function of the slide blowing back. It is going to help them be more comfortable before they move on to a firearm, which is going to be a little, or a lot, louder with a stronger blowback or slide recoil. It will help them learn and I think through gun handling. I know a few people who have wanted to learn about guns and being able to start them off on an airsoft gun has really helped them a lot."