Timerzanov Airsoft: Rossi Neptune SAS AEG
OptimusPrime
23 Feb 2023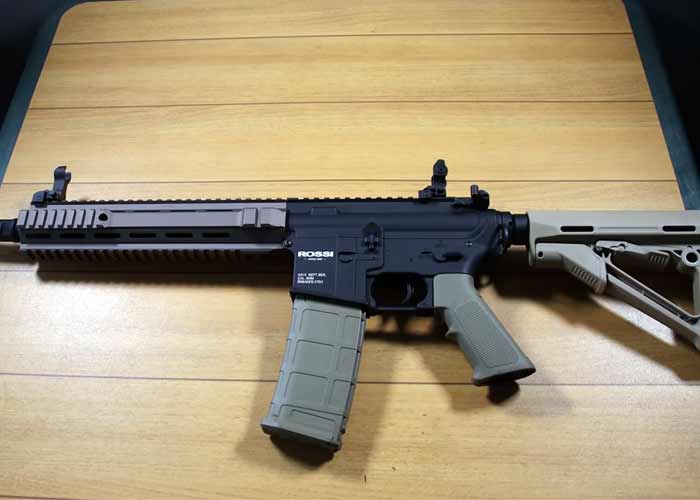 The Rossi Neptune SAS AEG is probably the first AEG to be reviewed by Timerzanov Airsoft from the Brazilian company... "hello everyone! Today I invite you to discover the Rossi Neptune SAS, an M4 type replica with a specific handguard. The Neptune range is a series of all different and varied M4 style replicas, they come with a good box content, a quick spring change and a programmable mosfet. In short, I let you discover it on video!
SMALL DISCLAIMER: During this review I said that this replica has a CTR type stock. this is an error I confused with another model. Please excuse me.
The AR-15 is the most widely used platform in the world, and one of the best known militarily and culturally. Chambered in 5.56x45mm NATO and designed by the Armalite company, the rifle goes by several names depending on barrel size, stock and versions. The M4A1, M16A3, M16A4, HK416, etc. rifles are all on the AR-15 platform but differ in some criteria. AR-15 type rifles can be found in almost all movies, as well as in any video games set in modern times.
The Rossi M4 Neptune is a very versatile AR-15 due to its size and its numerous Picatinny rails allowing you to add all the desired accessories. Flip-up mechanical sights are already mounted on the replica. The replica's power and excellent rate of fire make it quite viable for CQB play. The gearbox having the quick change system, it will be easy to increase the power to pass this replica in DMR for example.
This M4 is characterized by:
Color: Black / Tan
Full metal replica
Adjustable stock
Picatinny hand guard
14mm CCW thread
Flip-up mechanical sight
Comes with 2 mid-cap magazines
Internally, this replica has:
Gearbox V2 QD
MOSFET
Hi-speed motor
Tamiya mini rear wiring
6.02/295mm AEG Cannon
A versatile, reliable, and powerful AR-15 that can only be an excellent choice, whether for beginners in airsoft, or to complete the arsenal of a confirmed player.
Thank you very much to Airsoft Entrepot for the loan of the replica!"