Timerzanov Airsoft: Golden Eagle Colt 1911 Strike Warrior GBB Pistol
OptimusPrime
01 Nov 2022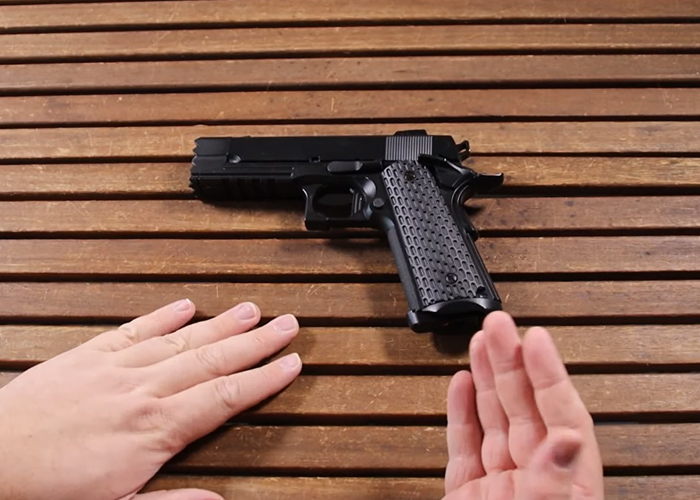 Timerzanov Airsoft goes over the Golden Eagle Colt 1911 Strike Warrior GBB Pistol, a good alternative if looking for a more affordable clone of the Marui one... "Hi there ! For this video I offer you the review of the 1911 Strike Warrior from Golden Eagle! A 1911 type gbb with a compensator which makes it particularly original. A perfect replica for small budgets and those wanting a replica that is out of the ordinary.
Based on the aesthetics of the very well known and very effective 1911 MEU, the Strike Warrior .45 is a custom model, with a Detonics 4.3" slide (therefore not 1911) with a polished internal barrel for a contrast between the two. The trigger guard is also widened for better grip. The compensating Strike Face makes it a very impressive looking replica.
This 1911 Strike Warrior replica by Golden Eagle is a nice surprise, both in terms of shooting qualities and finishes. Its compensator will know how to impress more than one. Thanks to its lower picatinny rail, it is possible to add accessories, which makes it perfectly modular. This model with an extravagant look will delight players who like replicas that are out of the ordinary.
This Golden Eagle 1911 Strike Warrior is characterized by:
Black color
full metal
Detonics type cylinder head
Strike Face Compensator
Outer barrel silver color
Notched straight trigger
openwork dog
Square bridge
Safety pedal
Polymer pads type G10
Front and rear sights
lower picatinny rail
Ambidextrous safety
Strike Warrior specific magazine heel
Internal barrel and standard GBB type hop-up joint"