Taiwan Gun: CYMA Platinum CM.103 AEG
OptimusPrime
22 Jun 2022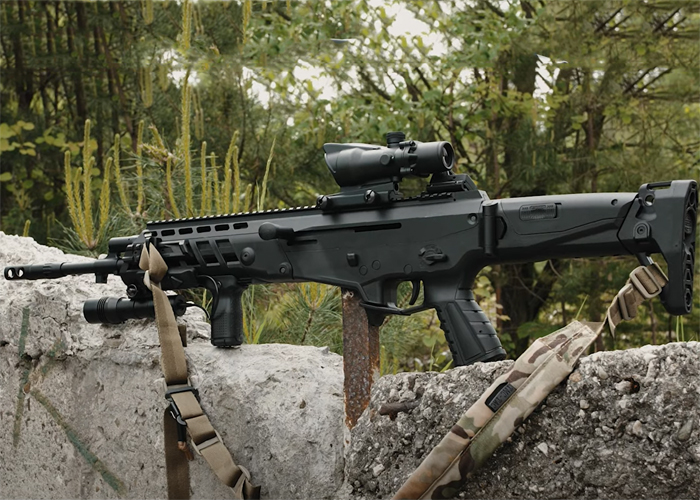 A quick look at the CYMA Platinum CM.103 AEG that Taiwan Gun will be carrying... "The CM.103 is a replica of the Israeli-American assault rifle (military version with a SAFE/SEMI/AUTO fire modes) with improved ergonomics and handling compared to standard AKs. The replica itself is another project resulting from the cooperation of CYMA with our TAIWANGUN.COM store.
Specifications:
16-inch external aluminum barrel, with a precision inner barrel with a diameter of 6.03 mm
polymer handguard with Picatinny accessory rails
extended aluminum upper receiver with Picatinny mounting rail for optics, laser, or night vision
polymer lower receiver (as in the original rifle)
polymer folding retractable stock with an adjustable cheek rest
ambidextrous AR15-type safety selector levers
ambidextrous charging handle
ambidextrous magazine release
ergonomic polymer pistol grip
polymer folding sight set
polymer 7.62x39-size magazine with dummy cartridges visible in the mag window
dummy flash suppressor with a 14mm thread CCW
front and rear sling attachments
The rifle in the already known PLATINUM configuration has a velocity of around 430 fps (can be downgraded) and, in combination with a LiPo battery, a ROF of around 25rps and a faster trigger response. This was achieved due to the new gearbox parts with increased durability, such as:
reinforced hybrid gearbox frame with quick spring change system
processor unit with built-in MOSFET system
full steel teeth polycarbonate piston
CNC machined steel gear set (ratio: 13:1)
8mm ball bearings
CNC machined aluminum silent cylinder and piston head set (ball bearing piston head, double o-ring cylinder head)
ball bearing spring guide
high-speed motor
The set includes:
Alfa replica
200rd mid-cap magazine"