Specna Arms SA-J05 EDGE Carbine AEG
OptimusPrime
11 Aug 2020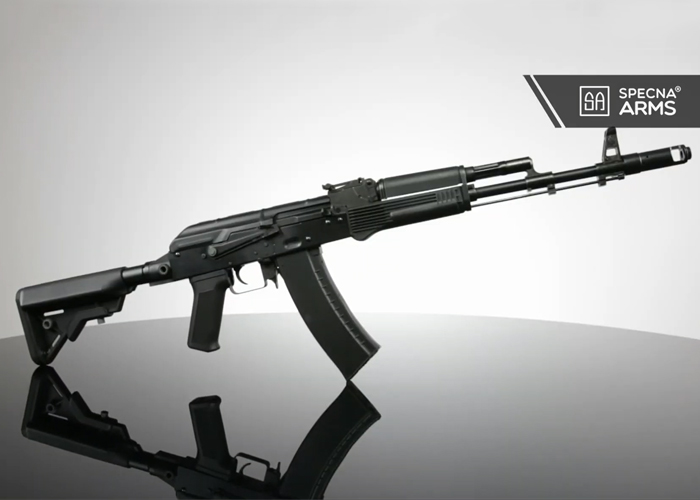 An official video giving us a quick overview of the Specna Arms SA-J05 EDGE Carbine AEG... "The Specna Arms J-Series™ carbine replicas are made mainly of steel. Steel elements include the receiver, dust cover, external barrel, trigger guard, magazine latch, fire mode selector plate, gas pipe, muzzle device, rear sight, cleaning rod as well as pins and rivets. Remaining metal elements were made of a Zinc and aluminum alloy with a special coating used for their finish gives the replica a very realistic appearance.
Replica Features:
metal Hop-Up chamber
precision, internal barrel with a diameter of 6.03 mm
quick spring exchange system Enter & Convert™
the set includes additional M90 main spring
muzzle device mounted on 24 mm CW / 14 mm CCW thread
'dovetail joint' side mounting rail
realistic construction in VFC system based on pins, levers and pegs.
plenty of room for a Stick battery under the dust cover (LiPo ready)
telescopic stock mounted on a metal buffer tube in AR15 standard
The implemented in J-Series™ carbine replicas quick spring exchange system Enter & Convert™ enables a rapid and quick adjustment of the power of the replica to the conditions expected on the playing field without the need for access to a workshop or a set of special tools.
J-Series™ airsoft replicas are powered by Gearbox ORION™ V3 that is characteristic for its high reliability at stock. The mechanism is prepared for further tuning and cooperation with M140 main springs.
Inside, there are elements such as:
reinforced polymer piston with a full, steel jaw
aluminum, double air-sealed cylinder head
aluminum, double air-sealed piston head with bearings
ball bearing spring guide
set of steel gears
The set includes:
a replica
2 x Hi-Cap magazine
additional M90 main spring
User's manual
certificate"