Patrol Base's Stu Checks Out the Umarex USP
OptimusPrime
17 Sep 2021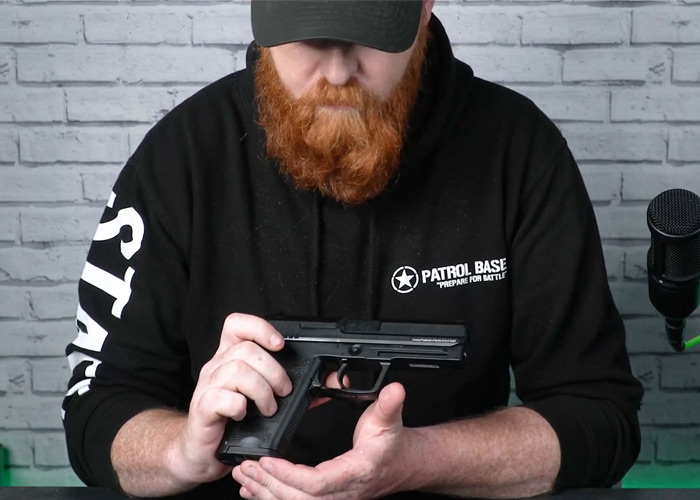 A quick check on the Umarex USP Gas Blowback Pistol as done by Stu of Patrol Base... "Initially created to replace the H&K P7, the USP ( Universal Self-loading Pistol ) has been in service since 1992 and still is to this day, proving itself to be one of the most reliable & unique sidearms in modern firearms.
The UMAREX USP .45' slide is constructed from Alloy, which makes a lovely metallic sound when racking & chambering a new round. The slide has a sleek, minimal and chamfered design fitted with the USP valley style white dot iron sights, it also features rear serrations along the back of the slide to allow for improved manipulation and handling, providing a stronger grip against all contact surfaces.
The slide features several H&K Trades as you expect with this product being fully licensed by Heckler & Koch. The trades on the gun read as follows.
HK USP
.45 AUTO
20H06189
HK .45 Auto
Licensed Trademark Of Heckler & Koch GmbH
25-094705
The lower of the gun is constructed from a reinforced, ultra strong polymer and features a H&K style pistol grip texture, also found on the HK416/17D. The pistol grip trademarks also read 'HK USP'.
The gun features a unique safety, which is accessible at all times via the shooters hand. Just above the beavertail you will find a grey horizontal lever, this can be moved up slightly to engage the safety which will prevent the trigger from moving, with a white line indicator on the lower to indicate as to which fire mode you are in. The safety also offers a de-cocking system, once your hammer is locked back and the gun is ready to fire, you can push the safety switch downwards which will disengage the hammer.
Overall the H&K USP .45 truly represents it's real steel counterpart in every aspect, from build quality to realistic operation, this is yet another fine replica airsoft pistol that we're proud to stock."