MOS Red Custom Tokyo Marui Hi-Capa 5.1
OptimusPrime
15 Jan 2022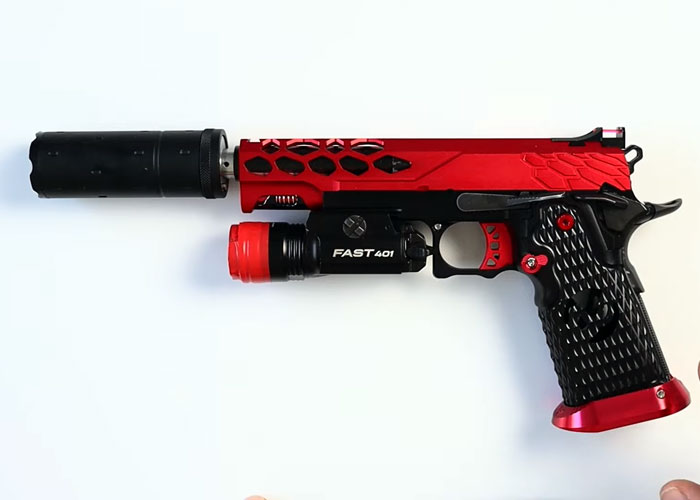 MOS Airsoft dropped us a message of part of his Tokyo Marui Hi-Capa 5.1 custom build, the MOS Red. You can read below all the parts he used for his build and loadout to match it... "A new video of my hi-capa replica part 2 ! Sorry for my bad english and accent :) ... I hope you got enough information with this video. You can ask questions in the comments!
AM edge shield red slide
AM edge ultra speed BB housing
AIP ultra speed nozzle
AIP red guide rod
AIP alu rear and front sight
Aluminium threaded 2 sides Outerbarrel
JLP Ultra light Guide Rod
AIP Recoil Plug
AIP Recoil spring 140%
AM Aluminum Grip Type 8
AM infinity magwell
AM steel trigger ring
AIP alu red grip screws
AIP Hammer spring 140%
CCT Nozzle spring 180%
AIP Shortstroke buffers
AceTech BT Tracer
Maple Leaf Hopup chamber
Maple Leaf Deception 70 bucking
CrazyJet inner barrel 6.02
AM Mag Release catch
COWCOW CCT Steel Sear
COWCOW CCT Disconnector
COWCOW CCT Valve Knocker
AM Aluminum Infinity Advance Frame
Goldmatch Stock Grip Safety
AIP Type J trigger
OPSMEN 401 flashlight
Nineball HEXA Hammer
AIP Black Thumbsafety
AIP Thumbsafety Pin
Primary Adapter
SpeedQB midcap Mags
SpeedQB Hoody
SpeedQB Cap
Balystik HPA regulator
Balystik HPA line
Valken HPA Tank 0.8
Powair HPA Tank 0.2
Speedsoft.es Chestrig & Bag
Speedsoft.es Handshoes
Speedsoft.es Belt
JerseysClinic Jersey
Dye I5 Mask
Push Mask
Dye Arm Pads
Speedsoft.es Kneepads
MadBull 0.25 Tracer BB's
GoPro Hero 8 camera"