Latest ASG Restock At Land Warrior Airsoft
OptimusPrime
10 Jun 2022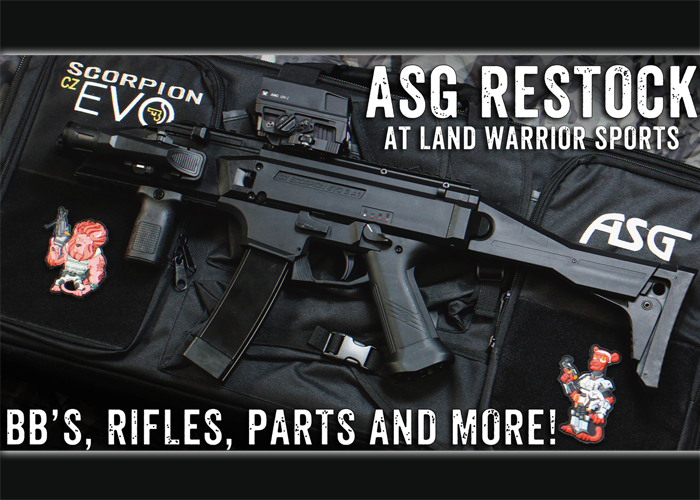 The next big delivery for Land Warrior Airsoft is from ASG and this includes some of the most recent releases... "We just received a huge one from ASG including many sought after items, including BBs! From the up-close-and-personal lighter BBs such as .25s, .28s and .30s to the heavier Sniper Weight BBs all the way up to .48s, we have what you need to give out the good news at your next game!
And yes, we'll be taking plenty of these down to Catterick this weekend for the Stirling Airsoft Milsim!
Along with the regular consumables, we also received a number of ASG's Top-Quality RIFs, such as their very popular CZ Scorpion Evos, the best 'stock' AEG on the market, plus the long-awaited return of the longer-barrel variant of their gorgeous Mk13 Mod 7 Sniper Rifle, along with its Compact Counterparts in all Colour Variants!
We also have a number of their sidearm options, such as their Dan Wesson Revolvers in multiple lengths and finishes from the 6" Steel Model to the Golden Snubnose! Or why not their more modern CZ Pistols, from their top tier competition shooter the Shadow 2, to their P-09 and SP-01, ideal as both a back-up to a main rifle or your next go-to in CQB.
To top it all off, we have a number of both External and Internal parts for you, such as their Rotex-V Mock Suppressors including fresh-stock of the longer 5.56 styles, to Motors, Holsters, everything you need to help make yours guns go pew!
Check out our website here for all we offer here at Land Warrior Sports and be sure to also follow us on Facebook and Instagram for more from us everyday!"