KRYTAC Trident SDP 2.0 AEG LayLax Edition
OptimusPrime
07 May 2021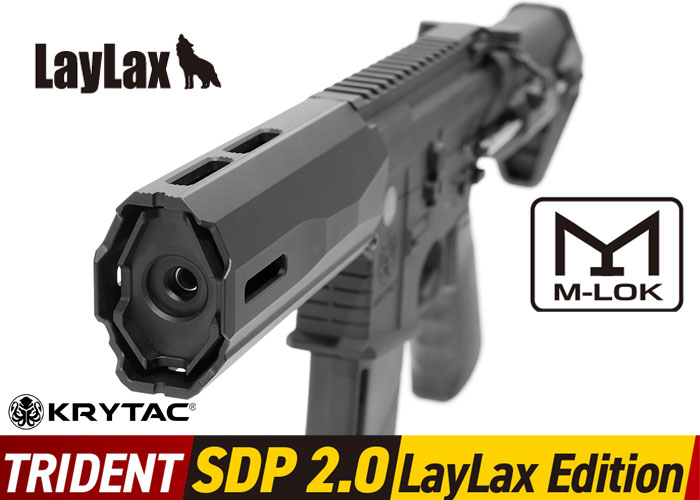 LayLax and KRYTAC collaborate resulting into the Laylax Edition of the Trident SDP 2.0 Compact AEG... "LayLax responded to a design cooperation request from KRISS USA for the renewal of the short barrel model TRIDENT SDP, which has excellent operability such as winning the title of the owner's meeting twice, and the arrangement of M-LOK slots and affinity with LayLax parts. After repeated discussions on design, functionality, and cost, the latest and strongest TRIDENT SDP 2.0 has finally rolled out!
TRIDENT SDP
KRYTAC series short barrel size model equipped with a telescopic stock that cuts the barrel short and can store the battery.
As the name of SDP (Special Duty Pistol), it can be used for pistol use.
Designed based on AR such as M4 and M16, you can shoot with the same operation as the selector lever and magazine catch.
The selector lever is an ambi type, which enables smooth operation even during switching. In addition, a large-sized enlarged trigger guard is adopted, and it is also compatible with the use of gloves. The biggest feature is the aluminum alloy hand guard with a good grip without rails, which is used only in SDP.
The original mechanical box can be lubricated and the main spring can be replaced without disassembling, achieving high maintainability. The hop dial is equipped with a click stop function that allows 15 adjustments.
The new model in the magazine of "KRYTAC M4 polymer magazine 150 series" standard adopted. The exterior can be removed with a single touch from the switch on the bottom, improving maintainability.
Product specifications:
Body color: Black
Inner barrel length: 135mm
Inner barrel inner diameter: 6.05mm
Body size: Measuring
Body weight: Measuring
Internal specifications: MOSFET electronic control switch standard equipment / Easy access spring guide system Allows the spring to be replaced without disassembling the mechanical box.
Connector type: Deans T connector (conversion connector for mini connector included)
Exterior parts:
KRYTAC MK2 metal receiver
DEFIANCE pistol grip
Ambi selector lever
Ambislin group
CMC straight trigger
KRYTAC GEN2 compact carbine stock
Toolless battery compartment
Quick pull 2 ​​position stock
KRYTAC M4 polymer magazine (number of bullets) 150 shots)
Accessories
KRYTAC TRIDENT SDP Manual (English)
LayLax Design Front Kit Manual
Conversion Connector for Mini Connector
KRYTAC M4 Polymer Magazine
Compatible batteries:
GIGA TEC EVO lipo battery 7.4V / 1200mAh Stock pipe-in (sold separately)
PSE lipo battery R mini battery S 7.4V 2050mAh (sold separately)"