G&G GC16 FFR AEG At Patrol Base
OptimusPrime
05 Dec 2021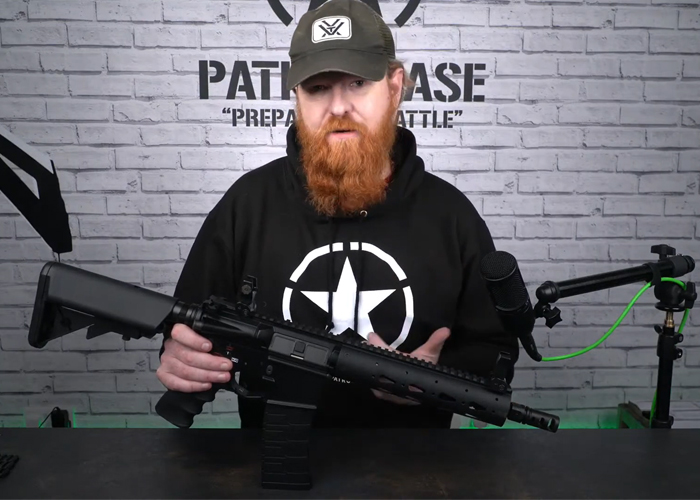 The shorter barreled GC16 FFR AEG from G&G Armament is available at Patrol Base and here is Stu showing us the highlights of this AEG in this livestreamed video... "G&G's full range of CM16 family come with other unique accessories straight from the factory including a pre-fitted sling plate and lockable multi position sliding stock. The perfect length for any Airsoft environment from CQB to Urban or all out Woodland Warfare. The weapon is constructed almost mainly from Polymer, featuring an polymer Receiver with an alloy Stock Tube, Hand Guard and outer Barrel, with a Polymer Pistol Grip, Magazine and Stock.
The top of the weapon features a full length 20mm RIS / RAS Rail Panel, allowing the attachment of a variety of Scopes and Sights. The magazine is unique to the G&G Range, featuring a Rubber Hand Moulded Grip giving the user extra hold and stability on the magazine, however it will take standard M4 STANAG magazines.
The stock of the weapon is multi-position adjustable, featuring a rubber butt stock for extra grip, as well as a textured cheek rest. This gun is perfect for new and old Skirmishers alike, giving you a range of features which are usually seen only in high-end weapons, but at a great price.
The Handguard is the interesting piece of this RIF, featuring a cylindrical style frame with raindrop shaped cut-outs accompanied by threaded holes, allowing for the attachment of rails should you wish. The handguard serves a purpose of being extremely lightweight, providing the end user with a great handling experience."