Elite Force x Black Sheep Arms GLOCK Custom Cerakote GBBs
OptimusPrime
13 Aug 2021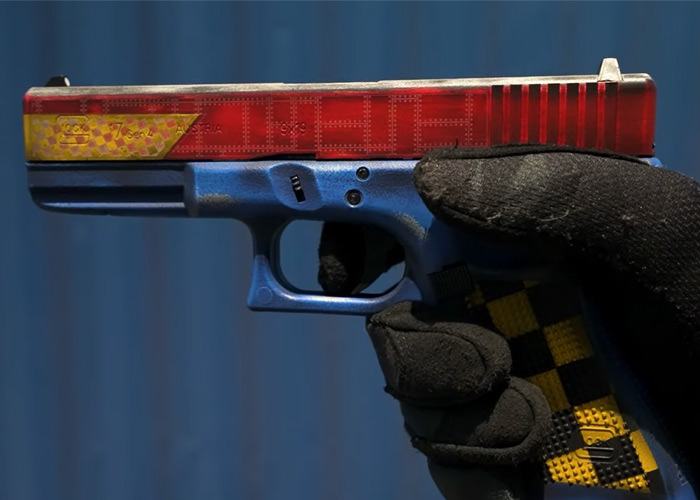 Snap shot of Cerakote'd Elite Force Glock GBB Pistols as done by Black Sheep Arms available at Evike.com... "UMAREX GmbH & Co. KG (UMAREX) headquartered in Germany receives the first worldwide license from the well-known Austrian weapons manufacturer, GLOCK, for the reproduction of its internationally recognized pistols. UMAREX is thus writing a new chapter in its success story as the world market leader in licensed replica handguns. Eyck Pflaumer, managing partner of UMAREX, summarizes the results of the intensive negotiations, For years now, the trust between our two companies has been growing and we are looking forward to further developing this relationship with GLOCK. From November 2017 onwards, gun fans will find the first replicas of these famous pistols in outdoor retail locations almost everywhere in the world.
GLOCK is a leading global manufacturer of firearms. The simple, safe design of GLOCKs polymer-based pistols revolutionized the firearms industry and made GLOCK pistols a favorite of military and law enforcement agencies worldwide and among pistol owners. In 2017, GLOCK celebrates its 31st Anniversary in the United States. Renowned for featuring three safeties, GLOCK pistols offer users of every lifestyle confidence they can rely on. GLOCK, Inc. is based in Smyrna, Georgia. For more information, please visit US.GLOCK.com.
The GLOCK 17 is the duty pistol which every other duty pistol is measured to. Renown for its reliability, performance, and magazine capacity, the GLOCK 17 is the go-to full size duty pistol for professionals and enthusiasts. The Gen.4 frame features a new scientifically designed, real-world tested rough texture technology for improved grip.
Black Sheep Arms is an industry leader in Cerakote services who is now offering Cerakoting for Airsoft products. They've given some of our most popular products a stunning makeover which accents all the fine details of each item. Due to the nature of Cerakote and the craftsmanship behind each design, not every weapon will look exactly the same as imaged.
Cerakote is a Polymer-Ceramic coating that can be applied to metals, plastics, polymers and wood. The unique formulation used for Cerakote ceramic coating enhances a number of physical performance properties including abrasion/wear resistance, corrosion resistance, chemical resistance, impact strength, and hardness."