CYMA CM.041L Upgraded Version At Taiwan Gun
OptimusPrime
07 Apr 2021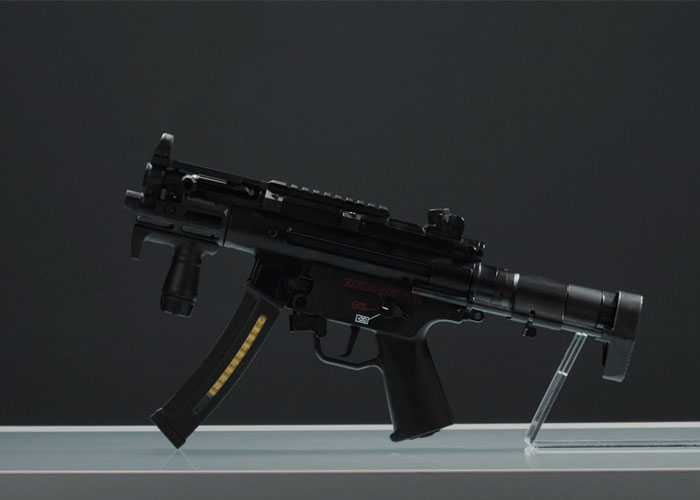 A quick look at the CYMA CM.041L Upgraded Version that Taiwan Gun carries... "CM.041L is a model of a submachine gun from a new PLATINIUM series, created as a result of the cooperation of companies with many years of experience in the airsoft industry - CYMA and TAIWANGUN.COM. It owes popularity to a very good value for money. The metal body with the barrel assembly and the nylon pistol grip imitate the material used for the production of real SMGs. The compact design with the telescopic adjustable stock makes it easier to move around in cramped rooms. An Ambi selector lever allows the operating of the replica by both right and left-handed people. In the replica, after pulling the charging handle, the ejection window opens, behind which the adjustment of the hop-up system is hidden. Each model on the receiver has a laser marking in the form of a unique serial number.
Specifications:
5-inch external barrel, with a 14mm thread CCW
3-inch aluminum MLOCK handguard
aluminium 6-position PDW stock with battery compartment
extended top mount rail for the red dot sight and accessories
polymer magazine with dummy ammo
ambi magazine release
flat trigger
rear sling attachments
The pistol in the new E-EDITION & HIGH-SPEED configuration has a velocity of around 300 fps and, in combination with a LiPo battery, a ROF around 25rps and a faster trigger response. This was achieved due to the new gearbox parts with increased durability, such as:
reinforced V3 gearbox frame with quick spring change
processor unit with built-in MOSFET system
full steel teeth polycarbonate piston
CNC machined steel gear set (ratio: 13:1)
CNC machined aluminum silent cylinder and piston head set (ball bearing piston head, double o-ring cylinder head)
ball bearing spring guide
high-speed motor
Set includes:
SMG replica
130rd Mid-Cap magazine
Every replica pass initial check up. It`s being checked and overshooted on XCORTECH X3200 chronograph."