APS ASK205BW Battle Worn Style AEG
OptimusPrime
26 Nov 2021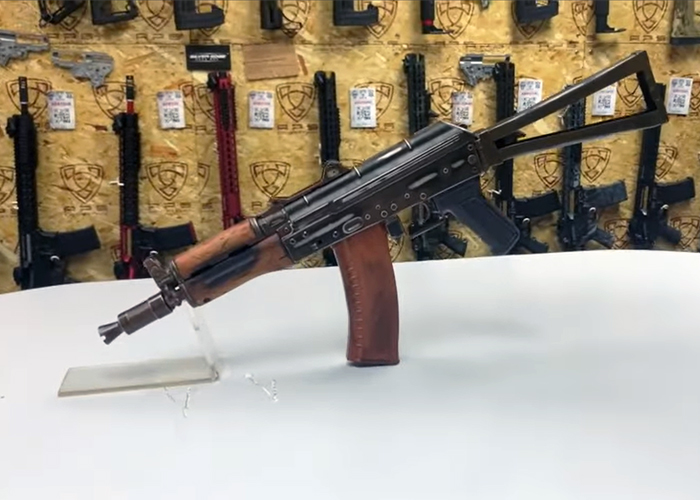 A quick look at the APS ASK205BW AEG. This has been given a special treatment for a battle worn look and internally it uses the APS Silver Edge Ver. 3. The receiver is made with iron sheets with other features being the wooden front grip and stainless steel inner barrel... "The true CQB version of our ASK Series. Its short barrel and foldable butt stock make this AKSU the perfect weapon for CQB combat. If you are a CQB lover, you need to take a good look at this weapon. This iconic gun takes its rightful place in the airsoft hall of fame. Powerful, versatile and it carries a swagger with its impeccable pedigree. Rule the CQB arena and pick the APS AK74U.
Caliber: 6mm BB
Inner barrel size: 6.04mm
Energy Source: 8.4v Ni-MH Battery
Silver Gear Box Installed
8mm Metal Bearing
Velocity: 280~380 FPS (Upon Request)
Canada Version 375 FPS @ 0.2g BB
Maximum Range: 80 Meters
Effective Range: 30 Meters
Fire Selector: Safe / Semi Auto / Full Auto
Plastic Hand Grip
Metal Body & Magazine, Real Wood Hand Guard and Foldable Butt Stock
Rate of Fire: 750 ~ 850 Rounds Per minute
Magazine Capacity : 500 Rounds
Length: 74cm(L) x 25cm(H) x 5cm(W)
Weight: 3 kg
The battleworn version is made for collector. The aging look alike painting give you a high degree of realism of a rifle being used in battles. There is many additional handmade speical processing, such as rusting threadment, scars, scratches. It is very time consuming to ensure high quality outlook. We are sure collector will be crazy about it."