Netflix To Release Animated World War II Movie "The Liberator" On Veteran's Day
Logan
22 Oct 2020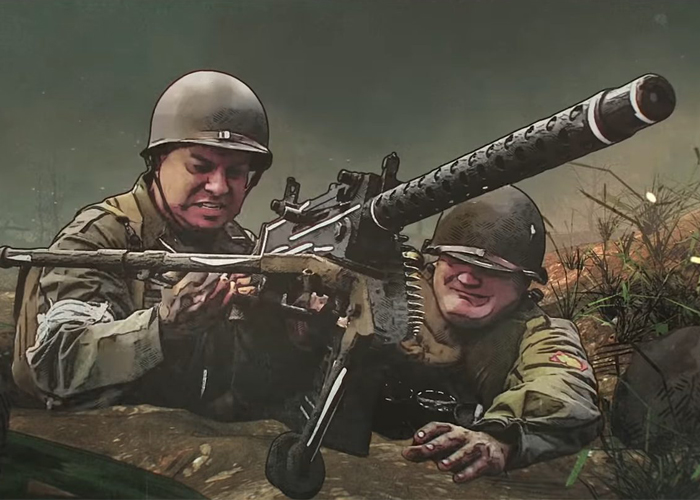 Last week, Netflix dropped a trailer featuring its upcoming movie slated to be released on Veterans Day next month. "The Liberator" is based on the book "The Liberator: One World War II Soldier's 500-Day Odyssey from the Beaches of Sicily to the Gates of Dachau," written by Alex Kershaw released in 2012.
The Netlfix movie is produced by A+E Studios for Netflix and it is about the story of Captain Felix Sparks who is played by Bradley James ("Merlin" TV series) and his unit's epic fight against the Axis Powers as mentioned in the synopsis of the book:
Written with Alex Kershaw's trademark narrative drive and vivid immediacy, The Liberator traces the remarkable battlefield journey of maverick U.S. Army officer Felix Sparks through the Allied liberation of Europe—from the first landing in Italy to the final death throes of the Third Reich.

Over five hundred bloody days, Sparks and his infantry unit battled from the beaches of Sicily through the mountains of Italy and France, ultimately enduring bitter and desperate winter combat against the die-hard SS on the Fatherland's borders. Having miraculously survived the long, bloody march across Europe, Sparks was selected to lead a final charge to Bavaria, where he and his men experienced some of the most intense street fighting suffered by Americans in World War II.

And when he finally arrived at the gates of Dachau, Sparks confronted scenes that robbed the mind of reason—and put his humanity to the ultimate test.
The movie is written by Jeb Stuart ("Die Hard", "The Fugitive), this is filmed using the patent pending Trioscope Enhanced Hybrid Animation, which combines state-of-the-art CGI with live-action performance. It is said that Trioscope brings an unprecedented level of emotion and fidelity to the animated drama experience.
The director for the film, Greg Jonkajtys ("Sin City", "Pan's Labyrinth") said, "We decided early on Trioscope was perfect for this project because it centers everything on actors' performances, which give the emotional fidelity a story like The Liberator deserves. Trioscope has made some significant advances in pixel flow and tracking so we don't have to rely on hand-drawn or rotoscoped shapes anymore."
It's time to check if you have Netflix subscription or update yours if you have one if you are looking forward to watch this, since it will only be shown on the streaming service. "The Liberator" will be shown on November 12, Veterans Day 2020.