Mesa Tactical Updates Its Sureshell Carriers With An RMR Ready Series
Gungho Cowboy
14 May 2022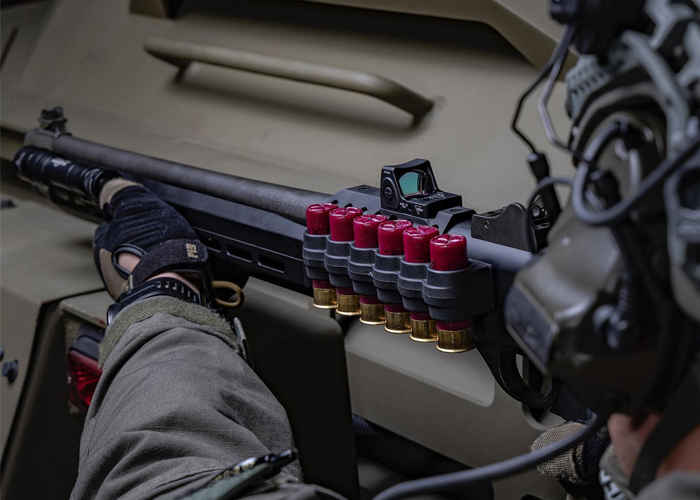 We do like the Sureshell Carriers from Mesa Tactical as they're convenient to install on the usual brands such as Mossberg, Benelli, Beretta and Remington. Options are alumunium and polymer as well as  4-shell or 6-shell carrying capacity. They also have the railed carriers allowing one to mount aiming devices such as Holosights.
Early this month, Mesa Tactical revealed an update to the Sureshell Carrier announcing an RMR-ready series. No need to explain to you RMR sights as they are commonly seen in optics ready handguns, whether these are real steel or airsoft. Target acquisition is easier with an RMR mounted shotgun.
---

---
For now, the SureShell Carrier With RMR Mount is available for owners of the Benelli M2 and M4 shotguns. Just like the earlier SureShell Carriers, the options are aluminium and polymer material and 4 or 6 shell capacity.
---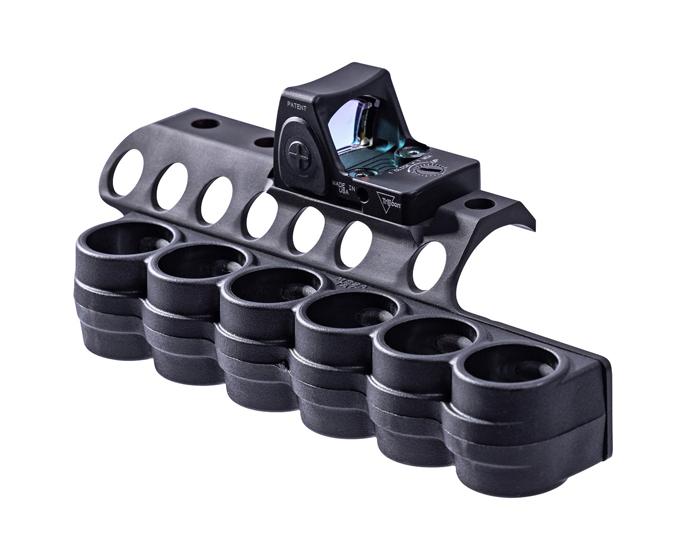 ---
These are available right now pricing is US$93.00 polymer version and the for those looking for an airsoft Benelli, the closest thing is the CYMA CM353L Tri-Shot which is a Benelli M4 Super Long 90. For owners of other brands, they may have to wait a bit longer.
Press release below:
---
Mesa Tactical Introduces The SureShell® Carrier With Integrated Trijicon® RMR® Mount For The Benelli M2 And M4 Shotguns

Mesa Tactical, designer and manufacturer of high-quality tactical accessories and equipment for law enforcement, military, and civilian shooters, has announced the availability of the new line of SureShell® shotshell carriers with integrated Trijicon® RMR® reflex sight mounts for the Benelli M2 and M4 shotguns. The RMR sight can co-witness with the shotgun factory ghost ring sights.

The SureShell carriers with RMR mount are similar to Mesa Tactical's SureShell carriers with integrated optics rail, instead of a Picatinny rail these carriers feature a precision machined mount for an RMR reflex sight. Built tough and ready for professional work, the SureShell aluminum carriers are machined from 6061-T6 aluminum with a Type 3 hard coat anodized for flat black durable finish. These shotshell carriers mount via drilled and tapped receiver holes and include an innovative rubber friction retention system which solidly holds shotshells in place. Available in four and six-shell configurations.

The optional SureShell polymer carriers employ injection molded-glass filled nylon yokes which are secured to lightweight aluminum backplates by brass threaded inserts. The SureShell polymer carriers are lighter weight than aluminum and include an innovative dual rubber friction retention system. Available in a six-shell configuration only. (Trijicon RMR reflex sight not included.)

Mesa Tactical's four and six-shot SureShell aluminum shell carriers are an industry standard and the preferred choice of most federal, state, and municipal law enforcement agencies due to their hard anodized aircraft aluminum construction, fail-safe shell retention system, robust mounting method, and ease of installation. Mesa Tactical also manufactures other SureShell carriers in a variety of styles and mounting methods for Remington, Mossberg, Beretta and Benelli tactical shotguns. All Mesa Tactical products are 100% Made in America.