Meet The B&T SPC9: When You Merge The APC9, AR15 & MP5 Into One Package
Logan
07 Oct 2020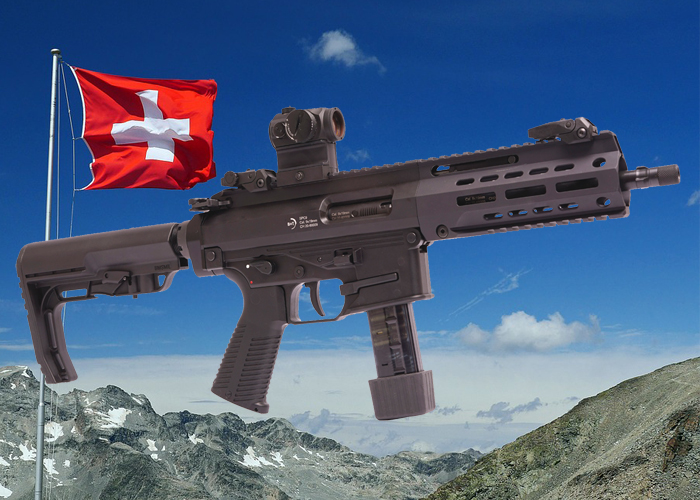 Information is just coming out about the new SPC9 from Brugger & Thomet AG and we were pointed to Spartan.at where they posted the initial information of the new firearm from the Swiss gun manufacturer as based on the product brochure that they were able to retrieve somewhere. For those who have read the brochure and got naughty minds like me, the SPC9 is a result of a threesome by the Heckler & Koch MP5, AR15, and B&T's very own APC9.
B&T is much in the radar of airsoft players with the release of two airsoft guns based on B&T designs --- the licensed ASG B&T Universal Service Weapon (Gas Blowback) and the Ares/Arrow Dynamics/Arrow Arms APC9K AEG (license unknown as of this writing) both compact and got some unique designs from the usual AR, Kalashnikov, and even H&K designs. With the reveal of the SPC9, B&T got another series that should have versions for the airsoft market.
It looks like B&T cherry-picked the best of features from the mentioned firearms where the SPC9's design is derived from. The question that first comes to mind is if that the combination of best features resulted into an even better firearm. The AR inspiration are seen in the pistol grip, shoulder rest, and charging handle. The MP5 inspiration is seen in 3-lug silencer assembly and another loading handle on the left side that is foldable and non-reciprocating. The prominent APC9 feature is the ability to use Glock 9mm magazines and the SIG P320/M17/M18 magazines. If there is an airsoft version of this, magazines are readily available as these pistols have their airsoft versions, licensed and unlicensed ones.
There are three versions to choose from:  
BT-500001 Semi-auto SPC9 Carbine
BT-500001-PDW Semi-auto Personal Defense Weapon
BT-500001-SD Semi-auto Suppressed Carbine
---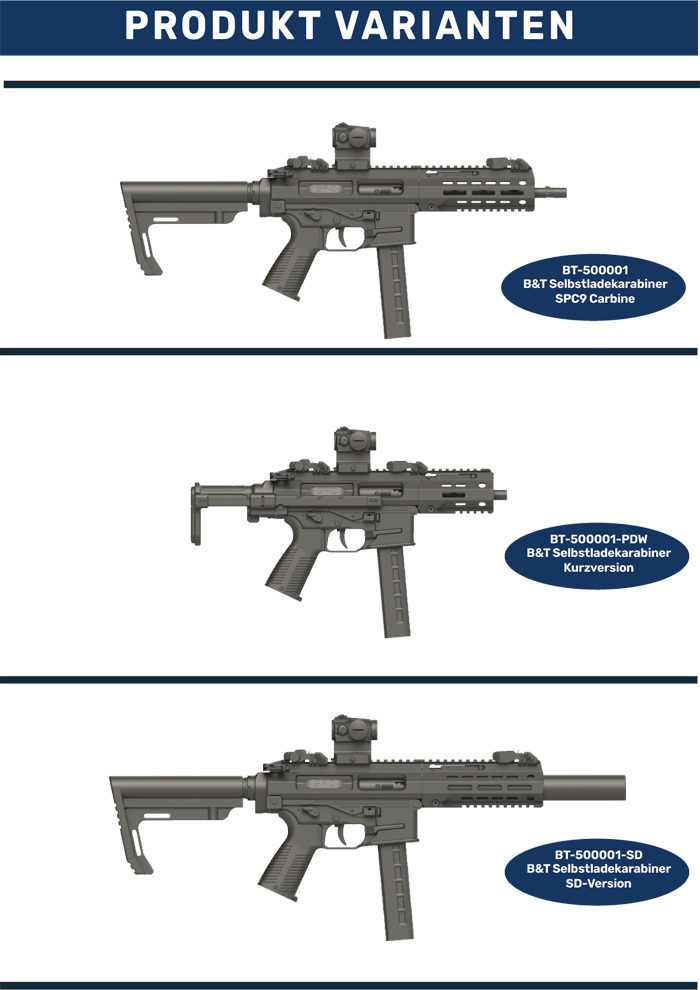 ---
Here some more details as based on the translated product brochure using online translation tools:
The SPC9 is a new 9mm carbine that incorporates many of the features found on the B&T APC9, MP5 and common AR platforms of weapons. It provides excellent handling, accuracy, safety, and a very low recoil impulse thanks to the innovative hydraulic buffer.

The most innovative aspect of this product is that it can be modified by the user to accept any Glock 9mm magazine.

This provides flexibility, cost saving and inter-operability between team members.

Features that are common to the AR platform are:

AR style telescopic stock
Non-reciprocating "T" charging handle on top of the receiver
AR style pistol grip

Features that are commonly found on the MP5 are:

3-Lug suppressor mounting
Second, folding, non-reciprocating cocking handle located above the barrel

APC9 features are:

100% ambidextrous trigger group
Ability to accept B&T 9mm 10/15/20/25/30 round magazines
Hydraulic buffer

The lower can be exchanged to accept:

All Glock double column 9mm Glock magazines from 10-round to 33-round sizes
All SIG Sauer P320/M17/M18 magazines