The Limited Edition Daniel Defense MK12 Alpine Predator Gets Sold Out Quickly
Gungho Cowboy
26 Jan 2023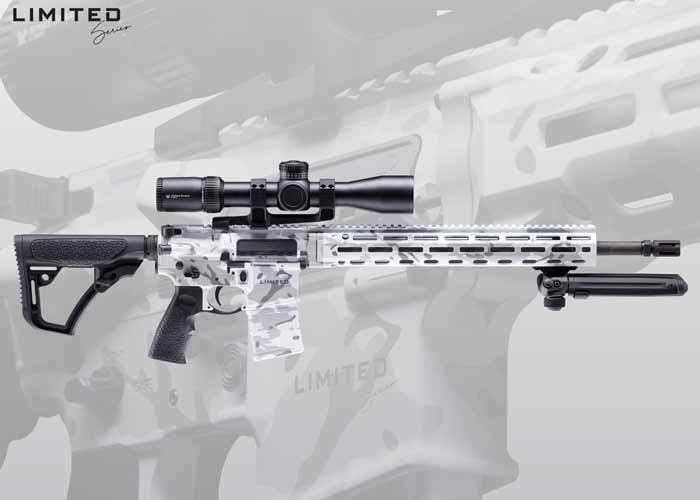 6 days ago, Daniel Defense announced that they will be doing a Limited Edition series. These are builds that are available in limited quantities:
---
Introducing the Limited Series by Daniel Defense.

Daniel Defense is teaming up with industry-leading manufacturers to build small batches of once-in-a-lifetime Daniels.
These Limited Series builds will come equipped with optics, slings, custom finishes, and a lot more that we can't talk about right now!

They'll be available on a first-come-first-served basis. So, the best way to get your hands on one is to sign up for insider notifications. But act fast, because once these limited-edition Daniels are gone, they're gone for good.

First up, a collaboration with Vortex Optics and Weichel Performance Coatings – coming soon!
---

---
It looks like that even before the first one of the series got revealed the interest is so high that when the MK12 Alpine Predator was put on sale, it got sold out quickly. The MK12 is the company's best-selling rifle and they took the new Vortex Strike Eagle® 3-18x44 on a cantilever mount to be the main optic. With an aluminium tube that is lightweight and durable, the Strike Eagle uses Vortex's RevStop  Zero System guarantees a return to zero, locking turrets for quick adjustments that stay adjusted, and a throw-lever for rapid target acquisition over a wide range of magnification.
---

---
The top rail is a continuous 1913 Picatinny rail and has a flat-front MFR rail with an M-LOK attachment to which a Magpul M-LOK compatible bipod is attached and ready to be deployed when you need a more stable shooting position. It also comes with a Ferro Concepts Slingster and the Radian ambidextrous Talon Safety.
---


---
The Multicam Alpine Cerakote is done by Weichel Performance Coatings and for precision shooting, the package comes with Armageddon Gear Shooting Mat for comfort whilst lying prone. Armageddon Gear Shooting Mat which its maker says is a compact and easy to carry shooting mat for competition, training, hunting, or tactical use.
Only 60 of the Daniel Defense MK12 Alpine Predator were made and with such a very limited number, they all got snapped up pretty quickly. The price is US$ $3,499.00 and comes in a Daniel Defense Full-Latch Impact Plastic Case.