Jake Gyllenhaal & Yahya Abdul-Mateen II In Upcoming "Ambulance" Movie
Logan
22 Oct 2021
If you think of a Michael Bay movie, it is always about explosions, lots and lots of explosions. And also lots of guns and car chases. Expect more of the guns and car chases when "Ambulance", starring Jake Gyllenhaal ("Jarhead") and Yahya Abdul-Mateen II ("The Matrix: Resurrections") as it is directed by one of the most commercially successful directors.
"Ambulance" is a Hollywood adaptation of the Danish film of the same name that was released in 2005. The movie is about a decorated veteran Will Sharp played by Abdul-Mateen II, who needs a big amount of money to pay for his wife's surgery. Unable to raise the money himself, he turns to his foster brother, Danny played by Gyllenhaal, who is a career criminal.
---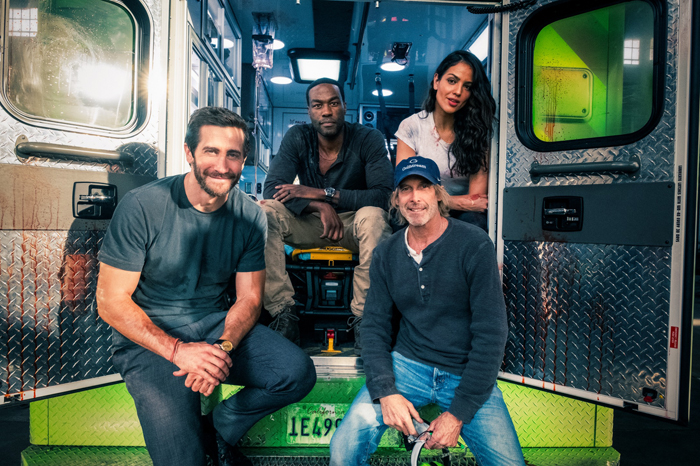 Jake Gyllenhaal, Michaeel Bay, Yahya Abdul-Mateen II, and Eiza González
---
Rather than giving him the money, Danny asks Will to be part of a bank job where they will grab US$32 million in cash. With his wife's life on the line, Danny agrees to join in the heist.
They go to commit the crime but everything goes not according to plan. Danny shoots and wounds a cop who got into the bank and the duo had to commandeer an ambulance to make their getaway. Inside the ambulance are the wounded cop and EMT Eiza González ("Bay Driver") and their situation got even more complicated as a hostage taking gets added to their list of crimes.
What follows of course is signature Michael Bay, frenetic scenes in the streets of Los Angeles as the LAPD throws everything it has --- SWAT, police cars and helicopters to try and catch the duo. Will the two be able to escape the dragnet that is closing on them?
Also joining Gyllenhaal, Abdul-Mateen II and Gonzales are Garret Dillahunt and Devan Long. The movie is written Chris Fedak with cinematography done by Roberto De Angelis. "Ambulance" will be initially released in the U.S. on February 18, during the President's weekend.