Watch The SpeedQB European Championships Live At DreamHack This Weekend
OptimusPrime
15 Oct 2019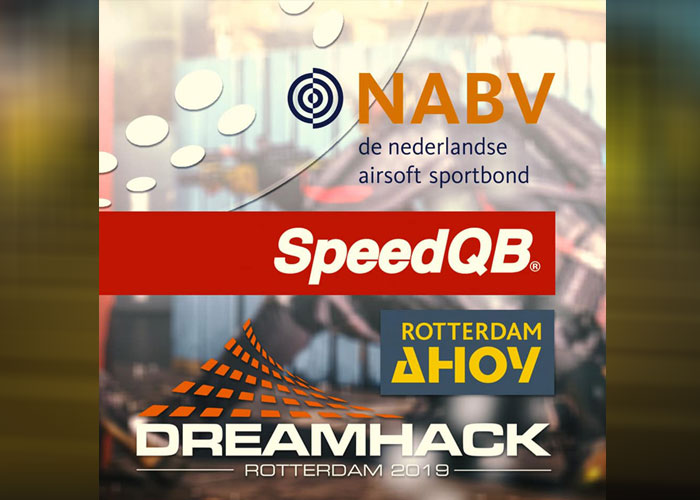 The fast growing airsoft team competition, SpeedQB, is gearing for its biggest event to date, the SpeedQB European Championship. Set to take place during the DreamHack Rotterdam 2019 on the 18th to the 20th of October, the event will be held alongside eSports tournaments such as the DreamHack Counter-Strike: Global Offensive Open Championship. This will be the first time that SpeedQB will be held at a venue where spectator sports are taking place.
DreamHack is the world's largest LAN party and computer festival that is held in different countries around the world. The venue for this weekend's Dreamhack will be at Rotterdam Ahoy in the Netherlands.
In order for airsoft to be considered a serious sport, it should be also a spectator sport. If SpeedQB makes it mark as a spectator sport, it will be on its way as to being the dominant team-based airsoft competitive league in the world. There are attempts to have a competitive airsoft league and SpeedQB seems to have found the right formula.
Supported by the Dutch Airsoft Association (NABV) and Evike.com as the main partner, the SpeedQB European Championship will be seeing 24 teams from Europe and USA that compete for the title. The video below gives more information about the tournament including Day 1 groups:
SpeedQB, as some may say, is the airsoft version of SpeedBall which of course is Paintball competitive sport. Whilst SpeedQB as a fast-paced airsoft team sport started in Southern California it can be said that before it, Speedball-type airsoft events have been taking place in Asia such as the Philippines and Thailand.
In SpeedQB, all types of airsoft guns are allowed but firing mode is semi-auto only. All guns must have trigger guard and double/extended triggers are not allowed. Maximum magazine capacity is 200 rounds for rifles, pistols and AR-mad-fed shotguns. For pistols whilst Extended Mags and M4 Mag Adapters are allowed, DIY mag adapters are not.
If you won't be at the Rotterdam Ahoy this weekend, you can still catch the matches as these will be livestreamed. You can check the streams at SpeedQB's official channels on YouTube and Facebook.