War In Favela Event 15 August
OptimusPrime
06 Aug 2020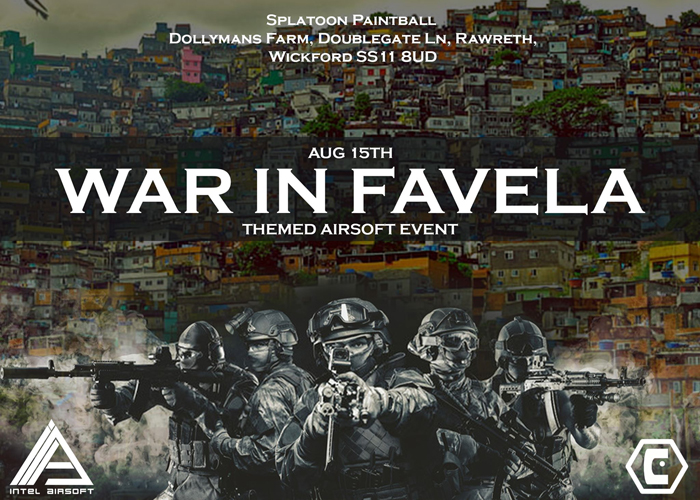 Intel Airsoft are hosting the "War In Favela" airsoft event that will take place at the Splatoon Paintball in Wickford, Essex on the 15th of August. Players can choose the Law Enforcers' side or the Drug Gangs... "Heavy gun battles happen on an almost daily basis in the city of Rio de Janeiro (Brazil), especially in the favelas - poor, mostly unregulated shanty towns inside and around the city - and other peripheral neighbourhoods, where two main drug gangs and several militia groups battle for control of territory and against the police.
This event will be a skirmish simulation of what happens in the favelas. expect game modes of police fighting drug gangs, drug gangs fighting other drug gangs over territory control and more, the event will start at 9AM and end at 4PM.
The event implies uniform rules on both teams. Team police must wear multicam or desert uniform (camo specified on tickets). The drug gang team must wear civilian clothes.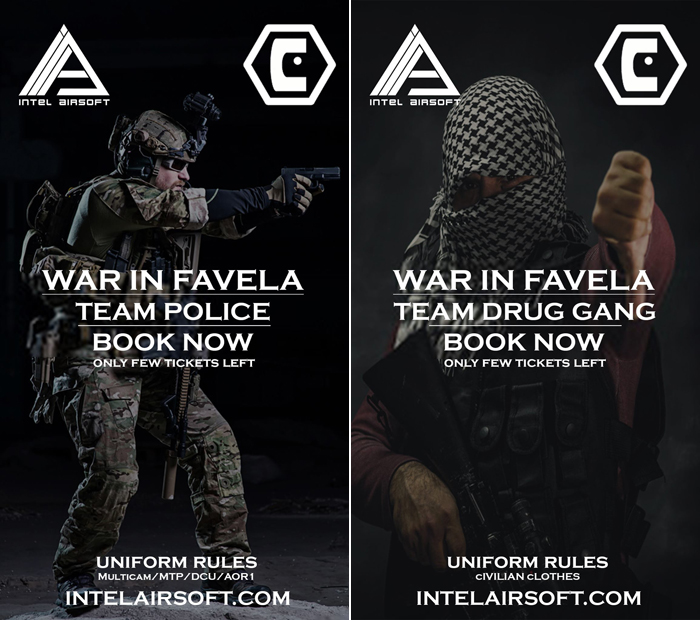 Ammo Limits and FPS Limits:
LOW/REAL or MID CAPS ONLY, BOX MAGS ARE ONLY TO BE USED ON GENUINE SUPPORT GUNS
All FPS limits are on a 0.2g bb. Ammo limits are per person, on your person, at any one time. You may have as much ammo in your regen area as you like, but no more than the designated ammo limit, inside magazines, on your person at any one time.
Riflemen: 600 rounds, FPS 350
Support Gunners: 2,000 Rounds, FPS 350
DMR: 300 Rounds (must be a semi locked gun and NO box mags), FPS 450
Bolt Action Sniper: 300 Rounds, FPS 500.
Pistols:FPS 350
Snipers and DMR users have a minimum engagement distance of 30 metres. Within this MED a sidearm/secondary weapon (as per above) may be used.
Time:
From 9 AM - 4PM
Gate opens 8 AM
Game starts at 9AM
The event will be continuous we will only stop for a lunch break: 12:30 -13:30
Rentals available only for the drug gang team.
Minimum Age: 16."