Classic Army Sportline M15A4 Tactical Carbine Value Package
OptimusPrime
13 Feb 2008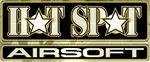 Hot Spot Airsoft is offering a value package when getting the CA Sportline M15A4. This is great especially for beginners or those looking for a base gun for a new project... "This is a Sportline Version w/ High Quality Plastic Body, Easy Disassembly Body, Real ARMALITE Logo, High Torque Motor, Metal Barrel and Front Sight, High Precision Metal Gearbox, Metal Hi-Cap Magazine (300Rd), Full Stock to Accommodate Large Battery, Metal Working Cocking Handle and Bolt Cover, and a Removable Carrying Handle w/ Metal Rear Sight.
Specifications:


Weight: 2400.0g
Barrel Length: 363mm
Barrel Diameter: 6.08mm
Magazine Capacity: 300Rd
BB Caliber: 6mm BB
Initial Muzzle Velocity: 345 - 350 FPS! w/ 0.20g BB
Battery Type: Large Type (8.4V)
Operation: AEG
Package Includes: AEG, Large Battery, Charger, Sling, Safety Goggles, Metal Flash Hider, Cleaning Rod, Manual, & 500Rd 0.20g BB"