Netflix Announces "Resident Evil: Infinite Darkness" CG Series Is In The Works
Gungho Cowboy
29 Sep 2020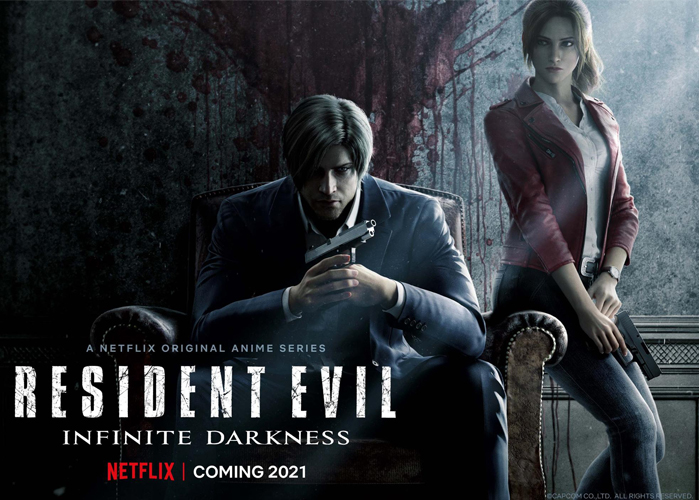 Early this month, we reported that Netflix has given the go signal for a live action Resident Evil series. This live action series is about the daughters of Albert Wesker, Jade and Billie, who move to Raccoon City where suspected their father was concealing dark secrets which then fast forward into the future where the world's population has been decimated where Jade is continued to be haunted by secrets of her past.
Now, another confirmed Resident Evil project was announced by Netflix and CAPCOM during the Tokyo Games Show 2020 and with a more direct management by CAPCOM, the company behind the Resident Evil/Biohazard series. Called Resident Evil: Infinite Darkness is a CG animated series about Claire Redfield and Leon S. Kennedy. Claire Redfield is the younger sister of S.T.A.R.S. member Chris Redfield and is works for Terrasave, a human rights organisation whilst Leon S. Kennedy first worked with the DSO and after surviving the Raccoon City Destruction Incident joined US-STRATCOM for anti-B.O.W. combat.
There are now details or a synopsis on the series but what know is that this will be supervised and produced by Hiroyuki Kobayashi of CAPCOM. He also produced Resident Evil: Degeneration, Resident Evil: Damnation, and Resident Evil: Vendetta which CG animated films as well.
Whilst not date has been revealed, it is seen that this series will be streamed in 20201.
Usually at the Tokyo Games Show, a collaborative project between Tokyo Marui and CAPCOM for the Resident Evil series is announced and usually it's going to be an airsoft gun design that will also be used as the weapon of one the main characters of upcoming Resident Evil video game installment. There is no announcement this time even with the announcement of the new anime and live action series. According to IGN, CAPCOM announced that "While Resident Evil Village is being developed specifically for next-generation consoles and PC, we're looking into delivering the experience on Xbox One and PS4 as well. We're looking into it, but we can't make any promises. However, we will do our best in creating a top-tier survival horror experience on current generation consoles."
Press release from Netflix right below the trailer posted on YouTube:
Netflix Announces The Original Anime Series 'RESIDENT EVIL: Infinite Darkness' Coming In 2021

27 September 2020. Known as the gold standard of survival horror games with over 100 million units from the game series shipped worldwide, Resident Evil has now been transformed into a Netflix original CG anime series.

This series is scheduled for a global launch in 2021 exclusively on Netflix. Three years after 2017's CG film Resident Evil: Vendetta, technology has further evolved, creating the groundwork for a new series in unprecedented full 3DCG animation.

Since the first game was released in 1996 on Sony PlayStation, the Resident Evil series is nearing its 25th anniversary. With the series continuing to evolve even now, a new title carves itself into the series' history. This series is entitled RESIDENT EVIL: Infinite Darkness.

This new series will be produced and supervised by Capcom's Hiroyuki Kobayashi, who is responsible for bringing numerous titles in the Resident Evil series into existence. TMS Entertainment, which has birthed various anime series, will produce the series, while Quebico, led by Kei Miyamoto, the producer of Resident Evil: Vendetta, will be in charge of the full 3DCG animation production.

This will be a horror-action series based around the stories of the two popular characters, Leon S. Kennedy and Claire Redfield. By adding suspense into dynamic action scenes, this series will reveal a Resident Evil world unlike anything seen before.

Teaser art and a teaser trailer have also been revealed with the title announcement! In the teaser art, we see Leon S. Kennedy and Claire Redfield against the backdrop of a blood-splattered wall, silently waiting to take on a new threat after cheating death time and time again. Revealed simultaneously, the teaser trailer depicts scenes of courage as Claire enters an abandoned building enveloped by the dark night as she happens to find "something" while Leon saves "someone" in the darkness. You can see every tiny speck of floating dust and the tension of the characters' expressions in these ultra-realistic, high-quality visuals which ramp up the intensity from the very start! Plug in a pair of headphones to double the terror in this teaser that will surely stir up expectations for this series!

Who will be the enemy this time? What is the meaning of "Infinite Darkness"? Stay tuned for more news about the Netflix original anime series RESIDENT EVIL: Infinite Darkness!