A Look At Textron Systems' Next Generation Squad Weapon Offerings
Logan
14 Oct 2020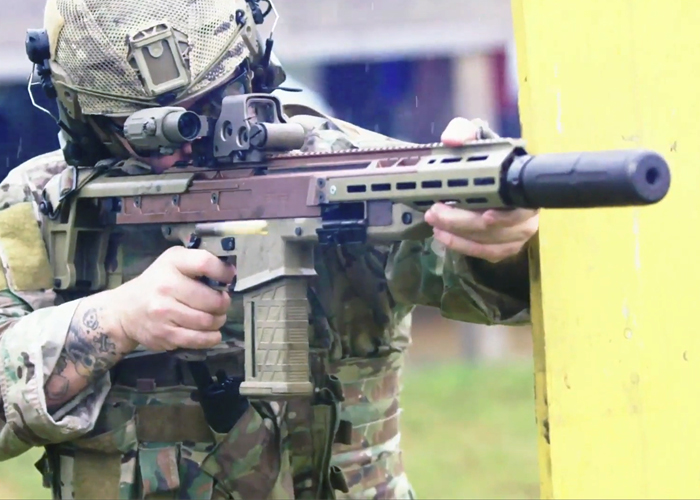 The ongoing evaluation of submissions by the three remaining parties for the U.S. Army's Next Generation Squad Weapon (NGSW) is something that we keenly follow as any decision to award any of the parties a contract to supply their offerings will mark a departure from M4/M16 rifles, the M249 SAW and the 5.56mm round which have been the mainstays in the U.S. military since the introduction of the M16 rifle during the Vietnam War in 1964.
Textron Systems is in the running for the NGSW against SIG Sauer and General Dynamics-OTS and whilst all the NGSW offerings are to use the 6.8mm round, Textron Systems offers the Cased Telescope (CT) ammo in which the 6.8mm round is encased within the cartridge and surrounded by the propellant with the Textron CT cartridge is made of plastic instead of brass. The main selling point of CT ammo is that the length of the ammo is shortened and may help avoid damage to the round during loading making magazine feed more reliable.
The company will be submitting an improved version of their NGSW offerings to the U.S. Army for further testing. The U.S. Army is now on the final phase of testing the prototypes and they plan to replace the M4 and M249 with the winning entries by 2023. The improved Prototype 2, according to a report by Military.com, is said to be based on the feedback from the global special operations community.
Here is a promo video released by company of Textron's offerings giving us a better look:
According to The Firearm Blog, Textron has teamed up with Heckler & Koch to make refinements to the NGSW prototypes, namely the NGSW-Rifle and the NGSW-Automatic Rifle. The collaboration has resulted into a slimming down of the NGSW-Rifle with a new M-LOK forend and contoured receiver.
One of the goal of the NGSW is to lighten the whole weapon system (weapon, accessories, and ammo) by 20%. One way to reduce such load is via ammo and a CT ammo with a plastic cartridge does offer a reduction in weight (and may allow the soldier to carry more ammo). If this is going to be a significant advantage for Textron Systems over the offerings from the other two parties, we'll find out when the U.S. Army announces the winner.
The Tactical Rifleman was able to have an exclusive look at the prototype:
As for the decision, it is expected to be announced in the first quarter of 2022.