Global Airsoft Gun Market Is Estimated To Be US$1.8 Billion In 2019
OptimusPrime
19 Oct 2019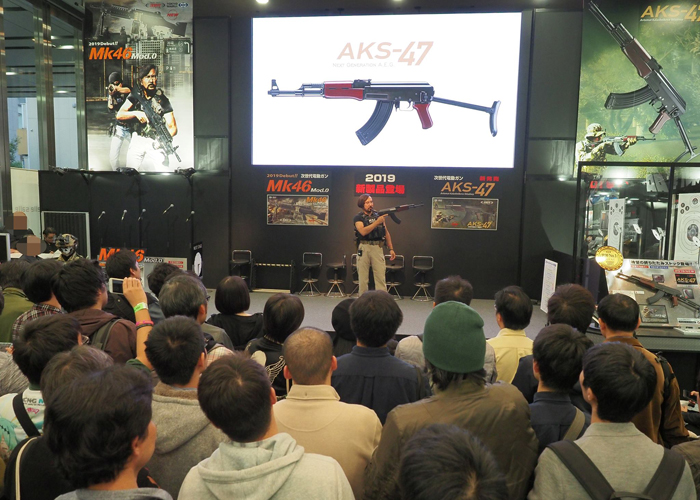 Many airsoft players have been wondering how big the airsoft market is, given that the sport/hobby is played in many parts of the world. It is also an expensive hobby as serious money is spent just to get one kitted out with the latest airsoft guns and gear that for anyone wanting to get into the airsoft business, knowing the numbers before taking the plunge is important. Popular Airsoft wanted to conduct this market study, but alas, it does not have enough resources to put together such research.
Dublin-based market intelligence firm Fact.MR have conducted study on the airsoft market and it has come out with an estimate that the global airsoft gun market is US$1.8 Billion, or to put it on Fact.MR's figure, is US$ 1,846 Million. In a nutshell, here are the highlights of the report:
Global sales of airsoft guns are estimated to ~US$ 1,846 Mn in 2019, in line with growing interest of millennials in adventurous sports and the tendency to spend more time on leisure activities, such as target shooting or shooting sport.
The airsoft guns market is envisaged to register ~7% CAGR through 2029 owing to the growing use of airsoft guns as training weapons in the army.
North America will continue to be the leading market for airsoft guns, with gains primarily underpinned by the increasing number of airsoft fields uplifting the popularity of airsoft sports in the region.
Middle East & Africa is likely to remain the high-growth market for airsoft guns manufacturers and repair & service providers. The market in MEA is estimated to witness a robust CAGR of ~9% during 2019 – 2029.
Development of hybrid airsoft guns is rapidly gaining prominence, as manufacturers of airsoft guns are taking a customer-centric approach and thus emphasizing custom-manufacturing capabilities.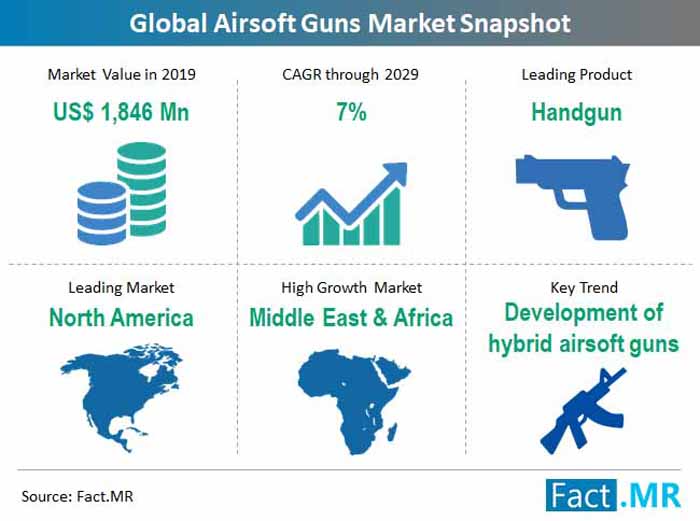 Growth apart from the civilian sales will be sustained through 2029 as military organisations are now procuring airsoft guns as training weapons, given that these are lower cost and can be operated like the real firearms especially gas and electric blowbacks. The North American market is still largest airsoft market, mainly carried by the U.S. market where gun culture is high and at the same time the proliferation of airsoft game facilities all over the states. Europe follows in terms of market size with Middle East & Africa seen as the high-growth area for the expansion of airsoft in the region for 2019- 2029.
Airsoft handguns are the largest sellers given that they are more affordable compared to airsoft rifles and support weapons. A big portion of the global market share is shared by Umarex, Cybergun, and Tokyo Marui which is about 30-45% of the market. Systema Engineering is surprising that it has revenues of over US$50 million given though we can assume that these are through institutional sales such as LEOs and Military. Much newer brands such as KRISS USA (Krytac) and Lancer Tactical also figure highly terms of market share. It is a surprise the Vega Force Company (VFC), WE Airsoft and Ares Airsoft, which are also known brands are not included in the study of market competition. Whilst VFC is very much a known brand, its sales figures and brand can be diluted since it does a lot of OEM work for Umarex, Cybergun, and SIG Sauer. Overall, the main bulk of airsoft gun purchases are done by individual buyers.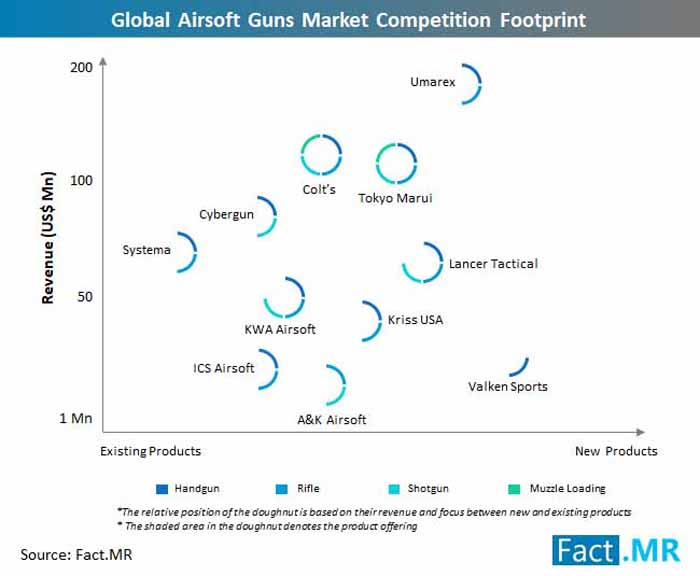 If you are wondering what hybrid airsoft guns are, these are usually defined as the gas blowbacks and electric blowbacks with recoil, though they could have gone with just using the terms that we use in the airsoft industry for clarity.
The challenges for the airsoft industry are mainly about stringent regulatory frameworks, intellectual property issues, and the increase of eye injuries as airsoft becomes more widespread for use in recreational and competitive activities.
The money is there all right and the good news is that there is still a lot of room for growth for airsoft. Whilst we had anecdotes from industry sources that the things have slowed down in terms of sales, the market research says otherwise.
If you want the full market report, it'll set you back US$4,500 for a single user licence. For airsoft companies it might be worth paying for it.