Garmin's Tactical Smart Watches Get Solar Charging Feature
Gungho Cowboy
11 Jul 2020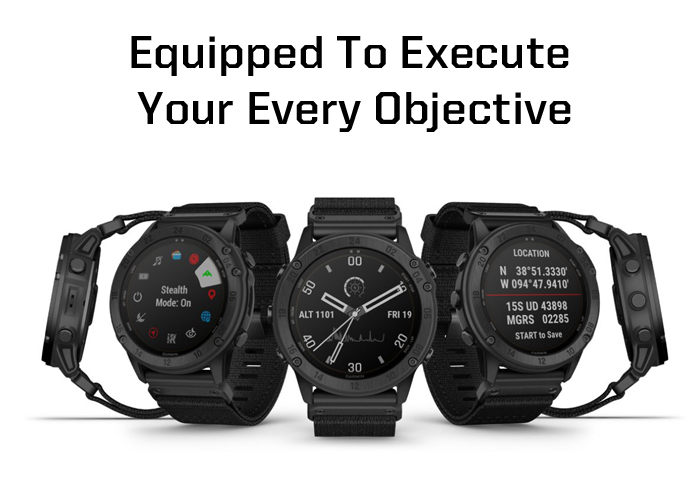 For shooters and operators, having information to be read at a quick glance on their tactical watches is heaven-sent rather than getting into their pouches to pick up that device that can only offer limited information. Garmin is the leader in tactical watches with their Instinct Solar Tactical Solar Edition, tactix Delta Tactical Solar Edition, and tactix Delta Tactical Solar Edition with Ballistics.
But first, it will be foolhardy that the Solar charging feature in these smart watches will mean that these will continuously operate. The solar charging will only extend the battery life before the watch gets charged. The watch can operate for 21 days indoors and with 24 days outdoors, but I guess this is the optimum operating time depending on the use of the apps that the owner uses with the smart watch as some apps may be more of a battery drain than others.
What makes these smartwatches tacticool. Both the Instinct Solar Tactical and tactix Delta Tactical Solar got the following common features:
NIGHT VISION COMPATIBILITY - Switch between daytime view and nighttime view with a screen designed to be read by night vision goggles.
STEALTH MODE - Go dark by enabling stealth mode to stop storing and sharing your GPS position and disable wireless connectivity and communication.
DUAL-POSITION FORMAT - Sync your location with others by seeing both the universal transverse mercator (UTM) and the military grid reference system (MGRS) on the same screen.
PROJECTED WAYPOINTS - Always know the way back — create a waypoint to mark the location of your vehicle before you start your trip.
JUMPMASTER MODE - Calculate high-altitude release points according to military guidelines while navigating to your objective once you've jumped.
The tactix Delta Tactical Solar Edition has one extra feature:
KILL SWITCH - If security becomes an issue, the kill switch wipes the device of all user memory.
For shooters, the tactix Delta Tactical Solar - Applied Ballistics Edition has all the features above plus one more:
AB ELITE SOFTWARE  - Calculate aiming solutions for long-range shooting in the field with a built-in ballistics calculator.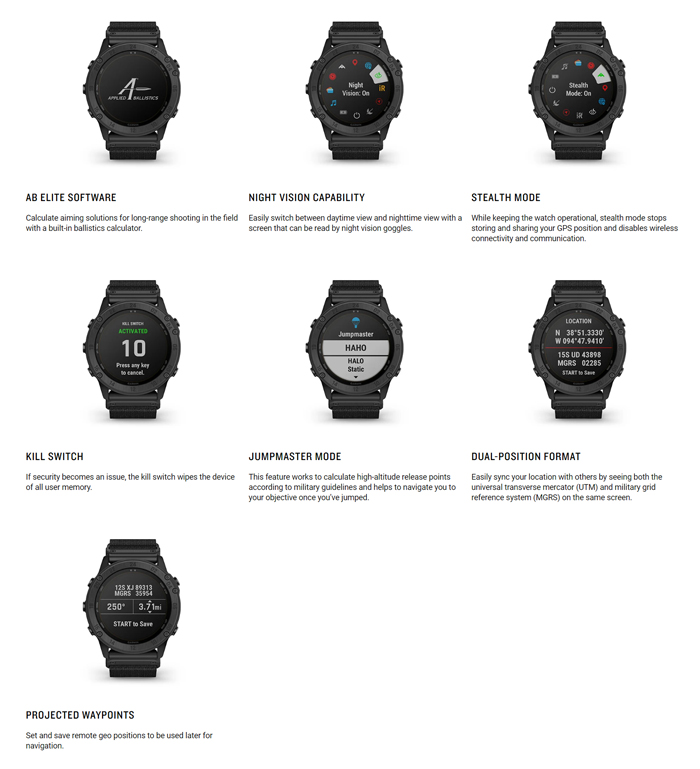 The tactix Delta Tactical Solar Edition has more features apart from the tactical stuff such navigation, sports, activity, heart rate tacking. The Instinct Solar Edition also has navigation features but not the other bells and whistles that tactic Delta has.
The features for each edition determine the price. The Instinct is more affordable at US$449.99, the tactix Delta at US$1,099.99 and the tactix Delta Solar with Ballistics at US$1,399.99. These are some of the most expensive smartwatches in the market, but if you love these features, then you better prepare to pay the price.