The GoPro US$1 Million Dollar Challenge Is Back Again
Gungho Cowboy
08 Oct 2019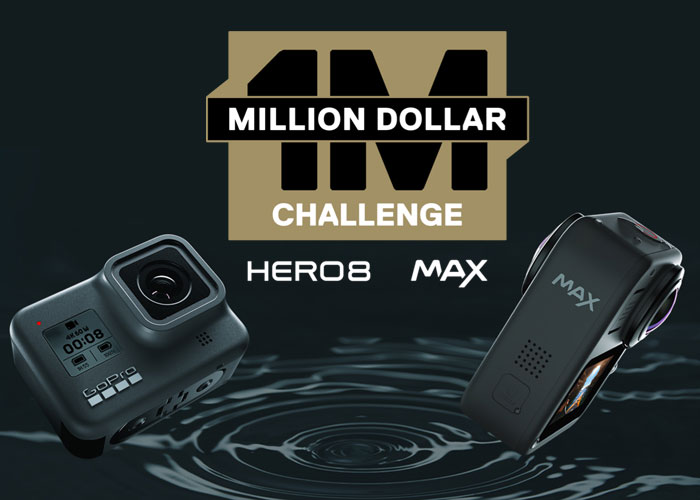 How about getting your investment on your GoPro action camera back many times over? You can do this by joining in the US$1 Million Dollar Challenge by GoPro if your video clip captured with the latest GoPro Hero 8 Black or GoPro max will be included in the Million Dollar Challenge Highlight Video together with other selected submissions from other owners worldwide. Owners of the videos included in the highlight video get to have an equal share of the pie.
According to GoPro, owners of the videos in last year's challenge were able to take home US$17,000.00 Now, that's a lot of GoPro Hero Blacks or Max to buy. As a Popular Airsoft reader, we assume that you will use some of that to splurge on high-end airsoft gun, custom airsoft guns, and the best tactical gear.
"It's been 15 years since the first GoPro camera, and from the start our purpose has been to help people share experiences in exciting ways," said GoPro Founder and CEO Nick Woodman in a press release announcing the new cameras. "And we're delivering on that purpose in a big way with this year's new lineup. HERO8 Black, the Mods and MAX totally redefine what's possible with a camera."
The contest already started last 1 October and the rules are easy to follow. For GoPro Hero 8 Black owners, they just need to submit raw video clips. For GoPro Max owners, their submissions should be raw reframed video clips. The videos should not include any music. As always, the video clips should show the creative talent of the action cam owner as well as creative potential with the new GoPro action cams.
For the promo of the GoPro Hero 7 Black last year, there were over 25,000 submissions and 56 submissions were selected for the Million Dollar Challenge Highlight Video which is just over two minutes long. That's going to be a crowd out there, so better make sure your video submission gets the attention of GoPro's Creative team. Here is one video from one of the winners of the last challenge on how his video was included in the highlight.
Will an airsoft video clip be able to make it? We sure hope so as airsofters are some of the heavy users of GoPro Hero action cameras. If you want to submit one better make sure you clip makes it by 11:59 p.m. PT on 12 January 2020.