The Dasan DSAR-15PC Gets Selected As The ROKAF Special Warfare Command Weapon
Logan
19 Jun 2020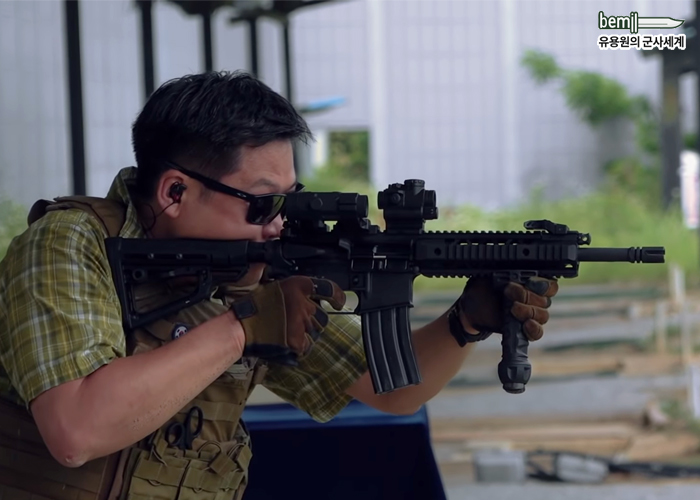 The South Korean Special Forces will soon have a new rifle to use for their operations. According to Bemil of Chosun, the conservative newspaper in South Korea, the Defense Acquisition Program Administration (DAPA), has selected in June 3 a slightly modified variant of the Dasan DSAR-15PC in a KRW3.8 billion (USD3.1 million) programme to replace the S&T Motiv K1A 5.56 mm carbine as the CQB weapon of choice. It got selected over over the S&T Motiv STC-16 Carbine.
The Republic of Korea Army (ROKAF) Special Warfare Command, also known as the "Black Berets" is tasked to special operations and unconventional warfare works closely with the U.S. Army Special Forces as it is modeled after the Green Berets.
The DSAR-15PC is an AR-15 weapon system that features a gas piston operating system and hammerforged and chrome-lined barrel and it is based 15P based on the CAR-816 and DAR-15P platforms Dasan Engineering exported to overseas customers. The company says it is 760mm long ad weighs around 3kg. It has an effective range of 550 meters and a rate of fire of between 700 and 950 rounds per minute.
In a report at Janes, user testing and evaluation will start next month before it gets issued. The first units to receive the DSAR-15PCwill be 707th Special Mission Group and the 13th Special Mission Brigade of the Special Warfare Command. The unit will receive about 1,000 unmodified units and some 15,000 improved rifles based on the feedback on the unmodified units will be delivered to all units under the command by 2023.
As for the main South Korean Army, their main rifle is the S&T Motiv (formerly Daewoo Precision Industries K2 assault rifle for Defense Development. This shoulder-fired and gas-operated, the K2 fires both 5.56×45mm NATO and .223 Remington rounds and replaced the M16A1 as the official rifle in 1984.