COD Black Ops Season 2 Includes Penalties To Those Who Quit Mid-Match Or Engage In Friendly Fire
Logan
06 Apr 2021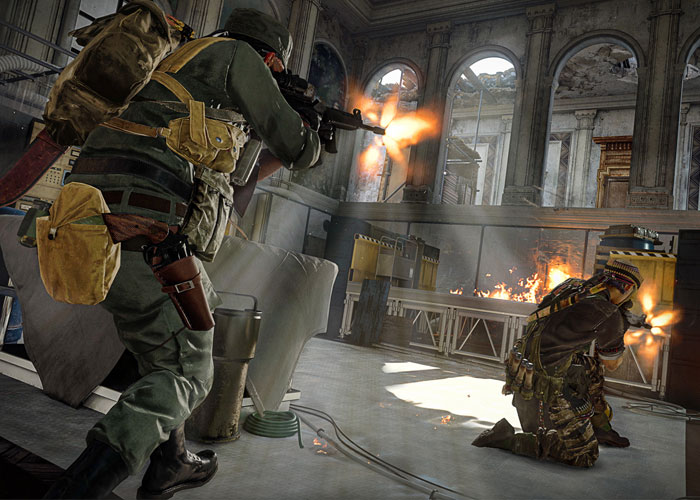 The Call of Duty Black Ops Season 2 was released last week, just in time for the Easter holiday when gamers can get to hole up at home and have more time playing. With the update, they want gamers to play more nicely and for those who rage quit in the middle of a game or engage in friendly fire, penalties will be handed to them.
The Season 2 update which includes a mysterious addition to Warzone got a lot of goodies for gamers as there are balance changes, new zombie areas, and of course new multiplayer maps. The maps include Miami Strike which is a variation of the Miami map and is conducted in day time with some fixes to it and additional touches. For multi-team games, then the Golova map, which includes a version of Hardpoint should make it fun and it can accommodate up to 40 players.
For the Zombie killing portion of Season 2, they get to play in a night time setup in Sanitorium, a new area in the Outbreak Map. It contains a new dirt bike, new intel, and a new secret objective.
If you have not downloaded the Season 2 patch, better get it now. More details of the Season 2 release below as taken from the official website:
---
MULTIPLAYER

Miami Strike (6v6)

First up, Miami Strike comes to 6v6 this week with a streamlined map layout featuring an entirely new waterside path that opens up new close-quarters opportunities. This sun-drenched take on the original South Beach MP locale sees a vintage car show taking over the streets, with the road past the Paramour Hotel now sealed off for fast-paced action.

Jump into the new Miami Strike 24/7 playlist this week to get your 6v6 fix, featuring a mix of TDM, Domination, Kill Confirmed, and Hardpoint modes. And for those already looking forward to the next batch of 6v6 maps: Season Three will be here before you know it, when we'll be dropping even more MP maps to enjoy.

Mansion (2v2, 3v3)

Our Gunfight and Face Off modes been hugely popular this season, and we're delivering a new small-scale battleground this week with the launch of Mansion for 2v2 and 3v3. Take the fight to an opulent Cuban compound and choose between head-on conflicts in the center courtyard, or high-visibility power positions from above.

Golova (Multi-Team)

This abandoned Russian village hides an insidious secret as Nikita Dragovich's testing ground for the expansion of the Numbers Program. This week, Golova joins the map rotation in Black Ops Cold War's biggest Multiplayer battles to date. Squad up and drop into our new Multi-Team playlists, including the all-new 40-player Hardpoint.

Multi-Team Hardpoint

You've never played the OBJ like this before. Our new large-scale Multi-Team Hardpoint mode drops ten teams of four into the biggest maps in the game to fight for control of multiple Hardpoints at a time.

Each set of Hardpoints lasts 120 seconds before rotating to the next locations, and unlike 6v6 and 12v12 Hardpoint, your team will earn 1 point each second for all teammates inside the Hardpoint. The first squad to reach 1,000 points wins the match!

New Prop Hunt Maps + Props

Prop Hunt returns this week with two additional maps joining the rotation: Miami Strike and Satellite! We've also refreshed the prop selection for the majority of our existing maps to help keep those Hunters on their toes. Squad up and jump into the updated Prop Hunt playlist this week.

---

LEAGUE PLAY

With the new additions of Apocalypse Hardpoint and Express S&D to the League Play rotation, we're constantly working on more ways to improve the competitive experience. We've heard the recent feedback on Wildcard selection and agree: we want players to commit to a playstyle in League Play.

Starting with Season Two Reloaded, the Law Breaker Wildcard will no longer allow any weapon to be put into either weapon slot in League Play. Players will only be able to use a primary and secondary weapon, so if you want to run two primary weapons in League Play, you'll need to pick one up from the ground.

Law Breaker will now only allow players to equip multiple Perks from the same Perk category. In addition, the Perk Greed Wildcard will now be restricted completely in League Play. Note: this only affects League Play, not Custom Games or CDL.

We've also added new Match Suspension penalties for players who quit mid-match or engage in friendly fire to ensure a better competitive experience for all players. These penalties will escalate with multiple offenses, so play nice or pay the price.

---

ZOMBIES

We couldn't have asked for a better response to Outbreak's launch from the Zombies community. Since its introduction, more players have played Black Ops Cold War Zombies than ever before, including at launch... and that's a lot of zombie killers. We're immensely thankful for the reception from the community so far, and we're just getting started.

New Outbreak Content

Rather than introducing a single Zombies locale in Season Two, the team launched Outbreak with three massive regions to explore across the sprawling Ural Mountains in Russia. This week, we're expanding our biggest Zombies experience yet with the massive new nighttime Sanatorium region, along with the new Secure Objective, new in-game Intel, new Dirt Bike vehicle, and even more secrets for players to discover.

Between our traditional round-based maps, the new large-scale experiences of Outbreak, and the co-op insanity of Dead Ops Arcade 3 and Onslaught, we've never offered so many ways for the community to enjoy Zombies – and we're going to keep pushing the envelope in 2021. Looking ahead, the Dark Aether story will continue in Outbreak in Season Three, teeing up the events that will unfold throughout Black Ops Cold War Zombies in the seasons to come. Stay tuned.

Dead Ops Arcade 3 Updates

If you've been looking for even more reasons to jump into Dead Ops Arcade, this is the update you've been waiting for. Starting with Season Two Reloaded, players will now earn player XP and Battle Pass XP in Dead Ops Arcade 3, so you'll always make progress toward Prestige Master and Battle Pass Tiers as you take on the dreaded Mamaback.

We've also added a new Silverback Slideways bonus map to the mix, as well as a ton of new gameplay updates, bug fixes, and stability improvements. Check out the patch notes below for the full list of changes, and get ready to squad up in Dead Ops!

New Onslaught LTM + Content (PS4/PS5)**

Zombies fans on PlayStation can take on the new Containment limited-time mode in Onslaught for an intense new experience on the game's Gunfight maps, along with a new Blueprint Challenge to earn the exclusive "Jungle Fighter" tactical rifle Blueprint.

Onslaught also receives a slew of new item drops, including Level 2 and Level 3 Armor, Ammo Mods and Aether Tool drops to upgrade your weapons, and new Bronze, Silver, and Gold Chalice drops that will Pack-a-Punch your weapon for the first time in Onslaught.

Blueprint Support, Stability & Bug Fixes + More

Players will now be able to apply any Weapon Blueprint they own to their weapon in the Pause menu in Zombies, including any weapon picked up or purchased from a Wall Buy! This update also includes a slate of stability fixes, gameplay improvements, and bug fixes across Outbreak, "Firebase Z," "Die Maschine," Dead Ops Arcade 3, and Onslaught – read on below for patch notes to see what's new.

---

WEAPON TUNING UPDATE

We take weapon balancing seriously and make tuning decisions based on time-to-kill (TTK) data as each new weapon is introduced to the meta. As a rule of thumb, if it's been a while since we've needed to implement large-scale tuning changes, that's a good sign that the meta is generally well-balanced.

We want to thank our invested community for all the great feedback and gameplay data that we need to drive balance changes. We see how you play, and with billions of gameplay interactions at our fingertips, we've taken a fresh tuning pass across the Black Ops Cold War arsenal to ensure each weapon plays to its strengths without emerging as a clear frontrunner in its class.

New Tuning Changes

In Season Two Reloaded, we've implemented tuning to make the Krig 6, FFAR 1, and Groza more competitive in the assault rifle class, while adjusting the Milano 821, KSP 45, LC10, MAC-10, and AK-74u in the SMG class. We've also made specific performance tuning to the RPG-7, 1911, Magnum, and more.

These changes include complete tuning passes on Muzzle and Underbarrel attachments that affect Recoil on assault rifles and SMGs, increasing damage for rockets against enemies with Flak Jacket in Hardcore, and removing glint from sniper rifles with Iron Sights. Check out the full list of patch notes below for all the details.

Please note that these changes are only for Black Ops Cold War, and are not reflected in Warzone. For details on what's coming in Warzone, be sure to follow @RavenSoftware on Twitter.