The BR-15: A 3D-Printed AR Bullpup Conversion Kit
Logan
03 May 2022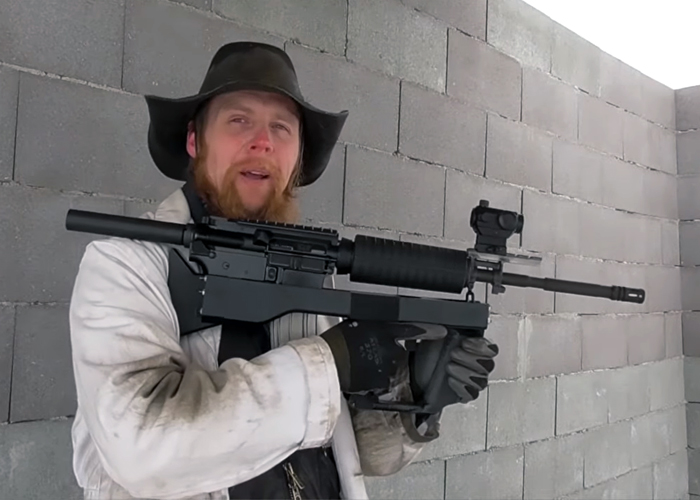 Ever wanted to do a conversion of your AR rifle into a bullpup but want to do it cheap? You now can do it without worrying about the costs provided that you have access to a 3D printer. The Idahoan Show, a YouTube Channel that covers outdoor recreation, DIY engineering and even Philosophy, made a kit to do just that.
The BR-15 is an AR Bullpup conversion kit that allows one to do the conversion without major modifications to their AR-15. According to Tim, the host of the show, other bullpup conversion kits for the AR cost more as they have proprietary parts. Watching the video, the kit require some small parts such as mounts for optics further up front for aiming:
The Idahoan discusses the challenges involved in designing a bullpup version of the AR-15 modern sporting rifle, and why most attempts at doing so have failed.  Then he shows off a BR-15, arguably the simplest solution to the problem, and tries it out on the range.
The conversion does not exactly show a sexy bullpup rifle or a futuristic looking one as other bullpup rifles are. But it does allow a lower profile for the shooter as it makes the rifle more compact. One thing that we like about this kit is that since it does not require major modifications, turning it back into a standard AR-15 is quick.
---
---
If you want to do try the BR-15, The Idahoan Show provides the STL files for free which you can download the STL files which are the butt, forend, grip, sideplates, and trigger. You can click here to download the zip file, just scroll down further down the page and look for the "BR-15 Stock" title.
If you try the design on your airsoft AR rifle, drop us a note or a link to your video or blog to share your experience.