Black Powder Red Earth Announces New 28mm Tablettop Game
Logan
25 Nov 2021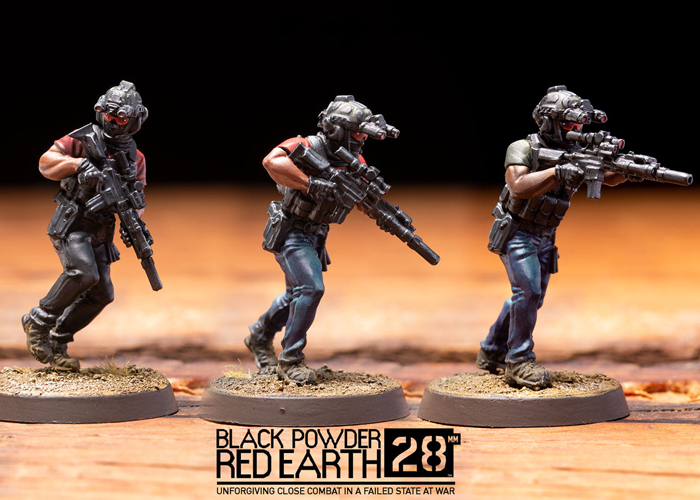 The graphic novel series about Private Military Contractors (PMCs) which started in 2011, Black Powder Red Earth, has expanded once again after announcing the video game version of the series. This time, it is a 28mm tabletop game that means another round of collectibles in this acclaimed graphic series by John Chang in collaboration with other authors with Josh Taylor as illustrator.
The 28mm tabletop game takes from the latest series Black Powder Red Earth Awbari which is recently published and is set in the near future about a failed state that is at war with itself. Awbari is in collaboration with Paul Tibrius - subject matter expert with over 20 deployments in support of the GWOT and with Taylor back as the illustrator.
When winter sets in and it will be just too cold outside to play airsoft at the nearest outdoor field, a session with the tabletop game of Black Powder Red Earth should be a good treat with you team. Depending on how you want to collect, the game can be procured in three ways: getting the Complete Target Package which contains the Rule Book, Game Components and 28mm Resin Miniatures for US$200; the Small Unit Tactics Set comprised of Battlespace Ready Components and 28mm Resin Miniatures for US$175; and the Warfighter Stand-Alone with 10 highly detailed 28mm Resin Miniatures.
---

---
These can be either a nice collection to keep at home and if you're generous enough this holiday season as gifts to friends who share the same interests. All these sets are now available to order from the official Black Powder Read Earth website.
Black Powder Red Earth 28mm - Available Now

_Echelon introduces Black Powder Red Earth 28mm — a brand-new close combat skirmish wargame built on a fast and fluid ruleset pitting player vs player in tabletop miniatures battles. Built around a responsive combat system players direct their customized small unit kill teams in pitched battles through war-torn sprawls on the border between two failing states.

Drawn from the best selling graphic novel series, Black Powder Red Earth 28mm is set in a near-future, detailed with both a conflict bible in the core rules and in the pages of the ongoing graphic novel — Black Powder Red Earth® Awbari.

To ensure the highest quality every game component, playing card, miniature, and the core rules book are all made in the USA — with materials sourced in the US or other western nations.

Black Powder Red Earth 28mm is available now at https://28mm.BlackPowderRedEarth.com
---