Armour & Air Power In Operation Armoured Fury Hosted By The Taranaki Airsoft Rangers
Jonno Robinson
28 Nov 2019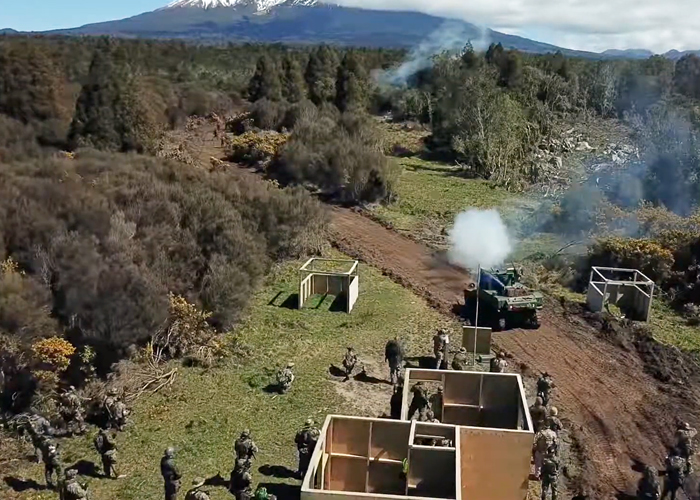 The Taranaki Airsoft Rangers Inc. has come from humble beginnings 10 years ago but in recent years have exploded and the team and its members are pushing big dreams and taking risks when it comes to pushing airsoft to its limits in NZ. This is our story about one such dream.
The New Zealand Airsoft community made history when they attended an NZ first airsoft event at the Taranaki Airsoft Rangers field on September 20th. But the question is, how did we produce a New Zealand first event?
7 Months prior to the event taking place, myself and my best mate (both committee members for T.A.R) sat down for a catch up and to discuss future ideas for the local Airsoft club that we both help to run.
During this time we talked a lot about overseas events and discussed how Airsoft events could look in the future. So further to the discussion we wondered how the Taranaki Airsoft Rangers could be part of this and could we create an event that other countries would take notice of.
Following that night, we had a lot to think about and a solid concept started to come together. There were two major elements to this crazy idea, armoured tanks and Warbirds, both of which had never been incorporated together at an airsoft event before.
We were aware that there was a fully restored M3 Stuart light tank within the area and I personally knew a guy that flew warbird replicas, both of which were based not far from our local field.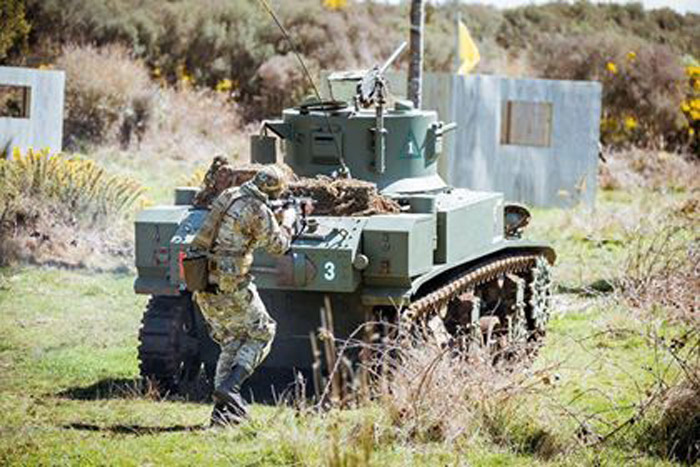 So with that in mind we decided to ask them both to see if they were interested in being part of an Airsoft event, and we agreed that the worse that could happen is that they would say no and that the idea would be shelved.
So within a week we had contacted both parties and we actually never expected them to say yes. To our surprise though, not only did they say yes but they were extremely excited to work on this project alongside us. We just didn't realise at the time that they too dreamed of being part of an event like this as their passions were very similar to our own.
We now had all the key elements we wanted but we had more big ideas….. pyrotechnics!
A friend of mine owned a pyrotechnic company on the East coast of the north island so I got in touch to pitch the idea, knowing full well that both him and his partner would say yes before I even asked them the question.
Planning now begins, the questions is: how do we pull it off?
It was to be named: Operation Armoured Fury.
With the idea taken to the committee and signed off, planning was officially in its first stage.
We had three major elements that had never been used together in NZ Airsoft history so we knew that this was an event for the record books but we knew that we needed adequate time to pull this event off and some smart planning.
A date was presented, giving us six months to put it all together, and a five man work team was assembled which was made up of the most dedicated Airsofters that I knew, so now the real work started.
We had to combine a 13 ton tank that had an operational blank firing 37mm main gun, warbirds that would fly at low level and pyrotechnics used in a way that created amazing airsoft game play for the players to be part of but all of which had to be safe!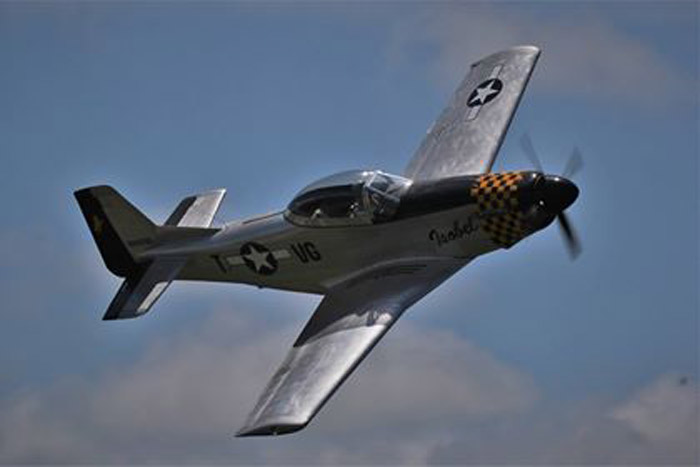 As this had never been done before we had to just really on everyone's combined experience from that was working on the project to achieve the end goal.
On top of that, this event was set to have the largest attendance that the club had catered for, so we had a lot of pressure to overcome but we were all dam excited about it.
As this was a brand new event for our club, we also wanted to go about it in a professional way and we wanted it to be the most well promoted and advanced event for New Zealand Airsoft. We didn't just want to host an event, we wanted to do something great.
We drafted a game that brought all elements together in a functional way and then spent the next 6 months working alongside the tank crew, pilots and pyrotechnic team to bring everything together in a way that worked for everyone.
We were extremely lucky as everyone involved were very experienced in their individual fields so the game development flowed easily until we had a solid plan on how to pull such a scenario off.
We also focused on all other areas of the event and wanted to push all aspects.
We put together a structured marketing plan, upgraded our website, invested in an online registration and ticketing system. We felt all this would improve a players experience from start to finish.
But the biggest question was; would all of this investment sell tickets? Well once the tickets went live, and we all held our breath while we waited for tickets to start selling, it wasn't long before tickets were selling at a crazy rate and the event sold out in 12 days with us having to create a reserve list for all that missed out.
Sponsorship & Retailers
We also had big ideas on not only getting sponsorship but we wanted the sponsors themselves to be part of the event. Having the sponsors being directly involved and having them attend the event, it gave them the opportunity to be part of the event in a retail form or as a player in the game.
It was awesome to spend time with sponsors at the event as we also got to know them as people and had time to also learn more about their business and their own ambitions.
Rain, Rain, And more Rain
The team made an ambitious plan to also develop the Airsoft field to better cater to the event so the field would be more functional.
 
The problem was we were doing this in winter and it rained A LOT.
At times the field was partially flooded in areas and we were using bulldozers and other heavy equipment to help with field developments, but at times it felt like we made things worse with the heavy equipment then better but we were determined to soldier on.
After almost six months of solid planning, we had a meeting with the tank crew 6 days before the event so they could look at all the tracks that the tank would be driving on. It was a miserable day out at the field which wasn't a good start to a very important meeting.
As we took the crew around the field and pointed out all the tracks that the tank would be using, the concerned look on the tank owner's face said it all, the tracks weren't good enough and there was a real fear that the tank would get stuck.
Even though we had worked on the event for six months, it was at that moment that I felt the most stressed I had ever been throughout the whole process, and I wondered whether we would pull it off.
If the tank got stuck, this could ruin the game and the event would be a failure. We had invested six months into making this event work but the weather was grinding us down and we only had five more days to fix the situation.
We weren't about to quit, we promised all our players that they were going to be part of an epic event and we were determined to do it no matter what. So with the help of the land owner and our team we spent the next five days getting everything finished.
Day 1: Registration/Competition/Rehearsals
As the sun rose on the first day of the event, a massive amount of pressure was taken off our shoulders as we realised that the sun was shining, the field had dried out and by share determination we had completed all the prep work.
All we had to do now was co-ordinate the event and make sure all players were well looked after. By midday of the first day we were good to go, the players and retailers started to arrive along with the M3 Stuart tank and other major elements.
We had the Lads from Reapertech Airsoft set up and run an IPSC style shooting competition all afternoon and once players were registered they could join in on the competition or just hang out and admire the M3 Stuart Tank that took centre stage at the main hangout area.
This was also the day that the pyrotechnic team built and tested all effects in preparation for the main event the next day. The effects had to be built onsite as the components they use for the effects cannot be transported once combined. As you can imagine a lot of the players were very interested in watching the team assemble and test the effects. The team also needed to test key effects as these effects were massive and they needed to ensure that these were both impressive but also not too big that they were then unsafe.
Friday afternoon also seen us rehearse a portion of the scenario between the M3 Stuart tank and aircraft that had to be perfectly timed with the pyrotechnics.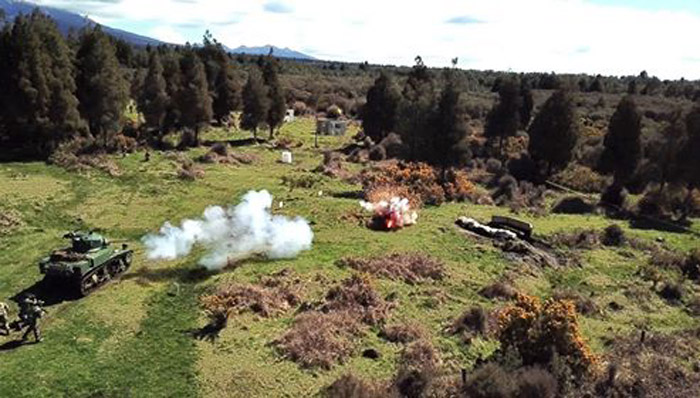 This was the most complicated portion of the event, so the pressure was on to get it right. As we co- ordinated both the tank and aircraft at the key moments using radio comm's we were able to perfectly time everything and the rehearsal was a complete success with no issues.
We were now set for the main event.
Day 2: Main Event
The day started early with final preparations, then we gathered all players for a very intense safety briefing. Following that all players and in game assets were led into the staging area for the start of the scenario.
The scenario started with a large force that would push through an area to flush out a smaller resistance force that had dug into the area.
The main force would use the M3 Stuart tank to provide armoured cover for the troops and use its 37mm main gun to take out any objectives that would cripple for resistance force.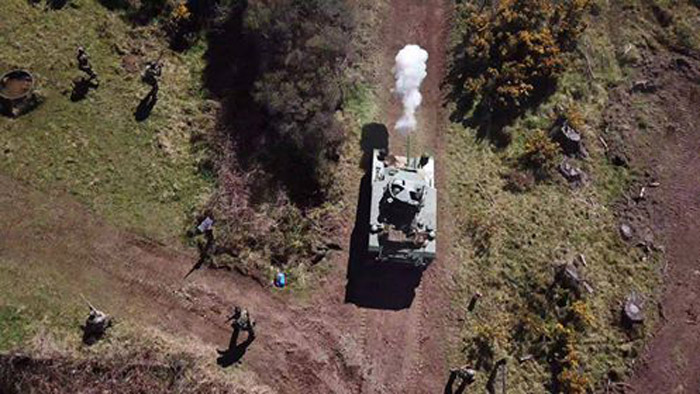 It wasn't long before the main force were pushing forward, with the Stuarts three 30cal. Machine guns firing, and the 37mm cannon taking out bunkers that were met with large pyrotechnic explosions.
The noise from all the guns, and smell of gun powder fully immersed the players into an airsoft game they had never experienced before in New Zealand and at times it felt more like being part of an action movie set then an Airsoft game.
As the event went on the main force slowly pushed the smaller force back using the tank to flush out well dug in players.
But later in the day the resistance force were reinforced and the things started to change.At this point the tank was sent into an area to take out key objectives and make a clear path for the team to follow.
At the same time the resistance force using radio comms were able to scramble four aircraft to provide air support. The Aircraft were able to provide a simulated machine gun run and two bombs that they could use to take out the tank. All of which was perfectly timed with the aircraft first flying over with bullet style pyrotechnic effects hitting the ground as the aircraft flew overhead.
They then came back around with the lead aircraft dropping two bombs with massive explosions going off and the tank being disabled. The tank crew to exit the disabled tank using multiple smoke grenades to conceal their escape.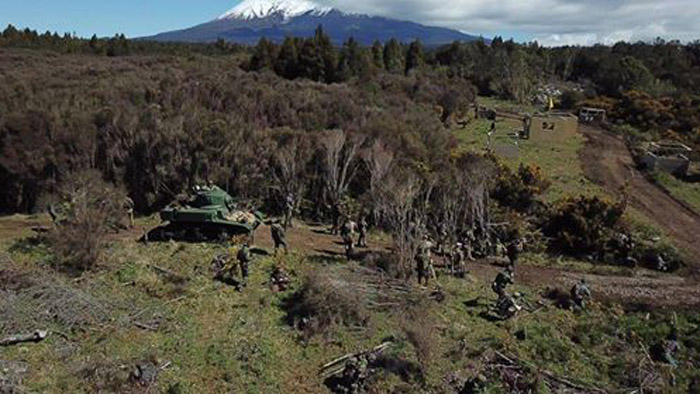 Now that the main force no longer had any armour to support them, the resistance team was now able to go head to head in an attempt to retake and hold key areas that they had lost. This power struggle would go on for the rest of the day and by the end of the game it was clear that the main force were just too well organised and the resistance force were pushed back into small pockets and in the end were unable to breakaway which led to the main force being the victor of the day.
 
By the time the game had come to an end, batteries were going flat, mags had run dry, and it was time for us to all drop our gear and sit down to share the days stories.
Players then received some incredible prizes at prize giving and we were able to thank all that had made the event come true. We then enjoyed an evening, sitting around the bonfire with some hot food that was provided and shared stories from the days battle.
Day 3: Skirmish Games and The End of the Event
The final day of the event saw us provide players with a morning full of skirmish type games before the event officially ended at midday. We spent the rest of the day having great conversations with a lot of players and slowly making a start on packing everything away.
Overall the event was one to remember. As event co-ordinators, you sacrifice a lot of your time to make these types of events come to life, and I get asked a lot as to why I do it? The answer is easy, when you host an event and you see players with big smiles on their faces that in itself is worth all the hard work that you put into an event.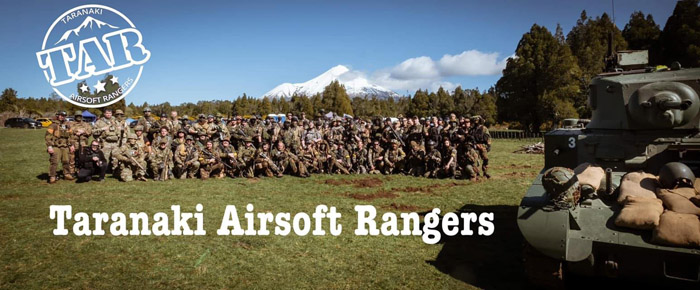 Since the event, we have received some amazing feedback from players and it has now grabbed international attention, so we would be silly not to do it again.
So watch this space to see when OPAF 2 dates will be released.
To learn more about this New Zealand based Airsoft club, head over to our website to learn more: airsoftrangers.nz.