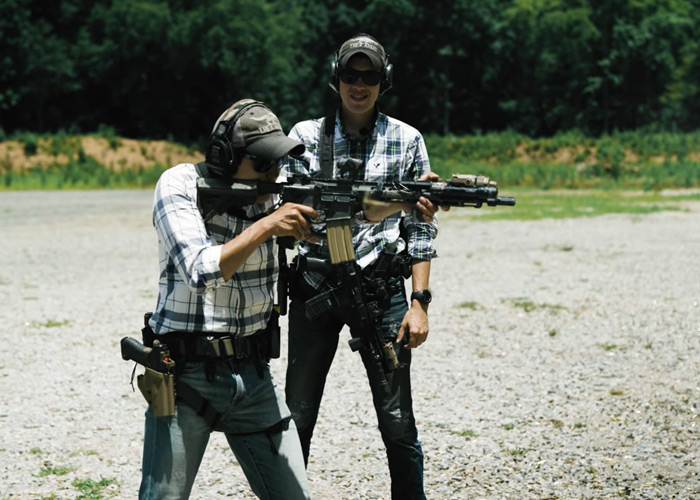 Over the weekend, airsoft pages on Facebook have been sharing a video that has gone viral, RedWolf Sponsored athlete, Liku Tactical from Japan gets to have his dream of shooting beside Lucas Botkin, the CEO of T.Rex Arms who is famous for his instructional videos on firearms handling and shooting on YouTube. According the T.Rex Arms, 38 Americans pooled funds to make the Japanese airsofter's dream come true in June 2019 and bring him to the U.S.
Liku has never fired a real firearm before and has been dry firing using airsoft over the years by diligently following videos from renowned instructors, including Botkin, on YouTube. Having accumulated hundreds if not thousands of hours practicing the handling of airsoft guns like they are still real firearms as owning a real steel gun in Japan is impossible; the objective here was to find out if airsoft training can translate into real firearms skill.
With just a few tweaking to Liku's technique as it was his first time to shoot real steel, he manages to impress Botkin and the guys at the range. What's more? Botkin says that Liku does it better than more than a good percentage of real steel shooters out there. It's best to watch the video below and find out the new found respect of real steel shooters to airsofters who diligently train with their airsoft guns in countries where real firearms are not allowed to be owned by civilians, or owning one is almost an impossibility due to many regulations that frustrate firearms ownership:
Discovering that airsoft training can translate into firearms and even tactical skill is not new amongst reputable instructors, especially those in the U.S. Some of the finest competitive shooters in Asia trace their roots to airsoft like Tatsuya Sakai (Mach Sakai) of Japan who was Steel Challenge World Champion in 2004. Travis Haley of Haley Strategic Partners expounded on Airsoft Cross Training in 2011. Chris Costa, Garand Thumb, and more have shown appreciation of the use of airsoft guns for training in lieu of real steel guns.
But one thing for airsofters to keep in mind before claiming that they can shoot as well as real steel shooters in their own turf is that they will need to have the discipline and diligence of Liku Tactical and other airsofters who spent countless of hours practicing at home, at the airsoft game field, and at the airsoft range honing their skills following the best practices of handling and firing real steel weapons. Apart from practice, they are humble enough to get instruction from real steel shooters and with that they can get up to speed and be able to shoot amongst the best in the business.
The message should hit home: practice, practice hard, and learn from the best. There is no other surefire formula.