Airsoft Innovations Finally Reveal The FLAK-10 & FLAK-5 Gas Powered Airsoft Super Shotguns
Logan
08 Apr 2021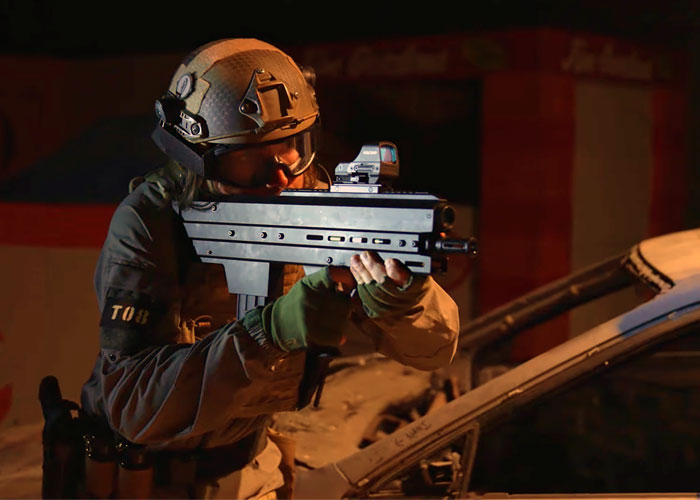 They are finally able to put it into production. Airsoft Innovations has been working on airsoft shotgun concept for years now. It is an airsoft shotgun that blasts out a good number of BBs as compared to existing airsoft gas shotguns that are based on the Tokyo Marui gas shotgun tech that only have a maximum of 6 BBs to spew out when they are fired.
The higher capacity airsoft shotgun shells are those from APS, with their realistic operating CO2-powered shotguns having shells that have a max of 11 BBs per load.
But it took them years before they finally realised this project. Here is a video showing a prototype of the gas shotgun that was first revealed at the Airsoft Meetup during the IWA Outdoor Classics 2014 in Germany:
That's over seven years since the video and now, they are taking pre-orders for the FLAK-10 & FLAK-5 airsoft gas super shotguns. Both of these shotguns look the same and the only difference is that the FLAK-10 fires 10 BBs per blast while the FLAK-5… you guessed it right, blasts 5 BBs. The video promotion for the FLAKs surely does make an impression that these airsoft shotguns do really mean business.
These are bullpup shotguns and we assume that in such a configuration, they give a more compact profile but a longerreach. But let's take the text from the product pages to tell more:
Our brand new super shotgun is designed from the ground up to give you the most impressive airsoft shooting experience available. No mechbox. No battery. No remote tank. No Bullshit. Just astonishing firepower. (Cerakote Color Options +$50) All pre-orders are scheduled to ship June 2021.

10 bbs per blast (Flak-10) semi-auto firing, adjustable hop up
On-board gas capacity for 1000+ bbs (Greengas or Propane) with NO cooldown!
Fully adjustable FPS with on-board regulator. From low fps for close engagement, to high FPS for longer distance engagement
M4 AEG midcap mag compatibility with ultrafast "Rip-Out" mag retainer
Bullpup configuration
CNC Machined and hand built in Canada

Guns shipped to the USA will be fitted with an orange tip as per legal requirement.

Note: tracer is not included with the gun. However, an accessory tracer will be available later.

Specifications:

Length: 22" / 55.88cm
Weight: 6.5lb / 3kg
Magazine Capacity: 190rd Mid-Capacity. Works with other compatible M4 / M16 Series Airsoft AEG Magazines
Fire Modes: Semi-Auto, Safety
FPS: Adjustable
Hopup: Yes, Adjustable
Package Includes: Gun, Magazine, Manual
---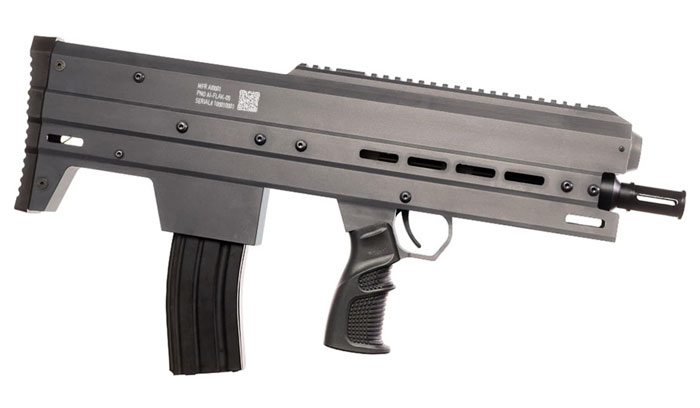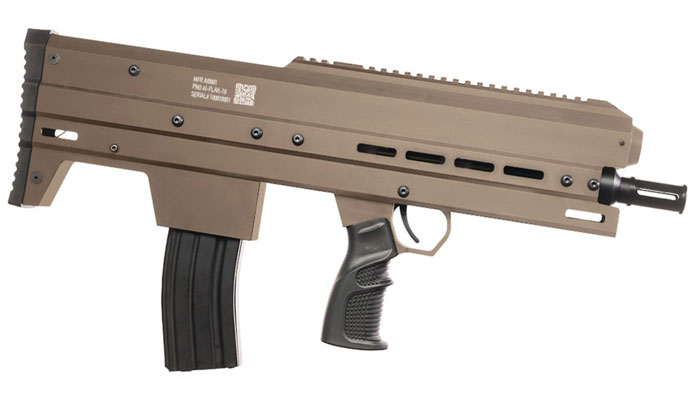 ---
Both FLAK-10 and FLAK-5 are priced the same, at US$599.95. If you want to be one of the first owners of these airsoft shotguns, feel free to open your wallet and whip out card to place your order. It looks like it will be released in Canada and U.S. first, but if you're from overseas, better drop them a note to inquire if they have an official reseller in your country.
One thing for sure, these airsoft shotguns will really give the blast to make airsoft shotguns even more fun to use.