Airsoft In Canada Is Rallying The Community In Saving Airsoft In The Country
Logan
26 Feb 2021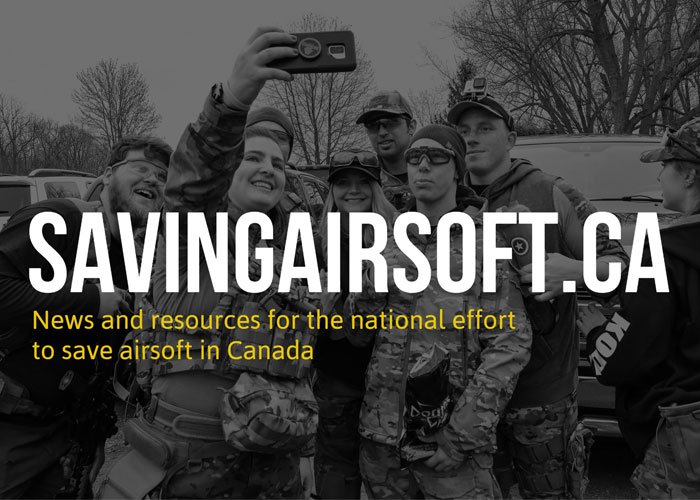 The airsoft community in Canada is mobilizing fast to show their opposition against Bill C-21 that has been filed in Parliament. As this move to show a united front, Airsoft In Canada was launched to provide news and information that those involved in campaign can go to so they will be able to appraise of what on the bills progress and what actions to take.
Here is what the website has to say for itself:
Our goal is to work with the government to find a way to protect our hobby and our community. This site intends to show all Canadians how incredible and diverse the airsoft community is in the hopes of removing prejudice and misconceptions about our sport.

We also want to serve as a resource for those looking to contribute to our mission. We provide resources and tools to aid supporters in conversations and appeals to the government
As of today, Bill C-21 will be debated in Parliament during Second Reading and if adapted, it will then be referred to a committee for further scrutiny and Airsoft In Canada has called on the community to do the following apart from listening into the debate in order be a credible force that the legislators and government officials will listen to:
WHAT YOU NEED TO DO

Stabilize our Community! You must continue to mail your MPs, and uphold the highest standards of behaviour in your community. Name calling, political trashing, and unseemly behaviour will not keep the support we're earning. Continue to bring people together. Do not take action out of frustration. Do not damage the image we are so carefully repairing.
Share your story! Tell your friends and family about our sport, how much it means to you, how it's helped you, and what you'll lose if it's gone. Share far, share wide, share publicly. Show them the face of airsoft is someone they know.
Sign the Petition! It's ALMOST here. Monitor this link. We'll notify you as soon as it's available. https://www.savingairsoft.ca/petition-selection
As of this writing Airsoft In Canada has 150 business from the airsoft and paintball industry as stakeholders in the fight against Bill C-21. They are also looking for volunteers who will help in recruiting businesses into the effort as well as translate the website content and updates into the official languages of Canada, which basically are English and French.
For those who want to support the efforts of the Canadian airsoft community, they can sign the petition on Change.org to show their opposition to Bill C-21. While the effort is national, global support can go a long way in keeping the Canadian airsoft community motivated knowing that they are not alone in this campaign.