Accuracy X Unveils Lightfighter.net Custom 2011 Handguns
Logan
22 Sep 2023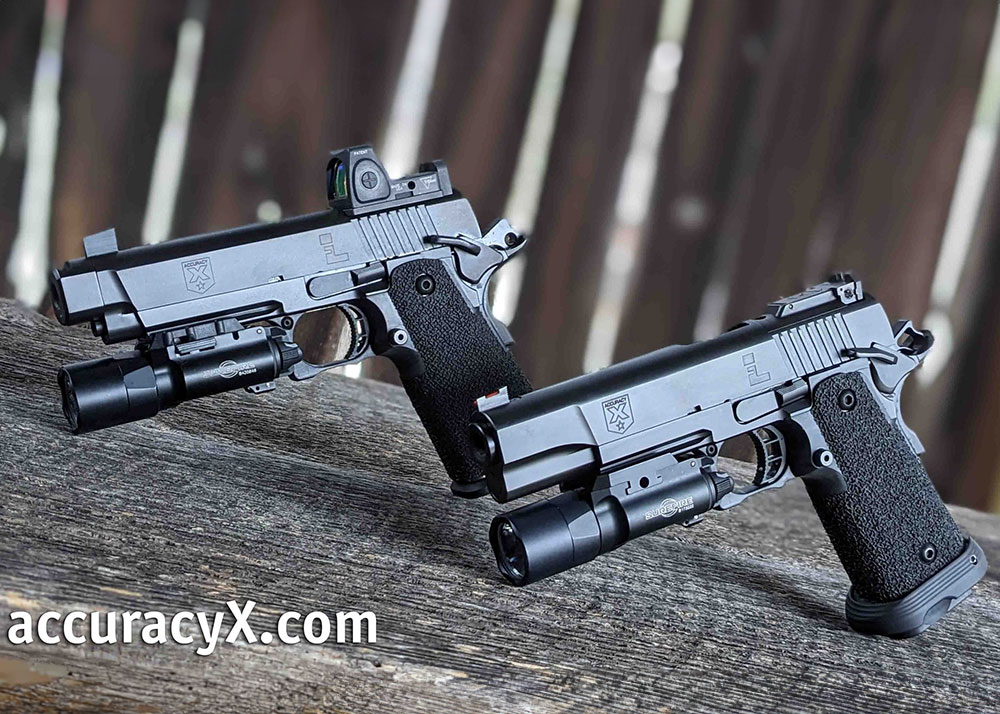 Accuracy X, Inc., a renowned firearms manufacturer, recently announced the expansion of their 2011 pistol family with the introduction of two new models: the D1 Gunfighter and T1 Darkfighter. This addition brings the total number of models in the family to eight. The development of these new models is a result of a collaboration with the professional tactical knowledge group, lightfighter.net, combining the accuracy, performance, and versatility of Accuracy X pistols with features and styling inspired by the professionals at lightfighter.net.
The D1 Gunfighter is based on the Accuracy X D1 Delta and is designed as a modern-day contemporary of the legendary M1911A1. It is intended to function as a duty sidearm and ride in a likewise duty holster usually used by both law enforcement and military members. The Gunfighter sports a government-sized slide and 5" barrel, ambidextrous safety lever, beavertail grip safety, extended magazine release, a railed dust cover, skeletal hammer, and a Dawson Precision mag well.
---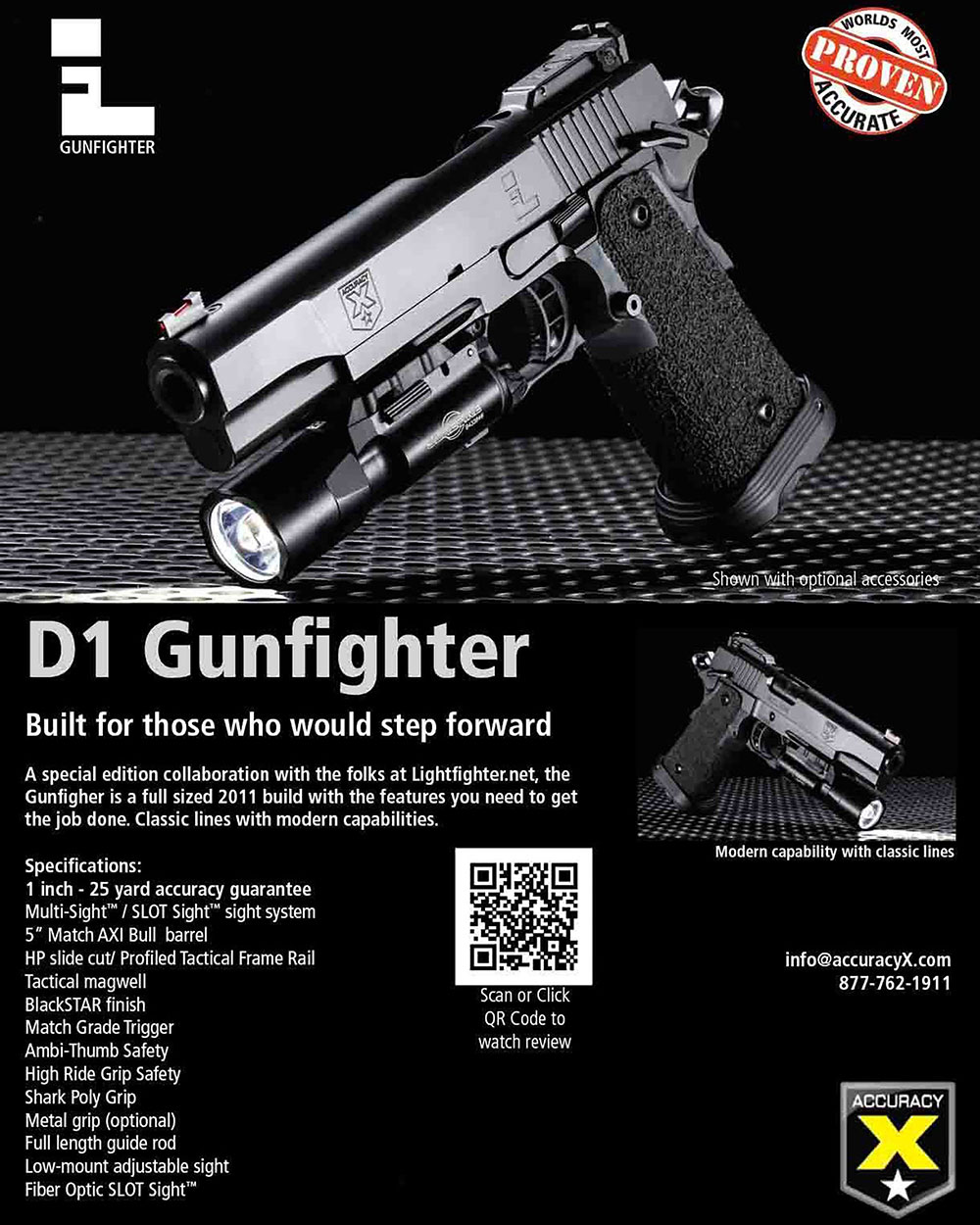 ---
The T1 Darkfighter, on the other hand, is more specialized. Based on the Accuracy X T1 Tango, it is inspired by Commander-sized 1911s. It is the compact/carry model to the Gunfighter's full size but is equally capable of serving as a duty sidearm. The Darkfighter shares several features with the Gunfighter model such as safety levers, railed dust cover, and beavertail grip safety. However, it sports a shorter cut grip module with a rounded off bobtail inspired heel for ease of concealed carry, and a Commander-esque ring style hammer.
---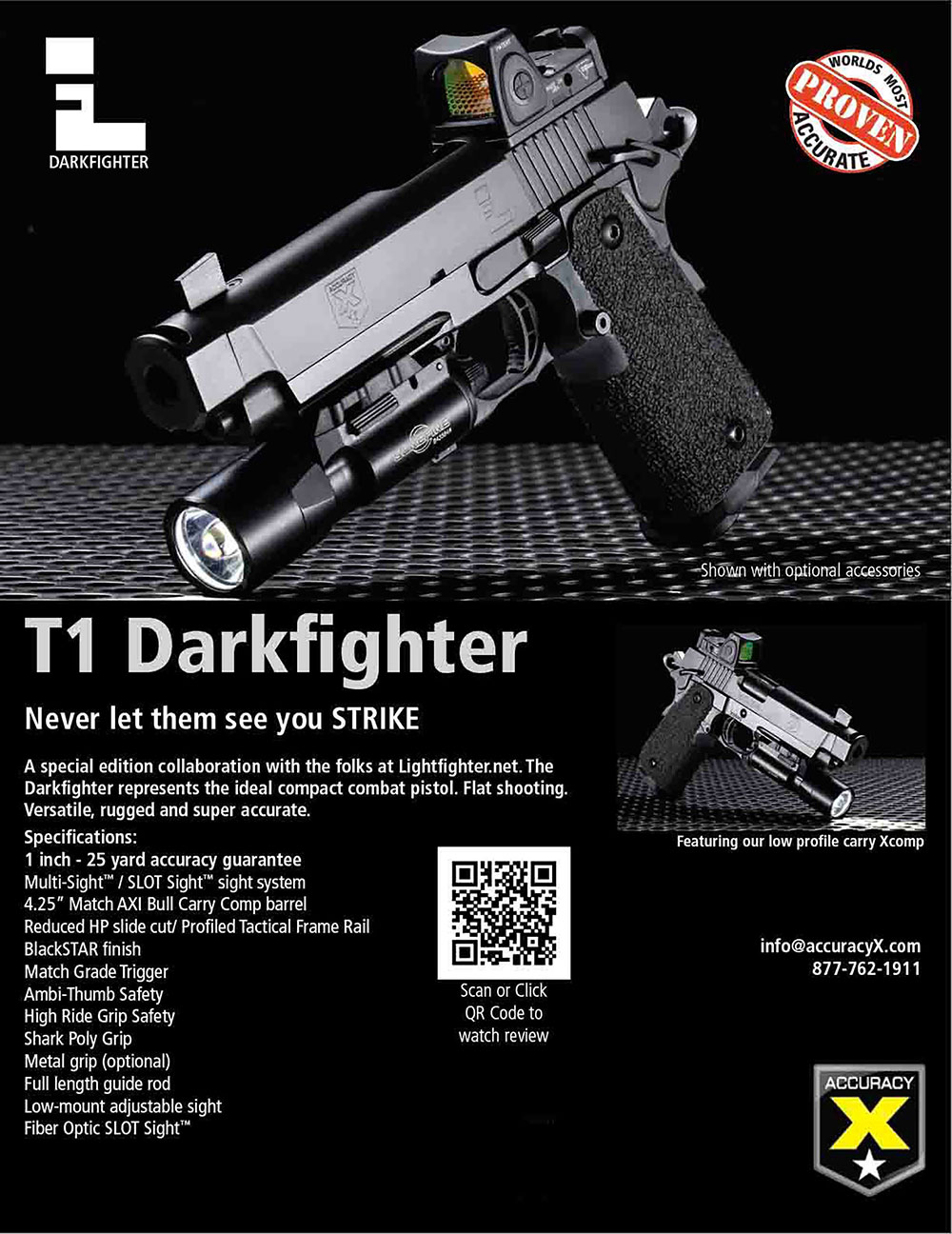 ---
"The development of these limited edition Lightfighter 2011s was the result of a mutual pursuit of excellence and the desire to create configurations for the 2011 platform focused on duty and defense use," said Accuracy X Inc. President Steve Huff. "We have combined our standards of exceptional performance and reliability with distinctive design enhancements to improve aesthetics and capabilities. The outcome results in a highly adaptable and confidence inspiring shooter experience on the firing line, at the range and in critical situations where split seconds matter."
Both pistol models share several design features, including the Multi-Sight/SLOT Sight mounting system, Picatinny dust cover rails, classic High Power slide cuts, and BlackSTAR finish. The Darkfighter model also features the single port carry X Comp, which keeps the slide compact while delivering flat shooting performance.
Unlike most of Accuracy X's various 2011 and 1911 models which feature slide port cuts as standard, both Gunfighter and Darkfighter models omit these in favor of Browning Hi-Power style cuts at the front end. This design choice results in fighting guns that are snag proof on the draw.
The combination of old and new aesthetics between the BHP & 2011 styles makes for handsome, professional-looking blasters that stand out from the rest of the front serration/full-length dust cover pack while retaining a classic aesthetic. This sleeker form factor combined with a standard length dust cover enhances their appeal.
The D1 Gunfighter and T1 Darkfighter are not just about aesthetics and design features; they also deliver on performance. The Gunfighter, from which its name is derived, is designed to endure the demanding conditions commonly associated with law enforcement and military use as professional gunfighters. The Darkfighter model features a shorter length (4.25" slide and 4.75" threaded barrel), true to the Commander size.
As of September 12, 2023, both D1 Gunfighter and T1 Darkfighter are available for order. These new additions to Accuracy X's 2011 pistol family demonstrate their commitment to innovation and performance in firearm design.