Vortex Optics SPARC Red Dot Scope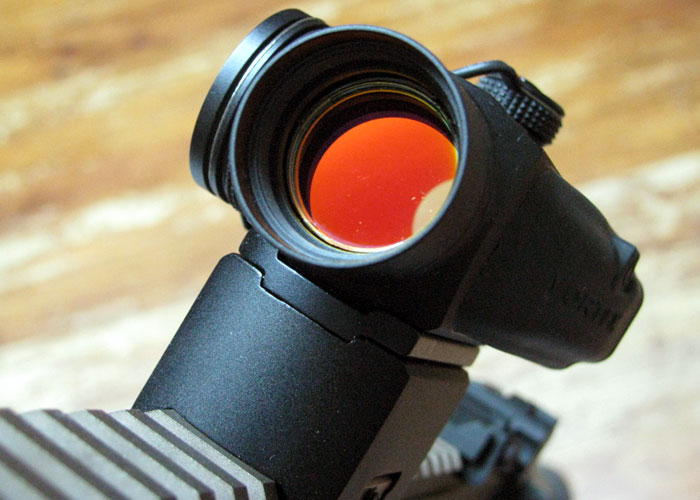 Ever since I saw these optics on the web, I wanted to test them. I was pretty tired of buying replica optics that turned out to be non-functional rip-offs and did nothing but add looks to my AEGs. I wanted something different, something better, much better. So I contacted Vortex and thanks to their European dealer, Bergara, I was able to test a unit of the Vortex SPARC.
AIRSOFT AND OPTICS
Optics on Airsoft are usually a controversial theme. There are those who argue they only have them to show off and increase their AEG's coolness factor, while others do actually use them on the field.
Now why would you say that many Airsofters out there run optics on their AEGs but don't actually use them? The answer might be simpler than you think: poor quality replicas.
This is IMO, the main reason some Airsofters just don't defend the usage of optics: because like me, somewhere down the road, they actually bought a replica of some sort and when they mounted it on their AEG it would render itself useless. Either due to very reflective lenses such as the ones I've seen over and over on EOTech replicas where they only work good as a mirror; due to tinted lenses that turn day into night, like the ones I got on an ACOG replica; or even red dots so small and faint you would just go ahead and use a marker to draw a dot on the lens because there's no way you are going to see that tiny faint red dot when you are on the field.
Now if you, like me, would add all the money you've spent in poor replica optics, it would sum up to a fair amount of money, right?
Well, perhaps not enough yet to buy a real ACOG or EOTech or Aimpoint, but surely more than enough to cover the price of this review's Red Dot.
So let's take a closer look at the Vortex SPARC.
VALUE FOR MONEY
Vortex sells real optics, not copies. The real deal. They sell mainly for hunting and outdoor sports, but more and more people are using their optics on real steel AR15s, shotguns, pistols and sniper rifles, etc.
So the first thing you'll be getting is a real optic with a pretty much original design; and then, in case you haven't noticed they offer transferable lifetime warranty for their optics. Now have you seen any replicas offering lifetime warranties out there?
The price is also a good motivator, since it runs around 220€ (US$289).
BUILD QUALITY
Where to start?
The body is made out of a one-piece tube Aircraft-grade 6061-T6 strong sturdy aluminum, and comes in black matte. The assembled optic is water, shock and fog-proof.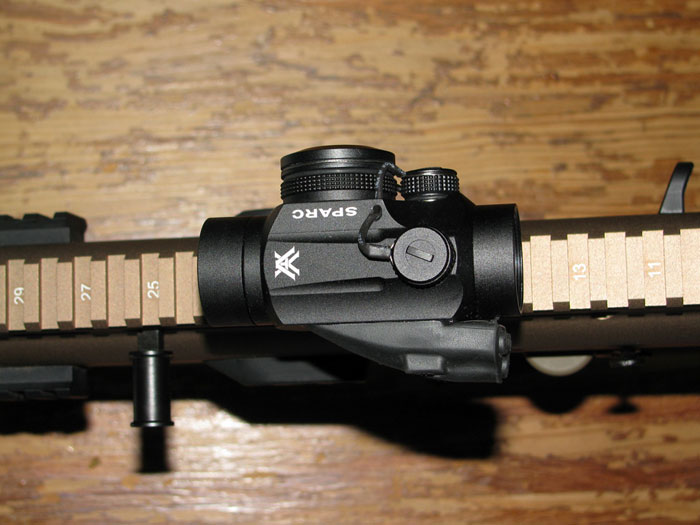 For making it fog-proof what they've done was that they've filled it with Nitrogen to get all the air out of it and then they purged the Nitrogen from the optic making it airless and fog free.
They also tested this optic with a high recoil .375 H&H Magnum for 1000 rounds, meaning it should hold zero even if it received impacts and very powerful recoils. Impacts are what's going to happen more often on Airsoft of course, so you've got that covered.
Not happy yet, they've fitted the SPARC with O-ring, sealing the body from dust and moisture that might damage or get dirt on the lens from the inside.
The result is a very well-built and rugged body that feels solid and sturdy, and is noticeably prepared for the rougher Airsoft games.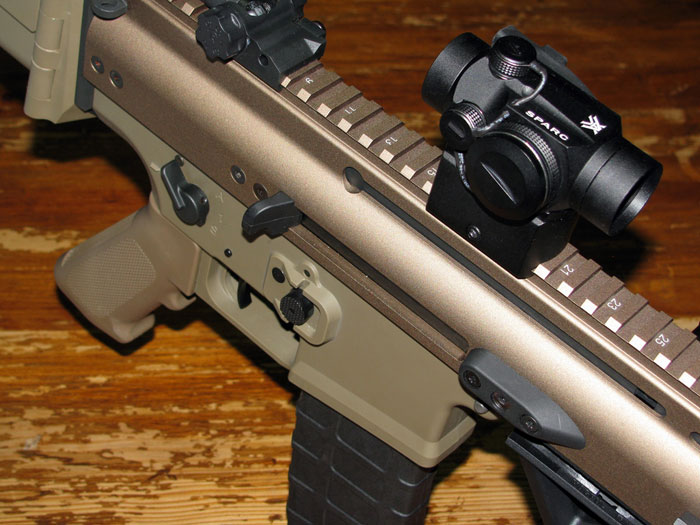 THE LENSES
Now moving on to the lenses you get what they call multi-coated lenses, which means they treat their high quality lenses with several coats of anti-reflective product to reduce reflections and also to protect the lens.
These are 22mm in diameter which make these optics quite compact. That's a good thing since you get a large unobstructed viewing area, but are big enough for you to easily acquire a target and maintain focus. You also have unlimited eye relief with these lenses which means you always get a clear and crisp image no matter what angle you are looking through. Vortex advises to position the optics so you have at least 4 inches (10 cm) of eye relief. You can learn more on this on my article "How to run your optics".
As you will notice in the photos, the front lens has a shiny coating which is normal in this type of reflective optics. So if you want to hide this, you can get a kill flash, or an ARD filter that will reduce significantly the glare of the lens whilst providing some extra protection.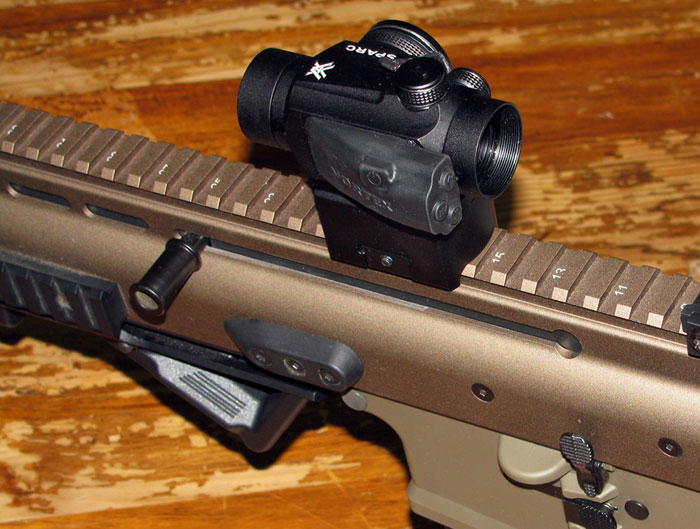 NEXT, THE DOT OR RETICLE
With a 2 MOA dot, you get a crisp clear bright enough to be a daylight dot. The SPARC has 10 levels of intensity which allows for operation on very bright days, and very accurate for Airsoft too.
According to Vortex, the SPARC is parallax free past 50 yards, around 45 meters. At less than this distance it has less than an inch (2.5cm) error.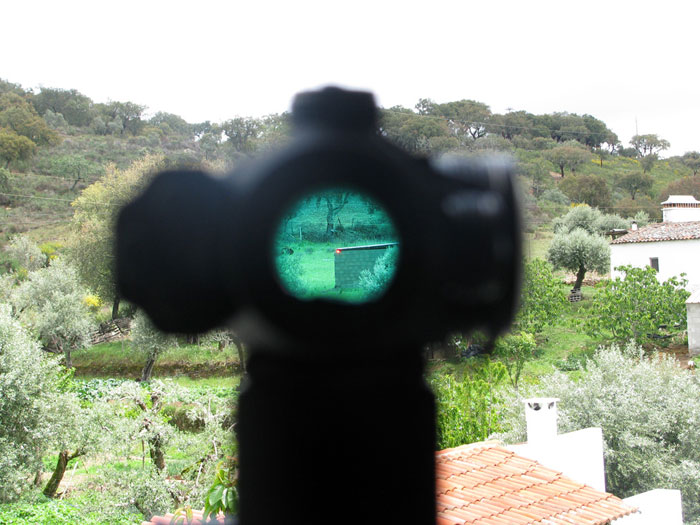 Quite frankly, even though Airsoft AEGs don't have much range, the accuracy of this red dot is spot on even at shorter distances. For example shooting the base of a small bottle of beer at 22 feet, or around 7 meters, you will hit bull's-eye consistently.
To adjust the windage and elevation of the reticle, there are two adjustment dials that can be easily operated with a coin or using the covers.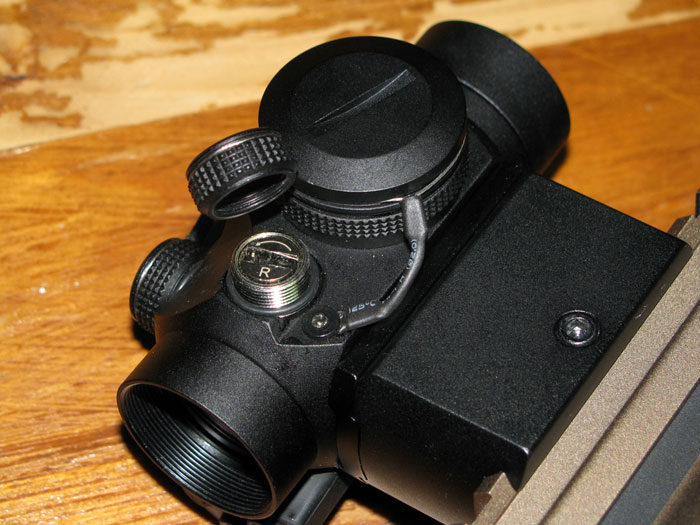 The adjustment is made in steps/clicks and the covers are attached to the body by a small wire covered with rubber so you won't lose them.
You can also adjust the reticle's brightness (with 10 levels of intensity) by using the up and down arrow digital buttons on the back left side of the body. The first level is great for indoors, while for outdoors I felt pretty comfortable with levels 4 and 5, with 10 being a really, really bright dot!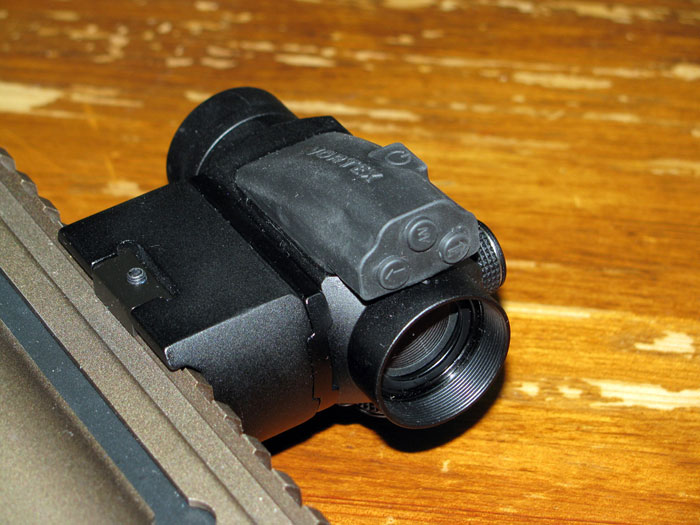 Ok, with another one of my concerns set aside, it's time for a treat: the Vortex SPARC features a Night Vision mode! Yes, you heard me right! When you press the button with the NV initials, it doesn't turn green! It consists of dimming the dot to a barely visible brightness that will be easily picked up by NV goggles.
OPERATION
Operation of this Red Dot is very simple and intuitive:
To turn on you just have to push the on/off button placed on the left hand side of the body once.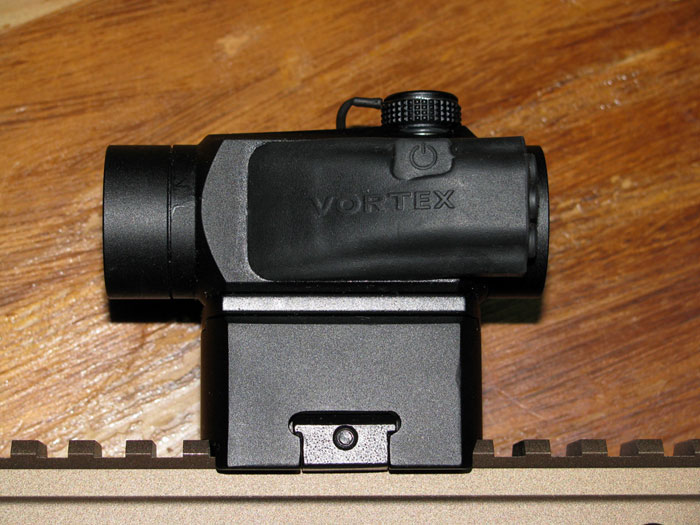 To turn it off, just hold the on/off button for three seconds.
The batteries used are CR2354 Lithium-coin type. They should last you quite a while, but even if you forget to power it down, it will shut down automatically after 6 hours so you don't have any surprises of quick battery drain. Plus, you get a second battery in the package so you get more run time with it!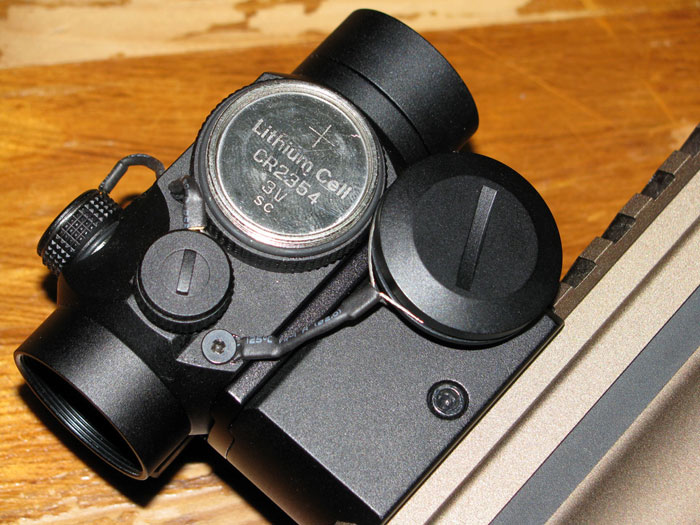 ACCESSORIES INCLUDED
I started to lift the curtain back there about the accessories. And it surely doesn't come short of those!
In the same package, they've bundled a 2x magnifier, a tall riser, a short riser, a riser shim, a lens cover, 2 batteries and two sets of screws.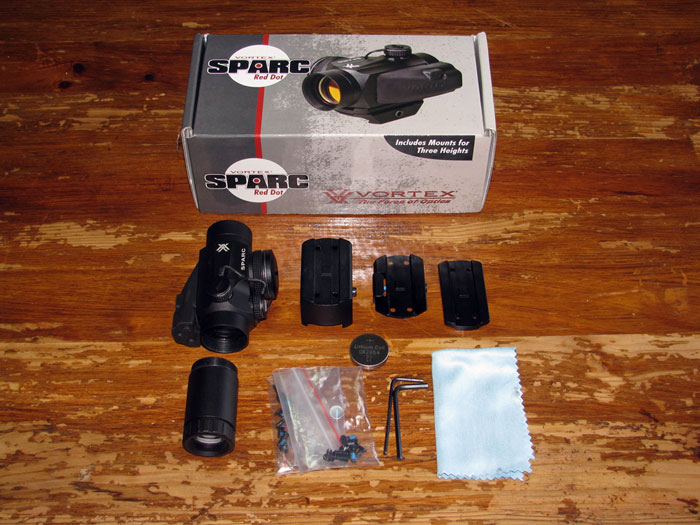 For an Airsofter like me these add value, since I can use the SPARC on my King Arms SW M&P15 MOE with the tall-riser. Then, if I want to take my VFC SCAR-L to the field, all I have to do is fit the shim-high riser so SPARC is perfectly mounted on the rail, also allowing me to co-witness with the existing metal sights on each AEG if needed. In total you can have 4 different combinations!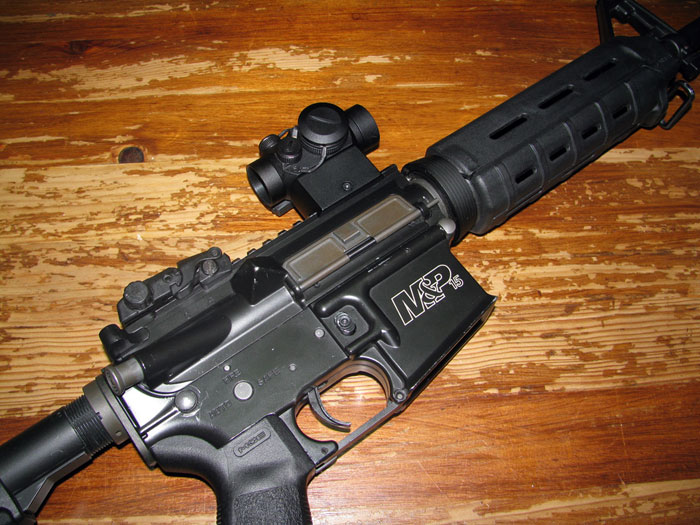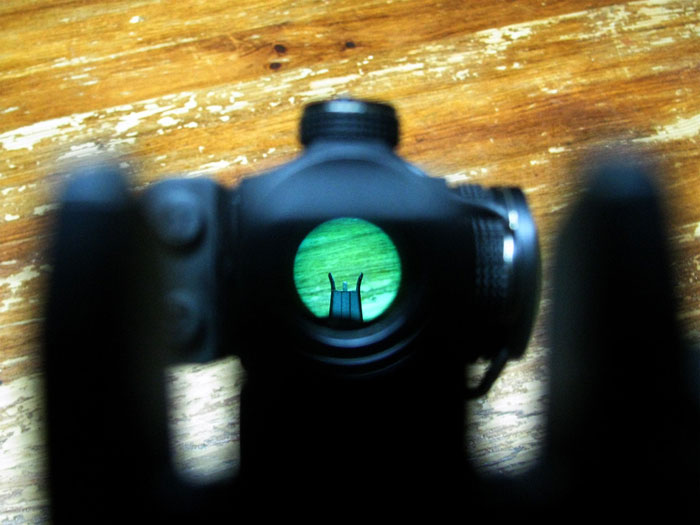 So, out of the box, the span of different AEGs you can mount these optics on without having to spend any extra cash is huge.
Also, you get a very nice rubber cover for protecting the lenses while in storage or transportation, and they've also added a very cool two times (2x) magnifier.
The magnifier threads on to the back of the optics and works pretty nice. It even has a focus ring and it doesn't add much bulk or weight. It will however narrow a bit the viewable angle and diameter of the optics, but it's a nice addition for the SPARC.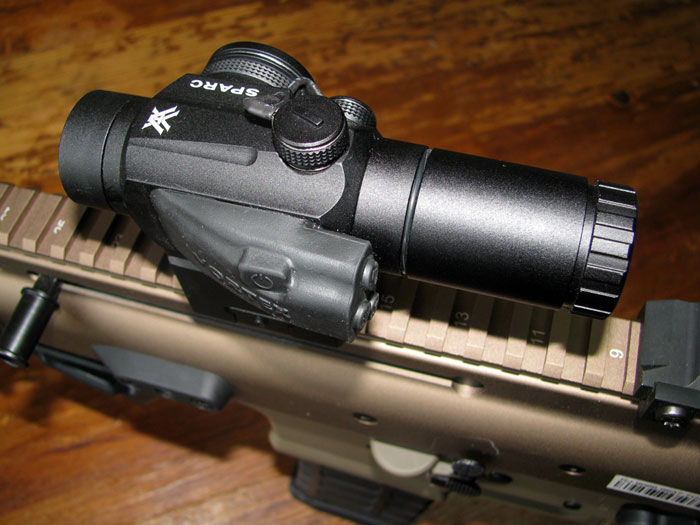 SO WHY SHOULD YOU CONSIDER THE SPARC FOR AIRSOFT?
Well, because it pretty much beats any replica you might buy.
It's cool looking, it has great construction and a fabulous clear image and dot. It's perfect for both CQB and mid-range engagements, and it can even be used for long range with the included magnifier.
It comes with plethora of extras, a life-time warranty and it's easy and comfortable to use. Yes USE, instead of just being there for aesthetics.
In sum the Vortex SPARC is any Airsofter's dream come true!
Score: 9.5/10
Where to buy: Bergara (Tel. +34 943 76 98 93)
---
---
LATEST NEWS
............................................

............................................

............................................

............................................

............................................

............................................
LATEST REVIEWS
............................................

............................................

............................................

............................................

............................................

............................................