Report In! Cavalvy Elite II Tactical Headset & Motorola XTN 446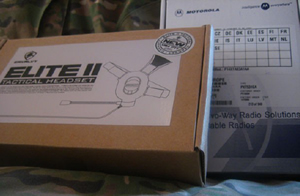 In military battles, having clear lines of communications coupled with clear real time intelligence always give you the upper hand. Unit formations, terrain, weather, logistics, location, and situations are relayed among units and to their command posts. Smaller and well-trained units can wipe out bigger opponents through the effective use of communications. In conventional warfare, one of the first things attacked before a full scale force on force battle happens is communications. Hit the communications facilities and you'll have an enemy who is virtually blind and cannot react to your movements.
In airsoft, there is still a lack of appreciation of tactical communications as based on my personal experience. I've been to many skirmishes and I see many just coming in with no proper tac com gear whatsoever. It also affects me as I bring my radio gear but with no one to communicate with, these are just left in my bag. Thus, one of the virtues in any skirmish, which is silence or noise discipline, is always compromised as we needed to shout out the positions of the opposing team to other members in our group in order to come out with a semblance of an effective fireteam. Nevermind the ambush team, as it is useless in terms of communications in this scenario. Just shouting out the OPFOR position to the rest is already a dead give way, and the ambush team compromised.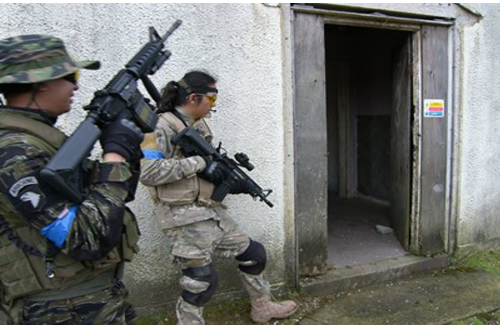 No matter how sound your tactics are in small unit firefights, as long as you do not have proper tactical radios to use, only luck will just pull you through...unless the opposing unit is just dumb as hell.
One of the last things purchased in any airsofter's shopping list is tactical communications gear, such as headsets, earpieces, and the all important radio. I consider radios more important than other tactical accessories such as tactical lights, sighting devices, after my tactical clothing, vest and my airsoft guns. It may seem to be an added expense to the burgeoning budget of acquiring airsoft gear, but for me it's money well spent. I can still use the same gear even when not in airsoft skirmish as I can use it for camping, road trips, and even just in a crowded place.
Some smart-ass will say "Hey! We're in the cellphone thing!" Yeah right! Try and broadcast orders to your team mates using a cellphone and let's see if it gets on time. Even more, watch out for your mobile phone bill after you consume your free minutes. At least with a tactical radio, I don't need any airtime costs to worry about, just bark out your order on the radio and everyone within your network will get it instantly. SMS? Forget it. Have you heard of "network" lag? I can guarantee you that bbs will get to you first than that text message containing the location of your opposing team.
REALITY CHECK
First things first, before acquiring your radio communications gear to use for airsoft, you should understand that radio frequencies are a valuable commodity that they have to be parcelled out by governments in order to prevent misuse of radio frequencies. The military have their frequency allocations, the emergency service, the police, the telecoms companies, some private companies, radio and television stations, and more. You cannot just go to any radio store to buy any nice looking radio as you will be asked if you have a radio licence to operate any of these. Even if you have one, you cannot just use that kind of a radio for airsoft use, especially that you may affect those on the same frequency band as they may misunderstand all the radio codes you use and cause panic as they might think there is a war going on.
Before selecting your radio, you better make sure that you pick any of those licence-free walkie-talkies on the market. These are the usual two-way radios that you find in any electronics store and are approved by the your government for over the counter sales without the need to ask for a radio licence.
Furthermore, PLEASE DO NOT GO BEYOND your country's borders when looking for licence-free radios. It is safe to say that you will have to buy two-way radios within your own country as licence-free radios in one country may be using frequencies which are actually restricted in another country. PMR radios in the UK and the rest of the European Union are licence free, but using these in the US, which uses the licence free FRS (Family Radio Service)/GMRS, are illegal, and vice versa. Thus, if you purchase a FRS/GMRS radio in the US, and use it in the UK, either your radio will be confiscated and worse, face fine or jail time as recommended by the OFCOM, since the FRS/GMRS frequencies in the UK are used by emergency services (some say even the London Metropolitan Police uses these).
I wouldn't attempt to use an illegal radio in the UK, as I know that directional finding capabilities in the UK is one of the finest in the world.
Better always check your country's regulations on radio use. More discussions on radio frequencies will be in the future issues of the magazine.
Now on with the show...
I procured this great radio communications gear, which basically consists of the Motorola XTN 446 (PMR-446) two-way radio unit and the Cavalvy Elite II Tactical headset months ago and they have been doing a great service as a combination. I settled for these two as both have top-notch quality and can go along with the rough and tumble game of airsoft. I have been stressing to my skirmish mates to get this combination so as to properly come out with a proper tactical radio network and maintain radio discipline.
CAVALVY ELITE II TACTICAL HEADSET
This Cavalvy Headset was bought from RSOV.com and with the usual RSOV.com efficiency at delivering items ordered. This arrived in less than a week to my doorstep together with the other items I ordered with it. Costing US$89.99 (£44.99), it's like buying another new ACM AEG from the brands like DBoys and Jing Gong. It was of the first batches that came out after the Elite TOTO II Tactical Headset was phased out, and eventually replaced by The Elite II.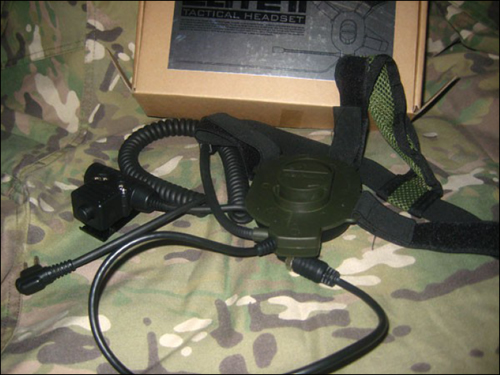 I bought the Motorola 2-pin unit as I prefer Motorola radio receivers over Kenwood ones. While as a radio enthusiast in the 1980s and early 1990s, I operated radios from Kenwood and ICOM, but in terms of military applications, I have trusted Motorola units for their durability and ruggedness as based on my experience. Furthermore, my plan of acquiring the Motorola XTN 446 was also a decision influenced by economics as it is cheaper than the cheapest Kenwood PMR 446 available in the market.
Another word of caution: please check the headsets pin compatibility list before buying this as your radio unit plug areas won't be able to accommodate the 2-pin unit. This selection of mine is compatible with the following Motorola units:
SP21/SP50/XTN446/XTN500/XTN600
CT250/CT450/CT450LS/GP68
GP88/GP280/GP280XL/GP300
GP308/GP2000/GTI/GTX/LTS2000
P040/P080/P100/P110/P200/P1225
P1225LS/PR400/PRO3150/SP10
CP100/CP150/CP200/CT150
For those who cannot use PMR-446 radios, you can select among the different Motorola units available in your countries as based on the list above.
The package arrived in a simple card board box, with the Cavalvy sticker on top of it, a very spartan, and rather a cost effective way of packaging it. Opening the box you see the headstrap, plastic earmuff with padding, boom mike in one plastic bag, and the PTT unit in another plastic bag. Really a spartan way of packaging it. But I'm not complaining at all.
The Cavalvy Elite II Tactical Headset is based on the Selex Daylight and Patrol Headset and is in use in the British Armed Forces. The Selex headset is one of the best headsets in the military applications market, providing crystal clear and crisp output. I wish that even for just being a replica of the real deal, the Cavalvy version can provide the same quality.
The vented and padded plastic earmuff/ear cup which has "Cavalvy" written on the exterior is a great fit, very much comfortable and you wouldn't actually notice you're wearing it since it's light enough. The purpose of the earmuff is to filter the noise from the environment allowing you to listen to incoming communications clearly even amidst the din of a skirmish. The earmuff is fitted for the left ear, and as compared to other earpieces, still allows you to sensitively listen to the actual noise in your immediate environment together with your right ear.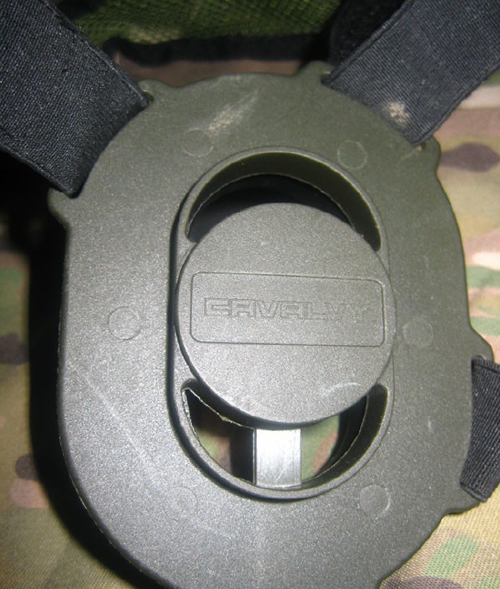 The design of this headset, being lightweight and comfortable, is pretty simple, but effective. I prefer earmuff styles of headsets as compared to earbuds/plugs type as they tend to easily fall off and are uncomfortable. Just having something almost halfway inside your ear makes me cringe all the time.
The boom mike attached to the earmuff is very durable and configurable as you can adjust it to the most comfortable distance away from your mouth easily with a little bit over an inch giving it the best position. Furthermore, testing it by transmitting with my other Binatone Terrain 550 PMR radio sets, it can pick up the operator's voice properly. The headstrap is fully adjustable and you can wear this over a ballcap, under a helmet or no headgear at all and it will stay there. You can adjust the two velcro straps over and around your head to the most comfortable position.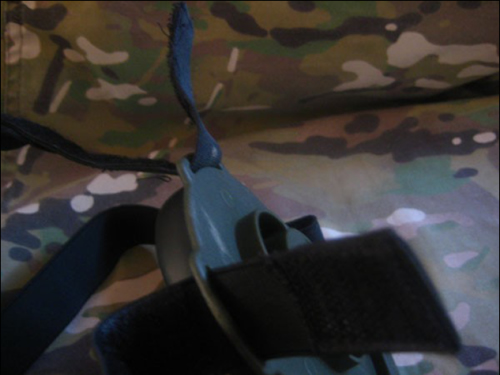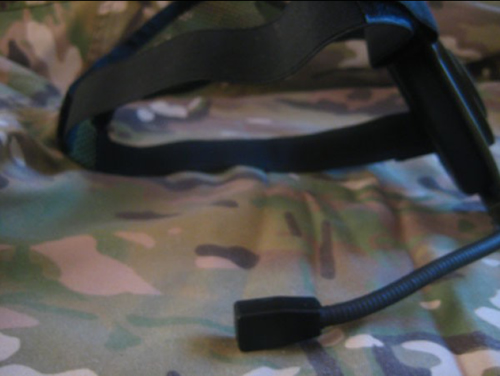 Connecting the headset to the PTT box requires you to screw in the female part of the 5-pin connection from the headset to the PTT box.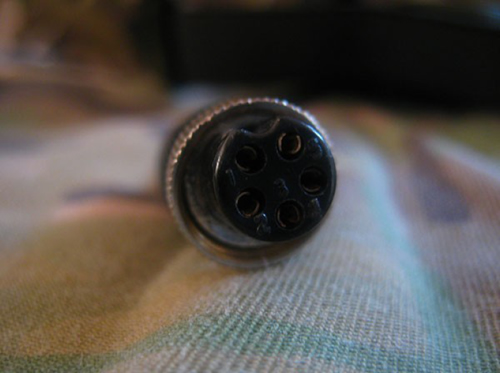 The PTT box is the U-94 configuration as the Cavalvy Headsets are configured differently and you'll notice the difference by their colours. U-94 PTTs are in Olive Drab and Tan colours, while the "D" PTT types are in Black, and are commonly used by SWAT and HRT members. The U-94 PTTs are operated by pressing the button firmly in order to transmit.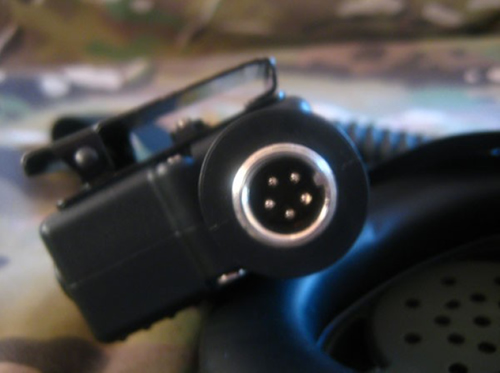 Another thing for the U-94 PTT is that it has large clip that you can firmly fix into your webbing or any part in which you can secure the wires and prevent entangling yourself with the wires. The last part of the trailing wire, contains the Motorola 2-pin connection to your Motorola Radio.
In order to distinguish the Motorola 2-pin jack from the Kenwood version is that the shorter pin is at end of the of plug, while the Kenwood verion has the longer pin at the end.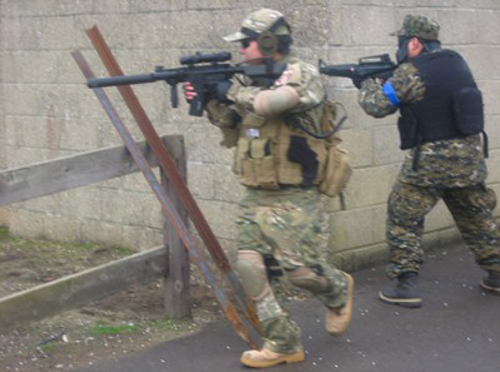 MOTOROLA XTN446
While there are cheaper PMR 446 Radios out there, most of which you can find at Argos or Maplin and cost below 50 quid (below US$100), these won't be compatible to any decent tactical headset in the market. And also, the Cavalvy Elite II Tactical Headset when it was first released, only offered two pin sets for Motorola, Kenwood, and ICOM. Most of the cheap PMR 446 radios come with their own headsets or earpieces, and have single pin connectors not even compatible with Motorola single pin Talkabout PMR 446 radios.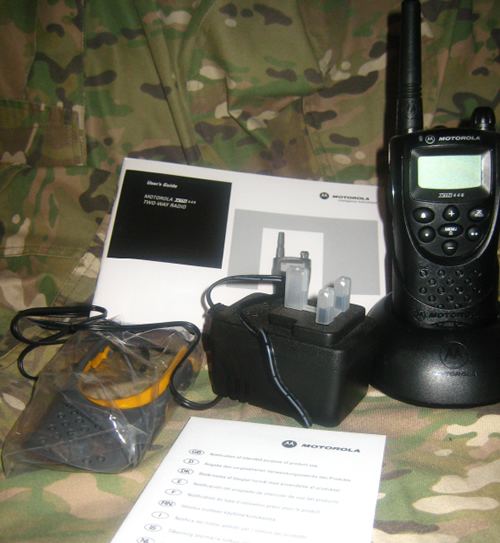 The XTN 446 is one of the cheapest professional quality PMR 446 radios in the market, and its price is getting lower almost every month as new models come into the market. It costs £160 at the time of its purchase and thus, not something that you would just want to lying around only to lose it to some kids. Nowadays, you can buy this at little bit over £100.
Out of the box, you get a fully black 2-way radio unit with extra face plates in case you want to change the colour of the radio case to suit your purpose, 1500 Mah NiMH battery, a base battery charger, a black holster and the manufacturer's manual. For business use, the XTN 446 provides the most bang for the buck. With a decent range of 3 kilometers, it's more than enough for airsoft purposes where most of the games are within a kilometer radius, with the exception of big milsim events where games are played over a much larger area, especially in the United States.
It has 8 channels and 121 codes. It's not exactly a plug and play PMR-446 for the ordinary user and not exactly a fully programmable unit that any radio enthusiast would love to have, it is somewhere in between. It features CTCSS/DCS signalling which reduces annoyance through continuous tone-code squelching in a shared channel typical in licence-free radios. This feature filters out other users who do not carry the same CTCSS code or no CTCSS code at all. In order to put some semblance of radio security in an airsoft team, proper CTCSS codes imposed on the radios of all members would prevent the opposing team to hear on their conversations or transmissions.
Without the headset, the speaker is loud enough to be able to hear any incoming transmission even in a noisy environment such as concerts, sports events, or even crowded shopping malls.
The LCD screen has a red backlight and features seven buttons with the menu button in the middle. The battery charge indicator is large enough to be seen at a glance. The large number in the middle of the screen is your present channel and the smaller number on the right is the code for the channel. The volume control knob on top of the radio also acts as the on and off knob. You can select your preferred channel and code and by pressing the menu button longer, you can lock it in and prevent any unintentional channel/code changes when moving about and the buttons get accidentally pressed.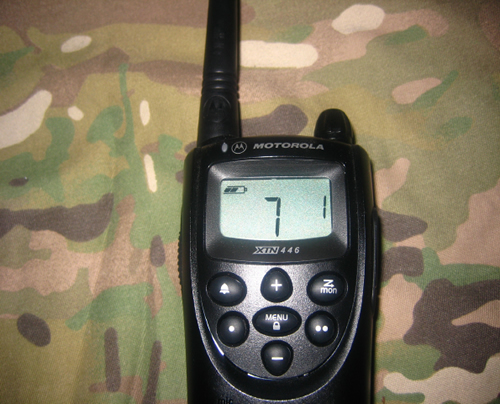 If your press the monitor button which is the upper right corner button, you can start scanning for channels. If it finds a channel with CTCSS or DCS tones, it locks into that channel, then decodes the CTCSS/DCS tone and both get locked when you press the PTT button which you can find on the left side of the radio. The PTT button is large enough even for those with wide fingers.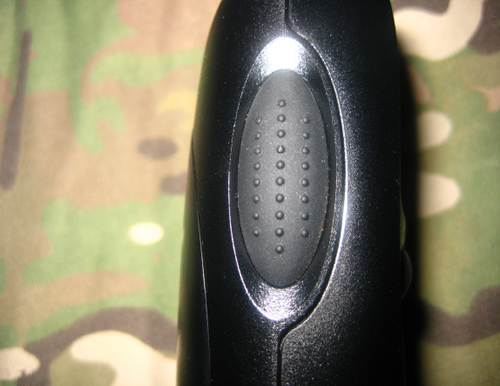 You can find the headset area on the right side of the radio, which is pretty straightforward as you'll just peel off the rubber cover and plug the 2-pin headset jack in.

You can consult the manual the comes along with it if you want to further program the radio. You cannot make any channel hopping around as you'll need to program each channel with the required CTCSS or DCS code. Once you program in the codes, these will remain in memory even if you remove the battery.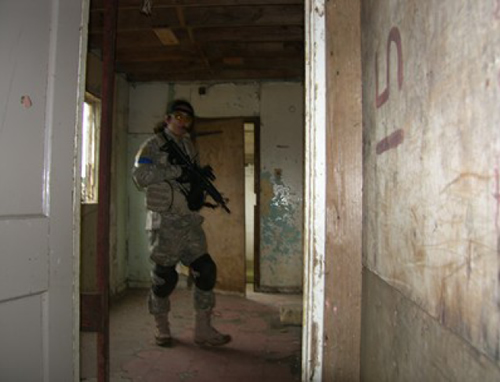 OUT THERE IN THE FIELD
As I have these two for over 5 months now, I am happy to state that these make a fantastic combination for tactical communications during airsoft skirmishes. Since radio use is licence-free, I am able to communicate with other players who bring along their usual Binatone, Cobra, and Motorola Talkabout PMR radios. The advantage that is most obvious is the ease of use and comfort with the Cavalvy Elite II Headset as I don't have to worry about it falling off as compared to those who use the usual earpieces that come along with the cheaper PMR radios.
Just a word of caution, ensure that the wires of the headset are properly secured to avoid tangling with bushes in the field. The tight clip should be placed in an area where your hand can easily reach the PTT button and immediately shift back to a shooting position.
A month after the 2-pin Motorola version of the headset came out, Cavalvy released another version that is compatible to the more affordable single pin Motorola Talkabout PMR Radios. You can buy the Motorola T5622 which is twice less expensive than the XTN 446 but still retains the robustness and ergonomics typical of Motorola designs. Moreover, for the price of £60 (US$120) you get a twin-pack.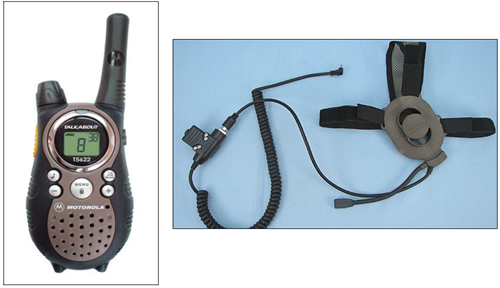 If you think that tactical radio communications in airsoft is a luxury to have, think again.

---
---
LATEST NEWS
............................................

............................................

............................................

............................................

............................................

............................................
LATEST REVIEWS
............................................

............................................

............................................

............................................

............................................

............................................